Experienced Moving & Storage Services in Chicago, IL
Sales Team
Paul Badalamenti Senior Relocation Manager – paulb@midwestmoving.com With 30 years of experience he can provide knowledge to help with all your moving and packing needs. Paul is IOMI Homeland Security Certified. After working for Allied, United, and Wheaton Van Lines Paul has now been a part of the Mid-West Moving team for 8 plus years.
Esther Theer Senior Relocation Manager – esther@midwestmoving.com Esther has been in the industry with Mid-West Moving & Storage since 2014. She moved up the ranks starting as a receptionist to Senior Relocation Manager with support and mentoring of management and her peers. She enjoys the personal connection and relationships she is able to build with clients. She is a dog lover and enjoys playing with Wolfie her German Shepherd. In her personal time she enjoys traveling and reading.
Michael Tae Move Coordinator – michael@midwestmoving.com Michael is new to the Mid-West team starting with us in 2019, but comes with over 20 years of experience in the moving industry in residential moving and sales. He is a Chicago native and is married with 2 children.
Karen Vaneé – Commercial Business Development. A former radio personality, Karen can (and will) talk to anyone. Having been an "Air Force Brat" she knows a thing or two about moving from your perspective.
Ken Stone Senior Commercial Relocation Manager – Ken@midwestmoving.com Ken Stone has a proven sales and project management background in relocation, logistics, and commercial moving. He is skilled and experienced in space planning and installation, with local, national and global experience. With over 21 years' experience in the industry, Ken has established loyal account relationships and pays close attention to detail and on-time performance, resulting in increased business and referrals based on trust, superior service and follow through.
Dominick Shanholtzer Senior Commercial Relocation Manager- Dom@midwestmoving.com Dom Shanholtzer has been in the relocation business for the past 30 years.  Starting in the industry as a mover and trailer driver, he has moved through the ranks of dispatch, operations and sales.  He specializes in facility services in national accounts including but not limited to relocation , furniture sales, decommissions, CAD drawings, racking services and Project Management.
---
Leadership
Luis Toledo – President and CEO – luis@midwestmoving.com Luis Toledo brings over forty years of management and industry specific experience to the Mid-West Moving & Sotrage team. Early in his career, Luis the Mover was a sought-after employee and was requested by name. He saved up to purchase his first moving truck and start Mid-West Moving & Storage. Today, Luis has grown both Mid-West Moving & Storage and Chicago Office Movers into organizations that collectively have performed over 130,000 successful since 1983. Over the four decades, Luis has focused on creating an environment dedicated to excellence. Always striving to improve, Luis added to his long-time career by completing an Executive Program from Northwestern University's Kellogg School of Management. Luis is a member of the Board of Advisors of Catholic Charities of the Archdiocese of Chicago. He actively gives back to the community through volunteering his time and also donating to Move for Hunger which partners with local moving companies to stock local food banks. He also has a passion for reducing his company's carbon footprint by recycling unwanted items left after a move and donating used furniture to help improve lives in Nicaragua and Guatemala. In his free time, Luis enjoys skiing, sailing and spending time with his family. His certifications: SBA-8a, MBE, DBE, S, CMS, City of Chicago, GSA, DOD, MSDC,Cook County, License ICC 75042, USDOT 294025 He recently won the Daily Herald Business Ledger C-Suite Executive Award of the year.  http://bit.ly/LuisBLArticle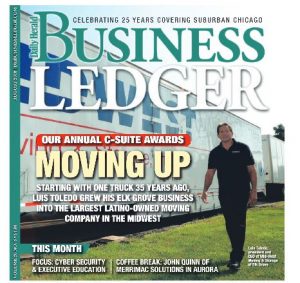 Robert Deignan – Controller – robert@midwestmoving.com Robert Deignan, as the Controller for Mid-West Moving & Storage, manages all aspects of the internal accounting processes and a team of 3 others.  He is responsible for the company's financial reporting, cash management, payroll, accounts payable, accounts receivable, bid review and analysis, budgeting, tax compliance, and various special analyses. Robert has been with Mid-West Moving & Storage for 5 years, in the moving industry for 10 years total and a financial manager for over 15 years.  With his extensive knowledge of the industry, corporate accounting, company consolidations, and process improvement and documentation expertise, he brings a structure and solid financial foundation to the company. Robert has a Bachelor of Business Administration in Accounting and a Masters of Science in Accounting from Loyola University.  He is married with two children and is a bowling enthusiast and avid league participant for over 15 years.
Kevin Reinhardt – Manager of Technology and Process– Kevin@midwestmoving.com  Kevin maintains and supports all hardware and software technology needs for the company and staff both internally and externally. He is an expert in technology process efficiency, mobility, and proprietary industry software solutions.  Kevin manages multiple internal workflows that govern the day to day business and feed all processes and departments.  He supports all department managers in evaluating processes, workflows and campaigns running through the company. Kevin has been with Mid-West for 9 years and in the IT field for over 15 years total.  He is an Excel master and a trusted problem solver. He also has a programming background including java.  Kevin has a bachelor of Science in Computer Science from University of Central Florida and is a Boston Terrier rescue dad and enthusiast of the breed.
Kari-Ann Ryan – Director of Marketing & Development – Kari-Ann@midwestmoving.com Kari-Ann has been with Mid-West Moving & Storage since 2017 and manages all the marketing, and branding initiatives including but not limited to print, digital, relationship, brand and so much more. She comes to us with a long time background and experience in Management, Marketing, and Sales.  Kari-Ann is a certified business partner for Constant Contact email marketing and has a Bachelor Degree in Business Administration Marketing from Western Michigan University.