Unpacking/Destination Checklist
Unpacking Checklist
Move in day has arrived and it is time to begin unpacking your belongings into your new home. Moving is one of the most stressful events of a person's life, but that stress can be easily managed by creating a moving checklist. Simply follow these steps in order to be prepared for any moving mishaps:
1. Create a plan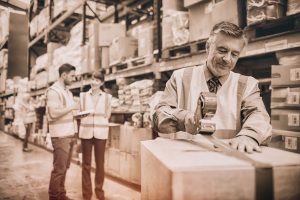 The best way to alleviate stress is to have a basic understanding of how you want your new house to look. Assess the property and perform any tasks, such as painting or repairs, before the moving truck arrives. It will also be helpful to know what each room's function will be, so you know the proper place for all your belongings.
2. Have proper payment
Be ready to present your movers with their final payment when they arrive, as most will not begin unloading until they collect it. It is best to be prepared so there is no stall in the moving process, and you can get your new house furnished as swiftly as possible.
3. Inspection
As boxes are unloaded, use your layout plan to tell the movers where to put each box. It may be helpful to carry a clipboard with a list of all your property so you can verify each of your belongings as they are carried inside.
Go through each box to make sure your belongings are all there and in the same condition you last saw them. Do the same inspection with your furniture and appliances and plug in your appliances to make sure they still work correctly. If you are too busy or overwhelmed to perform this task yourself, you can often hire the movers to professionally install and test your appliances and electronics.
4. Unpack
Once all your belongings are successfully off the truck and into your new home, now is the time to unpack. It can be difficult to decide where to start, so think about what you will need to access right away.
Food is the most important thing you and those helping you unpack will need, so start in the kitchen. It will take some time to unpack everything, so it's smart to have access to food and food storage for as long as the process takes. Also, it is a nice gesture to feed those kind enough to assist you in moving and early access to the kitchen will give you the opportunity.
Relief can be best found in a nap and a shower, so unpack your bedroom and bathroom next. Sleep, hygiene, and toilet use are important needs to maintain and neglecting them can make moving unnecessarily hard. Be kind to your future self and give yourself early access to a bed and a shower to stay refreshed for unpacking the next day.
Need Help Packing?
You can always rely on the moving professionals at Mid-West Moving & Storage for our packing services. With years of experience, we know how to pack each of your belongings to prevent any damage during the relocation process.
Give us a call at 847.593.7201 for a free quote on our packing services in the Chciagoland area!
---
Related Packing Articles:
Closet Packing Tips
Garage Packing Tips
Tips for Packing Small Appliances
Shoe Packing Tips