Senior Movers in Chicago, IL
Since 1983, Mid-West Moving & Storage has assisted homeowners in Chicago, IL with safely moving their belongings to a new residence. We create unique moving plans based on your particular situation and ensure that proper safety and protection procedures are adhered to in order to keep you and your belongings secure.
This is important during any move, but especially when it involves aging individuals. Through our senior moving services, we help individuals in this demographic seamlessly downsize in a safe and effective manner.
---
Chicago Senior Moving Services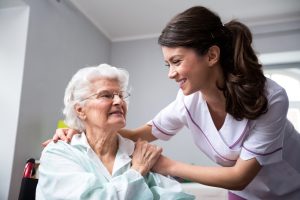 Even for healthy and fit individuals, it can be difficult to move heavy and awkwardly-shaped furniture, delicate antiques, and similar items. All of our uniformed crew members are specifically trained and experienced when it comes to handling belongings, and always work with the utmost care and caution.
Furthermore, we understand that it can be stressful to move. This is especially true when strong individuals that you do not know are handling your personal belongings. To provide you with greater peace of mind, we make all of our crew members undergo a background check. Additionally, they are all licensed and bonded to provide local moving services in Chicago.
---
Helping You Downsize
The vast majority of seniors that we help move are couples downsizing. Their children have moved out, and they no longer need a 3 or 4-bedroom home. In other cases, physical limitations make it difficult for aging individuals to use stairs, so they decide to move into a single-floor house.
Similarly, there are some who choose to move into a retirement home or assisted living community. No matter your unique situation, we will provide effective moving services to get your belongings safely to your next home.
---
Packing Services
In addition to helping you physically move your belongings, we can also assist with packing. We understand that certain items require special care in order to be transported. Furthermore, it can simply be a nuisance, or physically difficult, to go through a life's worth of belongings (this involves a lot of reaching and bending).
Once your personal items arrive at your new home, we will help you unpack, as well. This includes assembling furniture. From start to finish, it is our goal to make the moving process as painless for you as possible.
---
Professional Senior Movers
Moving can be hectic, and it can be impossible for aging individuals without the assistance of outside help. When you choose to utilize our senior moving services, you will benefit from professional planning and care. This significantly reduces the risk of an accident occurring, and means that your children, family members, or friends do not need to struggle with heavy or bulky items themselves.
Get a Free Estimate
To learn more, or to get a free estimate on our senior moving services, contact our representatives at 847.593.7201. Mid-West Moving & Storage is proud to assist seniors in Chicago, IL.
---
Related Articles: