Homeland Security Compliance Relocations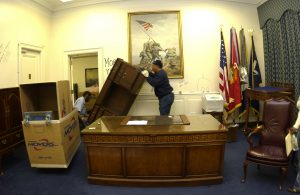 Homeland Security Presidential Directive-12, "Policy for a Common Identification Standard for Federal Employees and Contractors." Mid-West Moving & Storage is IOMI® trained in Homeland Security for Office Moves (HSPD-12) compliance requirements. Consider the risk to your secrets and intellectual property. The attacks of 9/11 and criminal activities highlight the vulnerability of office buildings. Homeland Security for Office Moves takes a first-responder's approach to preparing moving companies to recognize the warning signs of criminal and terrorist activities involving office buildings. MWM Compliance with HSPD-12 Requirements
Policy: MWM takes a first-responder's approach to preparing moving companies to recognize the warning signs of criminal and terrorist activities involving office buildings.
Special Equipment: MWM uses special equipment to move and secure sensitive equipment / information such as computers, workstations, and memory devices being monitored? MWM also uses special equipment to prevent damage to sensitive items, e.g., Spider Cranes and Space Gobblers. MWM makes sure computers and data equipment are packed in locked numbered boxes.
IOMI Standards: MWM uses the International Office Moving Institute (IOMI®) relocation security standards, which reflect industry best practices.
Mid-West Moving & Storage is a multilingual 8(a) strategic supplier for Federal Agencies in the continental United States (CONUS)

Mid-West Moving & Storage is a GSA Contract Holder  Click Here for Line Card
GSA Schedule MAS
Office Relocation Services
Nov. 20, 2017 to Nov. 20, 2022