Record Storage in and around Chicago, IL
Mid-West Moving & Storage offers reputable record storage services in and around Chicago, IL to provide the protection and security companies need to ensure complete peace of mind.
If you are not using your important documents everyday, they should be stored in a secure environment, but still be accessible when you need them. If they are kept on-site, it can be expensive and inefficient. But Mid-West Moving & Storage can turn your unproductive space into productive space with our secure record storage services.  We can also provide a cost-effective alternative to keeping records, files, and x-rays at your office.
Our Secure Facility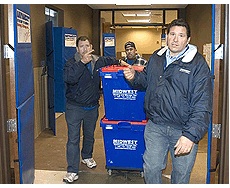 Using an innovative bar code inventory and record tracking system, your documents will be confidentially stored in a safe, secure facility. Our computer system also enables us to access your documents at a moments notice.
When you decide to have records picked up or delivered, we will have our courteous and prompt couriers service your needs.
Our document storage services can provide the following:
Timely pickup and delivery using any of the following methods:
Bar coded and computer inventory control
Climate-controlled storage
Security from theft and disasters
Carton sales
Affordable rates
Storage for any of the following documents:

Artwork
Computer discs
X-rays
Physical paper documents

Confidential, certified record destruction
As soon as your records have arrived to our facility, your access is just a phone call away. Any requested files will then be delivered to your door, using confidential and secured transportation procedures.
When requesting our record storage services, there is no long-term commitment and you can expect all charges to depend on the quantity of cartons stored.
Since 1983, customers have been nothing but satisfied when trusting Mid-West Moving & Storage's services to keep their precious records safely stored at our facility.
Free Estimate
For more information or a free estimate on our record storage services, please call Mid-West Moving & Storage at 847.593.7201 or fill out a contact form.
---
Related Services: