Professional Record Storage in and around Chicago, IL
Mid-West Moving & Storage
Let Mid-West Moving & Storage turn your unproductive space into productive space. A cost-effective alternative to keeping records, files and x-rays at your office.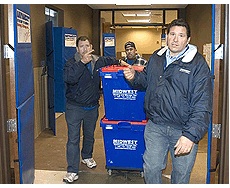 Using a state of the art bar code inventory and record tracking system, your documents will be stored confidentially in a safe, secure facility. Our computer system enables us to access your documents at a moments notice.
When you decide to have records picked up or delivered, we will have our courteous and prompt couriers service your needs.
Confidential, certified record destruction is available.
For more information regarding our record storage services, give us a call at (888) 722-6683 or fill out a contact form.