Government Facility Relocation – Past Performance
Moving is a complex process that requires careful planning and execution to ensure that your equipment and precious materials arrive at their destination safely, so that your operation becomes productive as quickly as possible.
Relocation requires careful and documented steps that cover all operational details in a manner that ensures intellectual property and focuses on maximum uptime at both ends of the process. Deploying a relocation specialist to assume end-to-end responsibility will ease the burden and minimize disruption to your activities.
Types of Federal Past Performance
Office Relocation Clients
General Services Administration (GSA)
US Army
Federal Trade Commission (FTC)
Smithsonian Institution
Internal Revenue Service (IRS)
Laboratory Relocations Clients
Department of Energy (Argonne National Labs)
Northwest University
Federal Lab Moving Past Performance
Mid-West Moving & Storage is an experienced instrument and scientific sample relocation specialist.  We are one of only two movers nationwide who are both IOMI® Homeland Security Certified and an IOMI® Lab Mover.
We have:
Performed over 1000 lab moves in the last 6 years
A dedicated team of over 20 move specialists
Special training on the IOMI® Office Relocation Process
Special partner suppliers /subcontractors

Electricians, Riggers, Carpenters
Plumbers / Pipefitters
Transportation Experts – heavy equipment, power, refrigeration
Hazmat packaging – Custom Crating

Specialized moving tools

Hydraulic lifts for laser tables
Hydraulic flat carts for moving special instruments from lab tops
Ramps for moving heavy equipment

Special equipment designed for critical instrumentation

PPE (gloves, eye protection, face protection, clothing)
3 types of lift gate trucks used (e.g. rail lift gate and tuck under gate)
Plastic crates
Spider cranes
Space gobblers

Special training (supervisors and employees)

First aid (wash stations, accidental spills)
Fire hazards
Lab equipment storage
We have moved Northwestern University, Alcatel Lucent, University of Chicago, Lake Forest College, and more.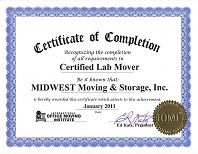 Mid-West Moving & Storage is a multilingual 8(a) strategic supplier for Federal Agencies in the continental United States (CONUS).
DOD SCAC Code MDMB
CHAMPS TSP
Mid-West Moving & Storage is a GSA Contract Holder. Click Here for Line Card

Contract Number GS-33F-019AA
GSA Schedule MAS
Special Item Number 653-8
Office Relocation Services
11/20/17 – 11/20/22