Long Distance Moving Company
Chicago Long Distance Movers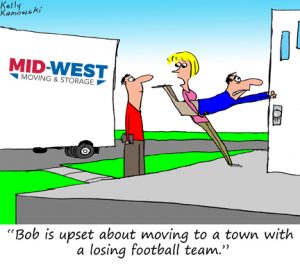 Are you worried about moving across the state or out of Chicago?
You need to find a new home and also deal with packing up all your belongings and ensuring they arrive safely after a long journey.
Let the professionals at Mid-West Moving & Storage help with your long distance move to or from Chicago. We partner with National Van Lines to offer a variety of helpful and time-saving interstate moving services.
---
Chicago Long Distance Movers
Do you worry that your valuables could be damaged on their cross-country journey? Have you just purchased a new home and worry that the floor or walls could be scraped and scuffed in the move? At Mid-West Moving & Storage, our long distance movers take the utmost care of your belongings and your old and new homes to ensure a damage-free experience.
Whether you got a new job or just want to try something new, our movers can help with everything from planning to packing all your precious belongings.
We use specialized moving equipment to protect your property throughout the process. Thanks to our innovative seven-step packing process, we can typically have you packed and unpacked in under a day.
Our long distance movers can provide you with all of the following benefits:
Free estimate for any long distance move into and out of any type of home.
Helping residents with their long distance moves since 1983.
Frequent communication and answers to all moving questions.
Trained and experienced Chicago movers.
Complete protection of all items and furniture during the moving process.
Availability of short and long term storage services.
Availability of packing and unpacking services.
---
Long Distance Moving Company Chicago
Whether you're moving to or from Chicago, we have been in the moving industry since 1983 and have the experience to get your move done quickly, affordably, and efficiently. Our long distance movers can also pack, load, unload, and unpack all belongings in an efficient while taking extra care to prevent damage during the moving process.
Don't worry about the hassle of long distance moving. Just call Mid-West Moving & Storage at 847.593.7201 or fill out a contact form to get started on a smooth move with a trusted Chicago moving company.
---
Related Moving Articles:
9 Tips for Moving to Another State
5 Tips for Moving to a Remote Location
Long Distance Movers Schaumburg, IL
Long Distance Moving Company Aurora, IL
Long Distance Moving Company The North Shore
Long Distance Moving Company Naperville, IL
Long Distance Moving Company Elk Grove Village, IL