Packing and Unpacking Services
Packing Services in Chicago, IL
Packing your home can be a time-consuming and daunting task. Simply choosing the new city and even property to move to is stressful enough, not to mention adjusting to your new location. But the worst part of it all could be your items arriving damaged or broken, making the transition even more difficult.
That's why our team of expert movers and packers are here for you. Mid-West Moving & Storage offers professional packing and unpacking services in the Chicago, IL area.
Chicago Packing Company
Our local Chicago movers will arrive on-site with boxes and all other packing supplies to get your move underway, carefully wrapping and packing your belongings for you. With years of experience, you can trust that your belongings will arrive to your destination in the same condition they were in before we arrived.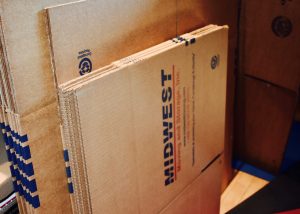 Our Chicago moving team knows which boxes and packing materials to use, which items need extra care and protection, and which methods to use for handling fragile valuables and antiques. Mid-West Moving & Storage offers total customer satisfaction in everything we do and will have your boxes packed and labeled in in a timely and professional manner!
These packing services are in addition to packing and unpacking the truck before and after arriving to your destination, ensuring to leave all personal items in their original condition.
---
All of the following is offered within our packing services:
Full packing
Partial packing
High value items, antiques, odd sizes, and shapes
Unpacking
Professional handling, labeling, and organization of boxes
Free pickup of used boxes
Moving and transporting boxes
Care and thoughtfulness towards your personal belongings
Inventory of all boxes
Local Chicago moving company since 1983
Licensed, Bonded, Trained, Insured, Uniformed, and Background-checked full-time employees
Packers and Movers Chicago
If you are still not ready to move to your new location, Mid-West Moving & Storage will gladly provide storage services, in which our professionals will pack your items and deliver them to our 60,000 sq. foot, climate-controlled warehouse. Here they will remain safely stored until you are ready to have them delivered to your new location.
Whether you are moving a few boxes or a few cars, you won't have to worry about the quantity or size of items to be moved and stored in our warehouse. Our professionals will do everything possible to accommodate your needs during the moving process, providing efficiency, professionalism, and flexibility every step of the way.
---
Call Us for a Free Estimate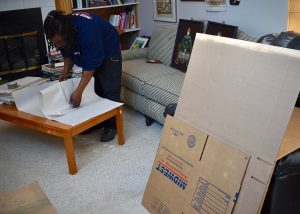 In addition to planning for your next moving, packing all personal belongings will only add to the stress. But with the help of our professional packers and movers, Mid-West Moving & Storage can turn this into a seamless process. Packing personal items and loading them into moving trucks is what our experts do everyday, so you won't have to worry about transporting fragile, heavy, and/or large items. With years of experience and training since 1983, you can depend on us to safely relocate all of your possessions to your new location.
If you have any questions or requests regarding our packing services in Chicago, IL, please fill out a contact form or give us a call at 847.593.7201 to speak with us directly. We look forward to hearing from you soon.
---
Related Moving Articles:
7 Tips for Packing Up Your Closet
10 Tips for Packing Small Appliances
Shoe Packing Hacks to Use Before Moving
10 Garage Packing Tips