Moving and Storage in Chicago
Whether you're moving between apartments or you have too many belongings for your home's current space, let our customized storage services help you clear up the clutter in your home or business and protect your belongings.
As one of the top moving and storage companies in Chicago, IL, Mid-West Moving & Storage offers sizable and affordable storage services for homes, businesses, and government offices, no matter your needs. With our professionals, you can expect affordability, quality services, and most important, peace of mind.
---
Chicago Moving and Storage Services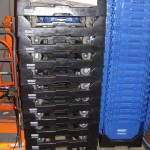 Mid-West Moving & Storage has a climate-controlled storage facility of over 60,000 square feet, fully secured and alarmed, with units of all shapes and sizes to fit your needs. We'll help you find a custom unit that fits all of your boxes, crates, commercial commodities, and furniture.
Mid-West Moving & Storage performs over 2,500 Chicago moves and growing. Whether you are moving your household, apartment, or commercial business, you can rely on our professional moving and storage services to keep your items secure and in good condition until they are ready to be moved to your new location. We can also handle packing, loading, and transporting your items to or from our storage facility, allowing you to relax on moving day.
---
Record Storage Services
In addition to storing personal items, Mid-West Moving & Storage can also provide record storage services, holding onto precious documents, files, and even X-rays to free any space you may need at your new location.
Our secure system consists of bar code tracking and inventory while keeping your private information confidential 24/7. However, we will be able to quickly access them if needed as well as pick up and deliver them to you upon request. Or if you decide any of these files are no longer necessary, we can destroy them while keeping all private information secure.
---
Storage Company
Since 1983, Mid-West Moving & Storage has provided the Chicago, IL area with fast, efficient, and environmentally-friendly moving and storage services. Our experts focus on providing an efficient process in order to meet and hopefully exceed your expectations. From planning to unloading, we will commit ourselves to your needs and provide professional moving and storage services to ensure a seamless process.
We also have a great appreciation for the area we live in, and we work hard to preserve it. Our professionals only use recycled packing materials, so we can protect the environment and keep our services affordable for you.
---
Rent a Storage Unit Today
Ready to rent a storage unit? Call Mid-West Moving & Storage today at 847.593.7201 or fill out a contact form to ask about our storage unit availability in Chicago, IL and the surrounding suburbs. You can also e-mail an inquiry to info@midwestmoving.com
---
Related Moving Articles:
Self-Storage vs. Professional Mover's Storage
How to Prepare Your Stuff for Storage
What You Can and Can't Store