If you have recently downsized, or have to temporarily rent a smaller space, chances are likely that you need somewhere to stash your stuff.
You could throw some items away, but what if you end up needing the items later?
Renting a storage unit is the perfect solution to managing your space. However, you shouldn't just throw all the stuff you don't need right into the storage unit. It's important to prep your items before storing them to ensure they remain in good condition when you need them the next time.
Here are some tips to guide you through the process to prepare your items for storage.
---
Prepare Before You Pack

Before you begin, you need to decide what items will go into storage. This will help you determine how much space you will need to store your valuables and how much it will cost to rent a unit. This will also help you anticipate how many packing supplies you'll need, so you can order packing peanuts, boxes, tape, and other supplies in advance.
Once you have decided how much space you need, it is time to find a unit. Keep the following in mind as you look for a storage unit:
Budget. Compare the pricing of storage units in your area. Don't pay for unnecessary services if you aren't planning on using them.
Distance. Do you need frequent access to your items? How far is the unit from your home? Include travel time in your total costs and budget.
Services. Some facilities specialize in auto storage, while others provide carefully regulated environments. Find a company that suits your individual needs.
Now you are prepared and set to pack. Let's get to it!
---
Time to Pack
Once you have decided what to put into storage, it is a good idea to make an inventory list for the items. It is very easy forget exactly what you have in the storage and having a list can save you a ton of hassle in the future. Before you start packing, also remember to clean the items thoroughly. You don't want to deal with dirty objects and appliances when you take the items out in the future. Now you are prepped to finally start packing, and these tips can help you get started.
1. Get the Most Out of Your Boxes
Whenever possible, store your items in boxes. If an item doesn't fit in a box, keep it covered. Leave space between items in boxes and fill in the gaps with crumpled paper, packing peanuts, or bubble wrap.
Carefully pack boxes so they are filled to capacity. You don't want any of your boxes to collapse if something heavy is placed on top. If you do pack anything fragile, label it so it can be easily distinguished from the rest.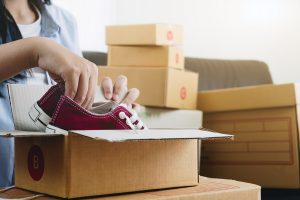 When packing, consider the overall weight of each box. Vary the weight of what is packed inside, so that none of your boxes are too heavy to lift. If you pack one heavy thing, place it at the bottom of the box and pile a few lighter items on top.
2. Be Clear and Consistent With Your Labeling
Clearly label all of your boxes, not only the ones with fragile items.
Remember that labels like "kitchenware" may not be clear enough if you have multiple boxes containing kitchenware. Try using specific descriptive words like, "dishes" or "pots and pans" instead.
It's also a good idea to make the labels big enough to see clearly from a distance, so you don't have to carefully search for the items you need when you unpack.
If possible, consider buying clear plastic bins for storage because you can easily see the contents inside the clear bin. Even if you use a plastic bin, still label the items so you can pinpoint the exact box or bin quickly when you go into the storage unit to look for a particular item.
3. Some Items Require Special Care
Clothes are best stored hanging on movable racks or in wardrobe boxes with hanging rods. Be sure to cover the clothes with cloth or a protective plastic cover to keep out the dust and dirt. Wardrobe boxes should be sealed well; not only will this keep your clothes nice, but it will prevent them from falling out if a box falls over.
When putting appliances into storage, make sure to wrap the cords tight and put a protective cover (like bubble wrap) over the appliance to keep it from breaking.
If you are storing furniture or a car, be sure that you clean and prepare these items before storage. Car storage is a complex process, consult with storage experts before you store a star to avoid any damage. If you are planning to store a car for a long time and don't prepare it, it could result in damage.
Now you've got it all wrapped, packed, and clearly labeled. Let's move on to the final step.
---
Store It
Depending on the size, shape, and amount of the things you are storing, it might be necessary to hire movers. This is also helpful because they are usually more experienced in how to pack things into storage. With their help, the moving process is much faster and more efficient.
Start by storing the tallest things, like a chest of drawers, near the back of the unit. This will make it easier for you to see the smaller things in the front. You're more likely to need smaller items from boxes than larger furniture, so storing smaller items up front will make these items easier to find.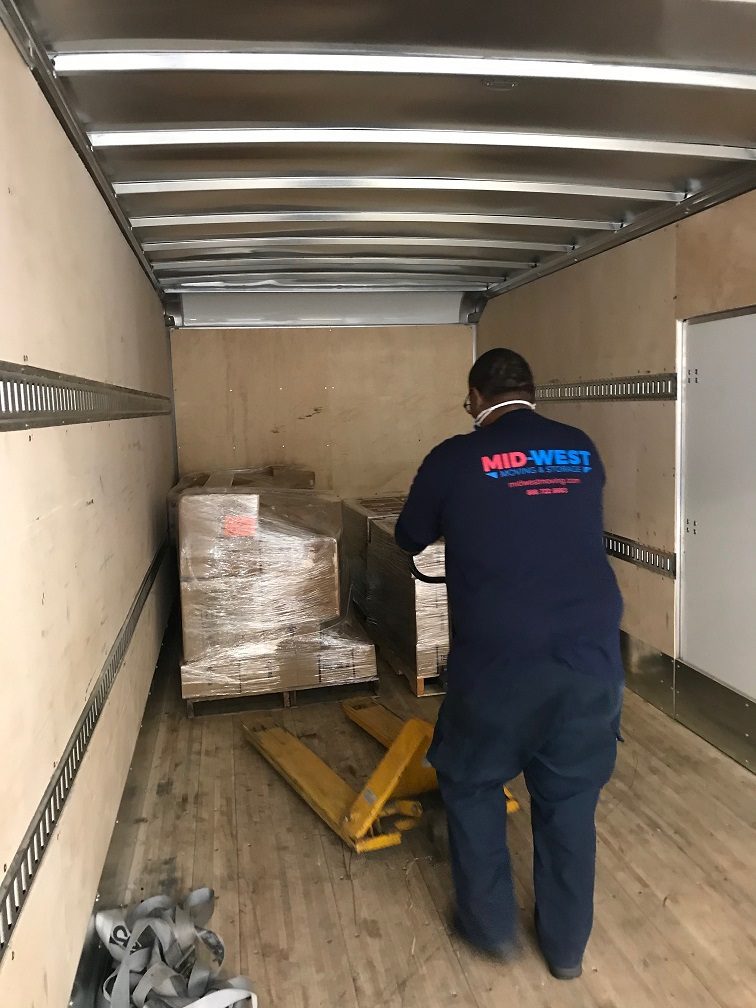 Stacking boxes will give your storage unit a much cleaner, more organized feel than several bags or unboxed items. This will make it easier to navigate when you need to find something. As you stack, leave a walkway down the middle of the unit, so have easy access to all your items rather than just a few items in the front.
Now you are done. Everything is stored and your house is free from clutter. All you need to do now is relax in the comfort of a clean space. Be sure you're using professional packers and a temperature controlled storage.
WORK WITH A PROFESSIONAL MOVER
If you need a space for short-term and long-term shortage for your stuff, consider a professional moving company, such as Mid-West Moving & Storage. We can assist you in packing and unpacking your belongings and provide storage services during the moving process.
Give us a call at 847-593-7201 or fill out a contact form to receive a free estimate on your next move.