Once you have made the decisions on where to move, the house to buy and the new life you'll be taking on, an overwhelming feeling comes to mind.  Do I move myself, use a professional moving company, what do I keep, how do I organize and how am I going to get all this done, to name a few? How will you get all these accounts, utilities, mail, and businesses notified of the change of address? We have the solution to this and we provide it to all of our move clients. Please read on to learn more!
Our first suggestion is to always use a professional moving company.  When you choose to use Mid-West Moving & Storage, you get the professionality you should expect when someone is handling your personal belongings.  In addition to the many benefits of working with #MWMandS, we also offer a great updating service for FREE that you will LOVE us for.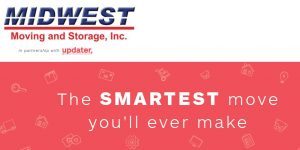 Upon booking a move with us, you will receive an email to help you take on many of the tasks associated with moving.  This service provided by #MWMandS through @Updater will save you an average of 5+ hours, 16 account updates, 21 emails and phone calls plus more.
Updater provides a way to seamlessly transfer and connect utilities and home services, forward your mail with USPS and notify many of your businesses and accounts of your new address.  Such businesses include magazine subscriptions, credit card companies, doctor offices and more.
In addition, you will receive special moving- related discounts and an awesome portal to send digital announcements to friends and family so everyone can find your new home.  This is an exclusive and free offering we here at Mid-West Moving & Storage are proud and happy to offer to all of our move clients.  Happy Moving!