You are moving… but who wants to pack and bring it all with?
Mid-West Moving & Storage, partners with Move for Hunger, a non-profit fighting hunger one move at a time.  Who thought that when you made a decision to move, you could also help fight hunger in the process?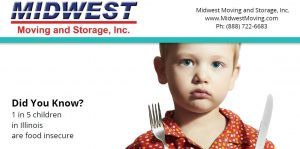 The mission is simple: By teaming up with Mid-West Moving & Storage, alongside other moving companies, Move For Hunger is creating one of the nation's largest year-round service programs.  Our movers offer to pick up the unwanted, non-perishable food items from those who are moving and deliver it to their local food banks.
How it is done: Our moving team will inquire if you have any unopened, non-perishable food items you would like to donate.  #MWMandS will provide specially marked boxes for these items, bring them back to our office, and ultimately donate them to our local food pantry.  It is that easy.
Mid-West Moving & Storage, has fed over 5000 people through this program.  We will be hosting a food drive in September 2017.  Please watch for more information on this and feel free to contact us if you'd like to be involved or have food to donate.  We have a running donation box in our office at all times.