Do you believe your home will sell fast once you place it on the market? Or, are you renting now and plan to continue renting in a city where available, affordable housing is scarce?
If either of these scenarios describes your housing situation, you should develop a firm plan to find a new home. Take steps now to research and find suitable options before you're out of a home altogether. Here are 4 tips on how to find a rental home, even in a tight market.
---
1. Know Your Deadlines for the Rental Home
When searching for an available rental home, know the date by which you'll need to have housing secured. This date may be the closing date on your current property or the end of the month when your current lease is over.
Don't waste your time negotiating on properties that won't have openings before or on your need-by date. If time is of the essence, it's better spent working with properties that actually have openings. The exception to this rule is when you really want to live in a popular complex or neighborhood, and you have alternative housing elsewhere to shelter you until a unit becomes available.
If you're moving within 50 miles of your old home, do all you can to secure access to the new rental home a few weeks before your moving deadline. That way, you can get utilities turned on and begin moving items that won't go on the moving van. You can move pets to the new place to acclimate them to their new home before the actual moving day.
---
2. Explore Pre-Qualification
Apartment and rental housing offices are swamped with applications in highly sought-after locations. The sooner you can get your application submitted to the decision-makers, the sooner you'll secure a spot in the place you wish to live.
Try to pre-qualify for apartments or other house rentals before you place your home on the market or your lease ends. That way, when you qualify, you have the security of knowing there's a place for you to go when it's move-out day.
Gather all of the paperwork you'll need for the various rental home applications. The documents you may need include: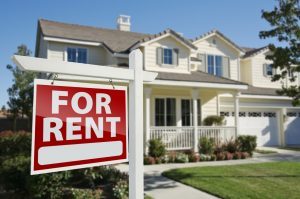 Wage statements
Tax returns
Bank statements
Utility bills in your name
A copy of your I.D.
A letter from your employer
Names and contacts for references
You can often submit your documents online, which is helpful if you're applying from long distance. To expedite your applications, always read the forms completely and submit required proof as requested. Some credit approvals for apartment rentals are based on your income and credit history, while some are based on your income to debt ratio.
Ask before applying at a complex about which criteria they use. Then, do the math to find out if you're in the income range to qualify for a lease. Many complexes charge fees to apply. There is no sense in wasting fees on a rental house that you can't afford on paper.
---
3. Check Out Alternatives
There are housing alternatives even in popular towns. Some hotels and motels offer short-term weekly and monthly rental housing. The accommodations may not be ideal, but you have a roof over your head until a better option becomes available.
Mid-West Moving & Storage can offer storage options for your property while you stay in rental housing so you don't have to give up any of your personal belongings.
Local Craigslist and newspaper ads sometimes list roommate and sub-let opportunities. You must do your due diligence when dealing with any unknown individuals, but it is possible to find a suitable temporary housing situation in a shared or sub-let arrangement. Private rentals can be a welcome solution for people who've been turned down at other properties for bad credit.
If you only need a place to stay for a week or so before your new home becomes available, consider staying in a private Airbnb suite or other vacation rentals. In a tight housing market, these properties often remain available. The price of a vacation rental would be a long-term financial liability but may be within your budget for a very short-term.
---
4. Negotiate With Buyers and Landlord
If you've sold your home and the buyers don't plan to move into your old home for a while, ask if they're amenable to a rental arrangement. This can be a short-term rental home for a few weeks or a month-to-month rental for half the year. Just be sure to get all of the particulars on paper, including who is responsible for utilities and home repairs.
Ask your landlord or your apartment complex management about a month-to-month lease in your present unit. Expect to pay a higher rent amount for this type of arrangement, but it can buy you time to find a new place to live.
Be sure to network with friends, real estate agents and other people in the know about properties where you want to move. If you have friends or family in the area where you're relocating, have them scout out properties for you and be on the lookout for home sale or rental signs.
Get a Free Moving Quote
Contact Mid-West Moving & Storage at 847.593.7201 for a quote today to get started on your relocation. We have senior relocation managers on hand to offer move plans, storage solutions, and other services to people relocating to, from, and around the Chicago region.