Last Updated on August 15, 2019 by Kari-Ann Ryan
Relocating? While shifting to a new state is a huge step, moving your car to another state requires a good deal of planning and resourcefulness. Several factors, from the month or season to the distance and your car's size, among other weighty considerations, impact how much you'll spend to move your vehicle.
It's far from inexpensive to hire an auto transport service to haul your car across states lines. An average sized sedan costs $600 to $1000 to move. Shifting a larger vehicle, like an SUV, van or small truck averages $800 to $1070.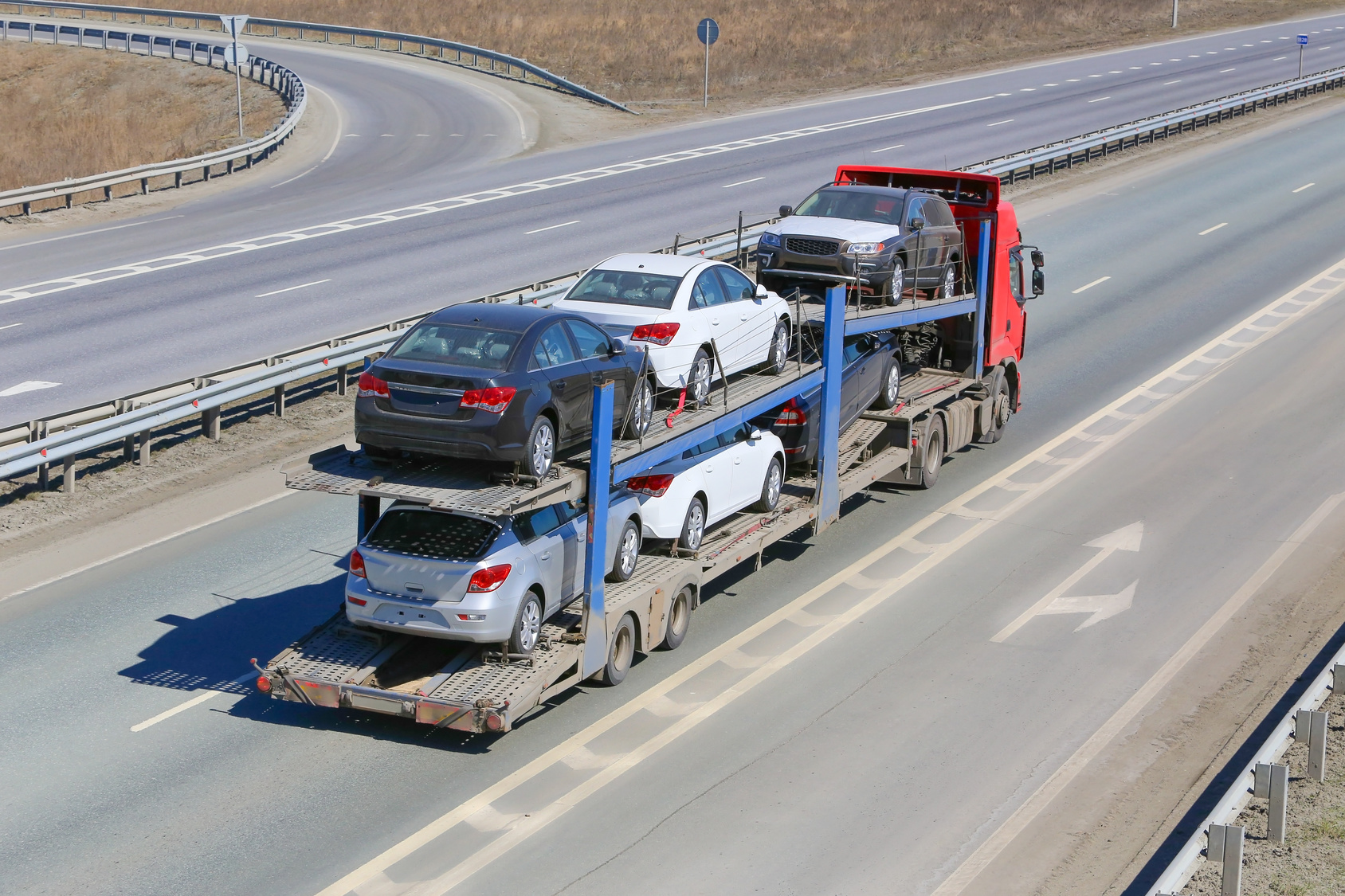 Averages are just that—averages.  Specifics heavily influence the price to transport your car:
Moving your car during peak holidays, when there is excessive traffic, drives up your costs.
Current gas prices significantly affect (by hundreds of dollars) how much you are charged to move the car.
A larger vehicle size and weight, as determined by make and model, push moving costs upward.
Electing either open shipping or enclosed shipping impacts the moving price.
Choose door-to-door delivery over terminal-to-terminal and watch your moving expenses soar.
1. Choose Open vs. Closed Car Transport
Now that you have a ballpark figure about how much you can expect to pay, decide on whether to hire open car transport or enclosed car transport.
A luxury car will be protected from the elements when it is transported in a fully covered metal or canvas carrier.
Alternatively, an open car transport is a common and less expensive option. The vehicle sits among multiple other vehicles on a double-decker trailer. The cons of this shipping method are that your car is exposed to inclement weather, to leaks from vehicles above, and to flying debris along the highways.
2. Look for Services
Once you've determined your auto transportation preferences and needs, shop around for a few quotes. The auto shipping market is flooded with movers, which gives you multiple options. Look for a professional auto transport service, readily identified by the following defining factors:
Verified reviews, positive ratings, or recommendations from trusted friends, relatives and colleagues
Affordability, although it sometimes makes sense to choose convenience over price
Professionalism
3. Prepare Your Car
When you've settled on a shipper, prepare your car for the long journey:
Wash the exterior of your vehicle.
Inspect your car for imperfections, noting scratches, dents or other damage.
Photograph any flaws and retain as a visual record.
Also take general photos of your vehicle in the event your car sustains damage during the move; the photos serve as proof of the condition of your car prior to transport.
Fix any fluid leaks, especially around the engine or under the car.
Ensure the vehicle's emergency brake functions properly.
Decrease the weight of your vehicle by leaving a quarter tank of gas.
Ensure the tires are properly inflated.
Remove any possessions from your vehicle.
Keep the license plate secured on the car.
4. Pay Your Deposit
Auto shipping rates fluctuate daily. Remember to pay your deposit right away, so that your quoted shipping rate is locked in.
Add On Services
If you elect door-to-door transport, you designate where the car will be dropped off and picked up. An auto mover moves your car to your desired location. Drawbacks are involved with this pricier option. Challenging roads, like narrow streets, extremely hilly slopes or a gated community, make delivery of your vehicle to your doorstep a near impracticality. However, this method offers personalized service and optimal security, making it ideal for high-end vehicles.
Choose terminal-to-terminal delivery in comparison, and the move is far less expensive and offers flexibility. Impassable roads are not an issue with terminal-to-terminal deliveries, since the car is delivered to a pre-designated loading zone. These zone locations are often in close proximity to major highways or airports.
Most likely, the auto shipping company will fail to cover a slew of situations that could affect your vehicle. Purchase upgraded insurance for your vehicle. Increased coverage from your auto insurer will protect your car from theft and collision. The photos you take of your car during the inspection process will be useful if you decide to file an insurance claim for damages.
5. Stay in Contact
During the move, it is important to stay in contact with the auto transportation service. Companies may offer customers the option to track, via satellite, the movement of the moving truck.
Inspect the Car
Once your vehicle has been delivered, inspect the car while the auto representative is present. Take several photos at this point, as well, especially if unusual dings or scratches are visible. As a next step, you will sign the Bill of Lading and Vehicle Inspection Report. If you see damage to your vehicle, mark down the damages on the condition report and contact the auto shipper for the next steps.
6. Register the Car
Register your vehicle in your new state in accordance with that state's laws, which usually stipulates that registration must be done within a certain period of time. Contact the local DMV for accurate vehicle registration timetables. The car title, emissions check paperwork and an auto insurance policy for your new state are required for vehicle registration at the DMV.
Work with Mid-West Moving & Storage
When shipping your car to a new state is on the horizon, contact Mid-West Moving & Storage, Chicagoland's premier moving service since 1983. With years of experience, our vehicle transport services from reliable from start to finish. You can expect personalized service from Mid-West Moving & Storage.
Mid-West Moving & Storage offers the convenience of door-to-door shipping of your car. Any limitations that may arise due to impassable roads are ironed out with you in advance.
Shifting a 3,000 to 5,000 pound vehicle across the country is no light task. However, Mid-West Moving & Storage transforms the painstaking task to a process of ease. Decades of experience and professional expertise differentiate Mid-West Moving & Storage from the myriad of competitors.
Contact Us
Serving Chicagoland with dedication, Mid-West Moving & Storage offers a free estimate on all auto transport services. Give us a call at 847.593.7201 today!