Last Updated on September 16, 2019 by Kari-Ann Ryan
Some folks in the market for a new home may be inclined to bypass a home inspection, especially if the home is a new construction. Getting a great deal on a home is also a reason that buyers may elect to skip the home inspection. Still, conducting a home inspection on any home—new or old—is a sensible maneuver.
Check out these 6 reasons why home inspections are essential.
1. The home is thoroughly inspected
Home inspections are performed objectively. This means that a professional will examine the home from top to bottom, looking for hidden as well as obvious flaws. The resulting home inspection report details the conditions of several critical aspects that make a property a habitable home.
The parts of the home that undergo scrutiny include the heating and cooling systems, plumbing, and electrical systems. Exterior features, like the roof, are also inspected. Plus, the attic and its insulation, foundation, basement, windows, doors, walls, and ceilings are carefully checked.
2. A qualified professional conducts the inspection

Given that it takes a trained eye to notice imperfections in the home, only professionals are hired to perform a home inspection. For example, hidden areas inside walls can pose as problems in the long run. Concealed flaws like these are certain to escape the homebuyer's and the realtor's attention.
Consequently, potential homeowners are rarely up to the task of inspecting a property. The emotions of buyers who are intent on buying a certain home overtake the objectivity and impartiality necessary for a properly executed home inspection. Hire a professional for expert judgment and specialized opinion.
The home buyer can, however, participate in the home inspection. Ideally, the potential homeowner will be present during the home inspection, observing the inspector and asking questions about the home's condition. The inspection is also a good time to find out how to maintain the property and make repairs.
3. The inspection report can dissuade a purchase
If the home inspector discovers underlying issues with the property, the home can still be purchased. Deciding factors for the buyer may include the extent of flaws that require repairs and associated repair costs. It's up to the buyer to decide if he is willing to perform future repairs.
The National Association of Realtors finds that 14 percent of homes are not purchased due to the results of a home inspection. The home inspection is, in fact, the third biggest reason that homes fail to be purchased. Buying property is a significant investment, making a home inspection essential.
4. The home inspection can provide leverage
Once the buyer and seller are in negotiations, the home inspection gives the buyer room to wiggle out of any legal obligations to finalize the sale. Upon receiving a home inspection report, the buyer can ask for a reduced price or request that repairs be made prior to the sale.
Oftentimes, the purchase agreement contains a clause that states the sale is contingent on the results of a professional home inspection. Home buyers should verify that this important clause, plus relevant conditions and terms between the buyer and seller, are outlined in the contract prior to signing.
5. The home inspection is affordable
The home inspection is generally affordable, making skipping out on one unnecessary. A condominium can be inspected for $300, while a single-family home inspection may average $350 to $500. Price is rarely a deterrent, especially when home buyers can potentially avoid thousands of dollars in repairs.
Factors that affect the cost of a home inspection include the home's size, age, and location. When the house features a septic tank or well, these options are figured into the cost of the home inspection. The inspector's experience and training are also factors to consider when paying for services.
6. Various defects are discovered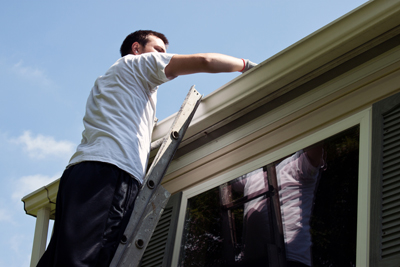 Home evaluations can lead to uncovering a wide range of common flaws. Even brand-new constructions may present faults, such as misaligned air ducts. Or, when the lawn is sloped toward the home, eventual foundation leaks or dampness in the basement will lead to water damage.
When the electrical wiring is faulty, especially in older properties, the home is at a greater risk for outbreaks of fire. Inspectors frequently find issues with outdated plumbing, poor or inadequate insulation and a lack of proper drainage systems, like roof gutters and downspouts.
In the event the seller deferred home maintenance, the subsequent buyer will be responsible for fixing any damages and returning the property to an optimal condition. When a home inspection is conducted, the new homeowner knows what to expect and can purchase the home with confidence.
For the average home buyer, spending an initial few hundred dollars on a professional home inspection is preferable to being hit with home repair bills totaling tens of thousands of dollars in the long run. Considering the above, more reasons exist to pursue a home inspection than to avoid one.
Getting Ready to Move
After a home inspection, you may be ready to move. When a relocation into a new home is on the horizon, reliable moving services are a must. Mid-West Moving & Storage is Chicagoland's premier moving company. As professional movers, we have experience with moves of all types, including moves to and from apartments, retirement homes, condos, dorms and multi-family homes.
Our extensive list of customers trust Mid-West Moving & Storage from start to finish. Only licensed, bonded and background checked movers handle your property. Our moving processes ensure that your belongings are handled with the utmost care and remain protected throughout the move.
Mid-West Moving & Storage services are comprehensive. We offer temporary and long-term storage, packing and unpacking services and a layout plan for furniture. Our free estimate will get you started on your journey to your new home.
Mid-West Moving & Storage is Chicagoland's most respected moving company. Our satisfied customers turn to us whenever a move is upcoming. Whether you are moving in or out of the Windy City, Mid-West Moving & Storage is ready to take you places with speed and professionalism.
Contact Us
To get a free estimate on your next move, give us a call at 847.593.7201 or fill out a contact form to the right. We look forward to working with you soon!