Last Updated on September 13, 2021 by Kari-Ann Ryan
Mid-West Moving & Storage recently delivered 24 pallets worth of undergarments to the Salvation Army Freedom Center in West Humboldt Park that will be given to the homeless in the area.  The undergarments were donated by Forman Mills and delivered with our trucks to the Salvation Army facility.
Supplying Undergarments to Those in Need
Throughout the year, events such as coat drives are held to ensure that those less fortunate can get the clothing they need to survive the cold winters in the Chicago area.  While warm clothing like hats and gloves are important, the importance of new underwear and socks cannot be overlooked.  Dirty socks and underwear are unsanitary which can create a major issue.  This donation will provide those less fortunate with brand new undergarments.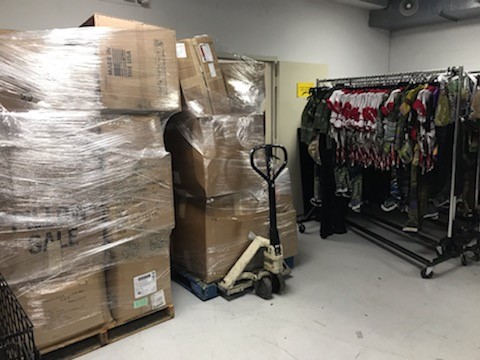 "Often we think about people needing hats, gloves, coats, scarves, for the winter.  But we don't think about all year long, homeless and folks in poverty have a very difficult time getting underwear, particularly women and small children," according to Freedom Center program development officer Major Nancy Powers.  "Often times, they're going to go without.  And that's very difficult for a woman to not have underwear when she needs hygiene products as well.  So this is an unbelievable gift.  This allows people to feel whole again.  And it gives them some dignity."
How the Donation Occurred
Forman Mills is a discount retailer that had the new underwear and socks to donate to the Salvation Army, but they needed help getting their pallets of underwear and socks to the Salvation Army Freedom Center.  The Chicago Wolves, a partner of the Salvation Army and Mid-West Moving & Storage, contacted us to help transport the donated goods to the Freedom Center.  We donated the time, effort, and the truck needed to pick up the donations from three different locations and take them to the Salvation Army.
To help, we sent one of our Chicago movers with a 53' trailer tractor truck and some equipment to pick up the donations.  Our mover went to three different locations and picked up 8 pallets at each for a total of 24 pallets delivered to the Freedom Center.
Working with the Chicago Wolves to Give Back to the Community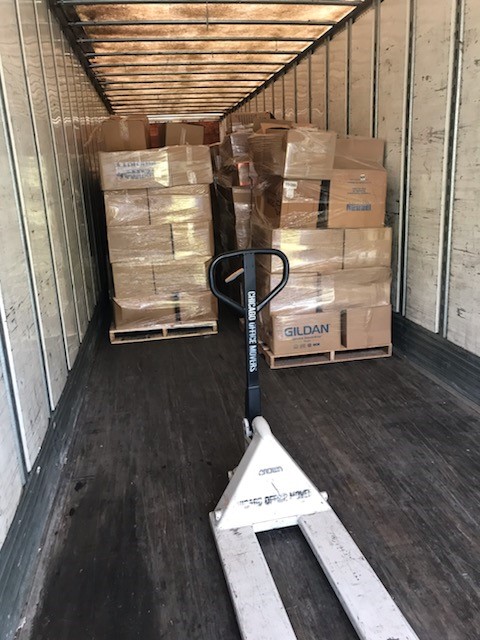 At Mid-West Moving & Storage, we are grateful that the Chicago Wolves reached out to us to give us this opportunity to help.  As our corporate brand ambassador Kari-Ann Ryan explains, "Whenever possible, we find the capacity within our organization to utilize our 'Delivering Goodwill' initiatives and continue to extend our generosity for projects, donations, charity and more.  'Always giving back to our community' is an important part of our mission."
Senior vice president of the Chicago Wolves, Jon Sata, was happy to recommend us as their official moving partner to the Salvation Army.  "Little did we know how impactful this introduction would be to our community," Sata states.  "Through the generosity of time, donation and service, Forman Mills and Mid-West Moving & Storage are making a significant impact through this event."
The donations will be distributed by the Salvation Army at the Freedom Center and via their mobile outreach unit.  They will also send some of the donated undergarments to local homeless shelters and substance use disorder treatment centers to help those who need it.
Chicago Moving Services
Mid-West Moving & Storage is committed to serving our community by helping institutions like the Salvation Army who are doing important work and by providing trusted Chicago moving services.  Our professional union movers provide both long distance and local moving services that will cover every aspect of your move.
Free Estimate
If you are moving to, from, or within the Chicago area, contact our professional movers at Mid-West Moving & Storage by calling 847.593.7201.