Last Updated on September 24, 2020 by Kari-Ann Ryan
When you move, you want to ensure all your possessions are properly packed and protected, especially your more expensive belongings. And while you took extra care to wrap your china and disassemble your furniture, you may be at a loss as to what to do with your electronics. Not only are electronics fragile, but they can also be complicated to disassemble and reassemble with all the cords and pieces.
If you're looking for tips on how to properly pack up your electronics, keep reading below. We'll discuss different steps to the packing process and how to make it easier to put your electronics back together again.
---
1. Dismantle Your Electronics
Before you pack up the electronics, be sure to properly disassemble your printers, computers, and other items. Take out any batteries, ink or toner cartridges, CDs, or DVDs. Batteries can leak acid or explode under extreme temperatures, and ink or toner cartridges may also have problems in severe heat or cold. And if you leave CDs or DVDs in electronics, the discs can get damaged in the move.
For your computers, you'll want to save your files onto an external drive, just to be safe. Pull the cords off all your electronics and carefully wind them up individually so they don't get twisted or damaged. But as you disconnect the cords and coil them up, be sure to label them so you know which cords go to what.
You can either use clearly marked tags to tie around the cords, or you can use colored stickers to put on the cords and then the corresponding electronic item.
---
2. Wrap and Cushion Each Item
After you've carefully dismantled your electronics, you'll need to wrap them up securely in soft, cushiony materials to keep them from breaking in the move. Or, if you still have it, using the original packaging is optimal.
But if you don't have the original packaging anymore, be sure to get sturdy boxes that are just large enough for your electronics and some extra cushioning. Wrap up each item in towels, blankets, sheets, moving pads, or bubble wrap.
Place the electronics in the boxes, and fill the empty space with more sheets, blankets, or towels. You can also use Styrofoam packing peanuts or crumpled up, unprinted newspaper. Just be sure you don't leave a lot of empty space or wiggle room in the boxes. If there's too much empty air, the electronics can easily be knocked around and hit the sides of the box, resulting in dings or internal damage.
---
3. Tape It All Up
Now that each item is packed up in boxes, use some strong tape to thoroughly seal up each box. If you fail to tape up every crack and seam, dust can get into the box and eventually find its way into your electronic items and cause issues. Tape up both the bottom and top seams, and if you see any other holes, be sure to tape those up as well.
---
4. Clearly Mark Your Boxes
Keep track of everything you put in each box, and carefully write all of the contents on the box. Or if you're worried about thieves, mark each box with a number, and on a separate piece of paper, list the contents under each number.
Leaving your boxes generally unmarked can make it more difficult for a burglar to find your more expensive possessions, prohibiting them from grabbing all the costly belongings before they're caught.
You can also use a color coding system on top of your number system to indicate which rooms each box should go in.
---
5. Avoid Extreme Temperatures
Electronics don't do well in extreme heat or cold, so for as much as possible, avoid putting these items in areas that are subject to severe temperatures. Keep the boxes inside until the last minute and pack them in the truck last if you have to, as long as they're in a safe place. When packing or unpacking taped up boxes, don't leave them in the garage; put them inside in a temperature-controlled environment.
If you're taking a moving truck and your own vehicle, consider putting boxes with electronics in the car instead of the truck. This will protect the electronics from too high or low temperatures, and it may also offer better security if you have a long distance move ahead of you with a couple nights in hotels.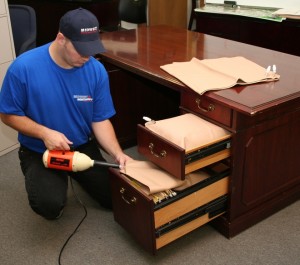 To properly protect your electronics through a move, follow the steps above. Use care when wrapping and boxing up your items, and be sure you don't put your boxes in places where they might be crushed.
Work with a Professional Mover
If you're still nervous about the safety of your electronics, consider a professional moving company, such as Mid-West Moving & Storage. We can assist you in packing and unpacking your belongings, and if you have any questions about the moving process, we're happy to help.
Give us a call at 847-593-7201 or fill out a contact form to receive a free estimate on your next move.