Last Updated on January 31, 2023 by Kari-Ann Ryan
A sprawling Chicago suburb, Naperville, Illinois, offers its residents a wealth of educational, career, and leisure opportunities. While its mix of activities for young and old is a major attraction, the suburb comes with its own set of drawbacks. Before moving, consider the pros and cons of living here.
What is Naperville's history?
Naperville has a long history, dating back to the 1800s. Joseph Naper founded the original settlement in 1831. He was elected president of the board in 1857, the year Naperville was incorporated. Over the next century, growth was primarily attributed to railways built to provide access to Chicago.
After World War II, the near western suburbs experienced population booms. Naperville was left out of this growth until 1954, when plans were announced for the East-West tollway. Once the Eisenhower Expressway was built, the suburb saw major growth in residential, industrial, retail and service industries.
Several well-known research and development enterprises were established in the growing suburb during the late 1950s and 1960s. Inventive corporations, like Argonne National Laboratory, Fermi National Accelerator Laboratory, AT&T Bell Laboratories, and Amoco Research Center, built their bases in Naperville.
1. Job Sector
Pros
Given the plethora of reputable enterprises that have settled in Naperville, job prospects abound for career-minded residents. The majority of the suburb's working population of 13,586, thrive in professional, scientific or technological fields. Area companies with a science or technology focus offer numerous employment opportunities.
The suburb's healthcare and education sectors also provide viable jobs. Naperville's Edward Hospital and Health employs nearly 5,000 staff members. Education jobs are plentiful at North Central College. Retail trade, finance, food service, and waste remediation services employ large scores of local workers.
Cons
The overwhelming majority of Naperville residents who work in their hometown commute to their place of employment. Traffic congestion is a major gripe for the 89 percent of commuters. In addition to the restricted flow of traffic, public transportation is extremely limited.
2. Leisure Activities

Pros
Families and singles living in Naperville are rarely without abundant opportunities for rest and relaxation. Naperville is home to the DuPage Children's Museum, Centennial Beach, and the Brightside Theater. Nearby, nature lovers explore the Morton Arboretum and Springbrook Prairie Forest Preserve.
Cons
Naperville residents enjoy outdoor activities all year long. In exchange, they must endure northern Illinois' severe seasonal weather patterns. Winter is especially cold, dropping to 13 degrees Fahrenheit. Summer is hot and humid, with July temperatures soaring to 84 degrees Fahrenheit.
3. Education
Pros
The public school system in Naperville receives high praises from families. In fact, the suburb is home to two award-winning school districts: Naperville Community Unit School District 203 and Indian Prairie School District 204. Most area schools earn a 10 out of 10 rating from leading national nonprofits.
Cons
While Naperville's residents have access to quality schools, families pay a steep price for the privilege via property taxes. Residents pay a high property tax rate, which is 2.42 percent of a home's assessed value. Unit School District 203 takes a sizeable 72.69 percent of a typical Naperville home percentage.
4. Cost of Living
Pros
Naperville earns the prestigious title of the wealthiest suburb in the Midwest and the eleventh richest in the US. The suburb ranks highly in the Midwest's top 10 places to live. With a low crime rate, quality schools, and many recreational opportunities, it is no wonder Naperville draws growing families.
Cons
Families who intend to enjoy a moderate lifestyle in Naperville, however, must earn $95,602 annually. Naperville's cost of living and housing costs are significantly higher than neighboring Chicago, at 17.5 percent and 43 percent, respectively. Thirty percent of a resident's income will go to housing costs.
5. Housing
Pros
Currently, approximately 800 homes are on sale. The median home value in Naperville is $410,800. Beautiful family homes will fit the needs of those who can afford the high price tag. Renters, too, can make a comfortable home in this suburb. Median gross rent in the area is $1,462.
Cons
The high home prices will remain steady for the next two years due to the coronavirus pandemic as well as the historically low number of area homes listed for sale. Low mortgage interest rates have increased the demand for housing, leading to a tight supply of Naperville homes.
Naperville offers its residents a high quality of life, a low crime rate, and easy access to Chicago. For homeowners and renters who can see past the disadvantages of living here, this suburb is well-suited to meet various lifestyle, career, and safety needs.
Choosing a Reliable Moving Company
Touting a robust economy and consistently ranking as one of the top places to live in Illinois, Naperville is a dream come true for families and individuals. When you decide that homeownership or renting in Naperville is for you, choose Mid-West Moving & Storage to take care of the logistics.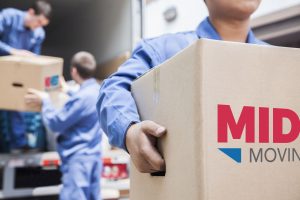 As a top-notch residential moving service, we have moved countless satisfied customers to and from houses, apartments, dorms, condos and retirement homes. Based locally in Chicago, our reputable relocation service is focused on moving people to and from the Windy City.
Working with Mid-West Moving & Storage means your move will be effortlessly handled by experienced moving teams. Our dedicated movers are licensed, bonded, and background checked. We prioritize the security and safety of your valuables, so you can rest assured your goods will be handled with care.
Protecting your furniture is achieved by using padding and stretch-wrapping. Our crews are trained to utilize additional protective measures, such as railing covers, door jambs, and carpet shields. Hardwood floor runners will prevent your floorboards from being scratched during loading and unloading.
Mid-West Moving & Storage has been the preferred professional mover for families and individuals for nearly forty years. Our moving services are affordable, comprehensive and include storage, planning, and regular communication. Call us when you aim for a successful move into or out of Chicago, Illinois.
Get a Free Estimate
When you plan to move locally, contact the trusted Chicago movers at Mid-West Moving & Storage at (847) 593-7201. We proudly provide free estimates.