Last Updated on October 12, 2022 by Kari-Ann Ryan
Got a big move planned? Besides representing the unknown future, a move usually means frustration and confusion. But don't worry, you're not alone. There are thousands of people out there who have already gone through the same process and came out on the other side. These packing and moving tips will make your move go more smoothly and make unpacking much easier for you.
Packing Tips
During packing, it can be tempting to simply throw everything you see into a box, but this method wastes space, makes it easier for things to break, and results in disorganized unpacking. You will never regret staying organized in your packing from the very beginning. By working out a little strategy, you can successfully pack the items in your space. By thinking outside of the box beforehand, you can make sure everything stays in its proper box during the move and can be found when you need it.
1. Divide and conquer. Make a mental map of what you will pack with what. Generally, it makes the most sense to keep related items that live in the same room together during the move—imagine a bedroom where you've packed up everything in one trip and moved it directly into your temporary storage unit or hotel. Now imagine how difficult it would be to unpack just one thing from that container when you're ready to set up in your new place if all of your clothes are mixed in with your books, linens, and other miscellaneous household items. This will help you decide which things can stay packed away for longer periods of time and which things need to be unpacked immediately.
2. If you're moving on your own, make sure that you keep your boxes manageable. There's nothing worse than filling a huge cardboard box with books only to realize the box is too heavy to be lifted. Either split the load between two or more smaller boxes, or invest in plastic boxes that are easier to grip and can be used for storage in your new location. Make sure you reinforce your boxes with tape so they don't spill during transportation.
3. Label your boxes. Don't just think about labeling the room the box will go to, consider other labels as well. Does the box contain fragile items? Which box did you put the cat food in? You can get creative and write things like "put this box in truck last" to make sure that your most essential items are easily accessible no matter who's handling the box.
4. Give yourself enough time. No one likes to pack up too early and be left without access to essential things. But having to stuff everything into boxes, then into vehicles, on the night before a big move means guaranteed exhaustion. One of the best things you can do to avoid last-minute stress is to give yourself plenty of time to get ready. Start packing things like decorations, picture frames, and kitchenware that gets little use first. Also consider whether there are any parts of the move that could be done ahead of time—like clearing out and packing up your garage or attic.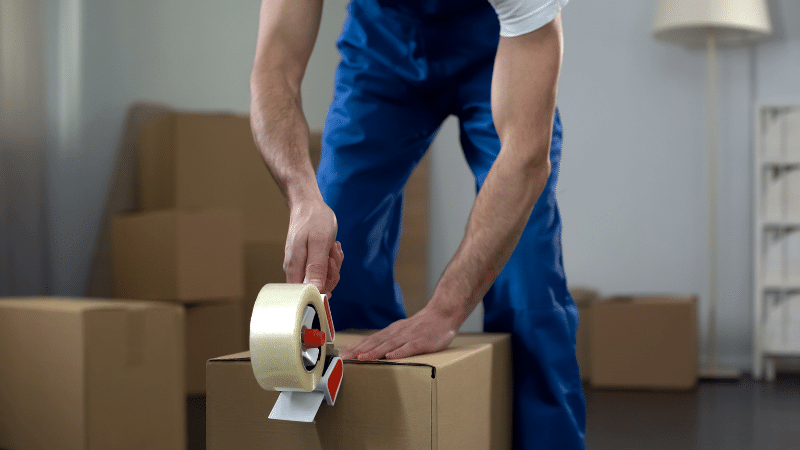 Moving Tips
1. Ask for help. Whether you hire a moving company or just call a few friends, you will thank yourself for getting help. Many hands make light work, but too few hands could result in those hands getting hurt. Moving on your own is extremely straining physically and can be back-breaking (or straining). If you have a big drive ahead of you, it's especially important that you feel rested and focused.
2. Make sure that the post office, the DMV, and your doctor know where you are moving! If you have moved before, you likely know this already—but if this is your first move, it's easy to forget to stop by these places and tell them where you will be living. You can even schedule an appointment for your medical records to be transferred. The DMV will need your new address if you want to get a new driver's license or vehicle registration card.
3. Stay nourished. Packing, moving and unpacking are all very physical and time-consuming tasks. It's important to stay nourished throughout the process. You'll be moving around all day, so it's important to take in enough calories to fuel your movement. In addition, it is important to drink a lot of water, especially if you are carrying boxes or other items that are heavy for you. The body needs water for many processes, including the breakdown of food into energy.
4. Keep directions and maps accessible. If you've never been to your destination, make sure to keep your directions on the dash of your car, in your pocket, or on your phone, and ensure that everyone who will be making the journey will have those directions too–in case you get separated.
Work with a Professional Mover
If you need a space for short-term and long-term shortage for your stuff, consider a professional moving company, such as Mid-West Moving & Storage. We can assist you in packing and unpacking your belongings and provide storage services during the moving process.
Give us a call at 847-593-7201 or fill out a contact form to receive a free estimate on your next move.