Last Updated on April 19, 2022 by Kari-Ann Ryan
The upside of moving is that homeowners are compelled to evaluate the bulk of their household goods and decide what to keep or discard. Limiting the belongings to pack and load onto the moving truck can minimize moving costs. Properly disposing of certain items, though, requires some research.
Not all household goods qualify as trash. Many items can be recycled or donated, thereby extending their practical use and preventing them from ending up in a local landfill. Selling unwanted items is an option, too. In either case, evaluate all unwanted goods to determine their condition.
Particular household products, like electronics and lightbulbs, require special handling, since not all waste can be discarded directly into the trash. Relocating homeowners who intend to dispose of their goods in an environmentally friendly way will find the following tips useful.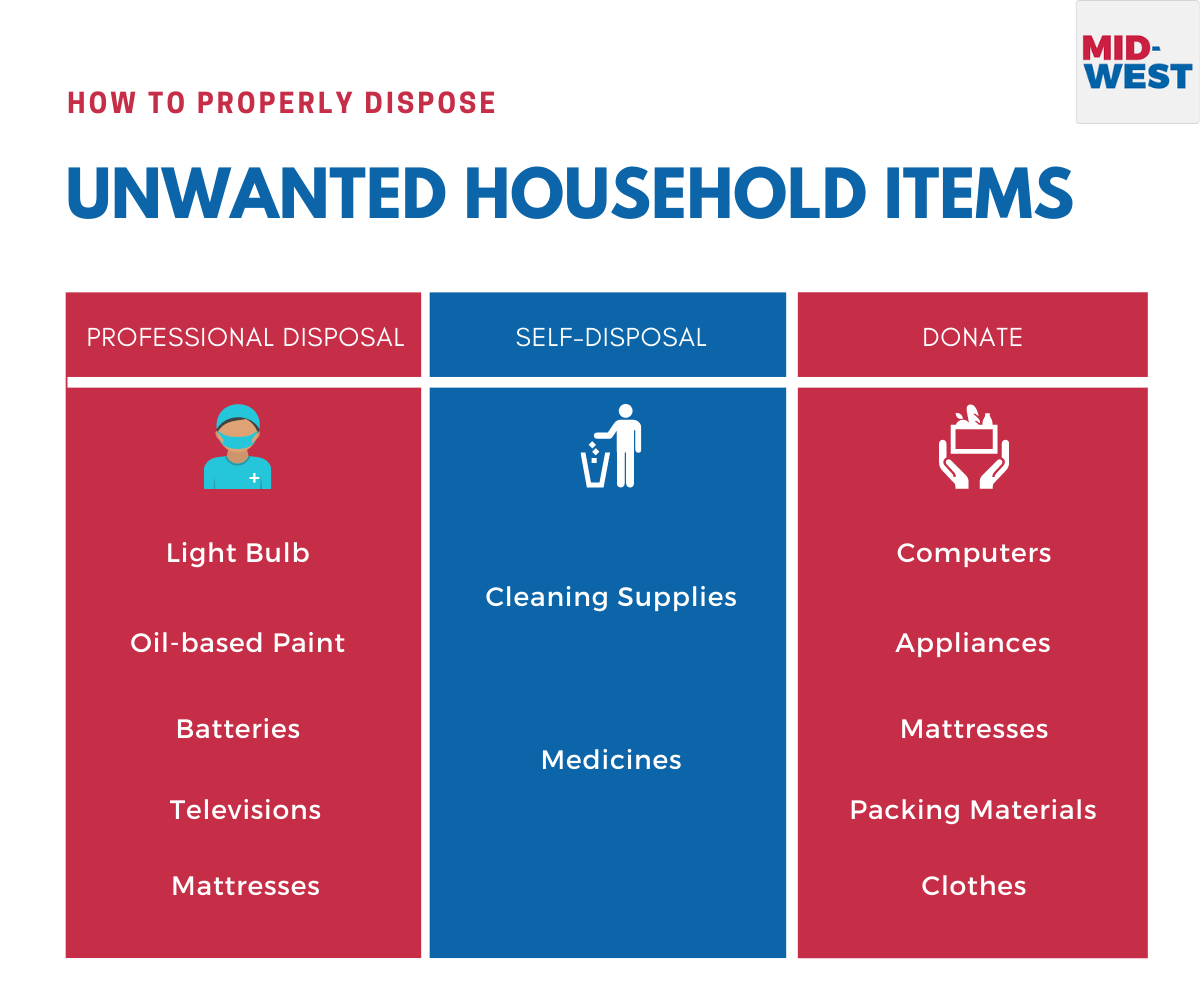 1. Light Bulbs
Some states require that lightbulbs be recycled. The Illinois EPA recommends recycling fluorescent bulbs. Lamps that have bulbs containing mercury are not subject to hazardous waste rules in the state of Illinois; however, the IEPA suggests taking them to household hazardous waste collection centers.
Mercury is highly toxic, which is why bulbs containing mercury should not be discarded into landfills. Bulbs break after being tossed into the trash, and this can release mercury into the environment. Exposure to mercury damages the nervous system, kidneys, liver, and immune system.
2. Paints
Solid waste landfills are no place for hazardous waste materials, like oil-based paint. Liquid paint cannot be poured down drains or emptied into the trash. Rather, oil-based paints should be reused (give them to a neighbor) or taken to a local drop-off center for proper disposal.
3. Computers
Thrift stores will generally accept computers that are in good working condition. Local schools and community centers will also take functional computers and give them to a family or student who could benefit. Be sure to erase the hard drive prior to donating the computer.
4. Appliances
Household appliances often have resale value; alternately, they may be donated. Cleaned microwaves, for instance, can either be donated or dropped off at a local recycling center. Arrange for a refrigerator to be picked up by the local trash collector on a bulk trash pickup day.
Washers and dryers in good condition may be accepted by local nonprofits. Local scrap metal recycling centers can also pick them up. Or, contact the manufacturer to see if they offer a recycling program for unwanted washing machines and dryers.
5. Batteries
Rechargeable batteries contain metals and chemicals that are considered hazardous waste, so the eco-friendly approach is to recycle them at a local recycling center. Electronic stores may offer drop-off services where batteries can be recycled. Single-use batteries can be safely discarded in the trash.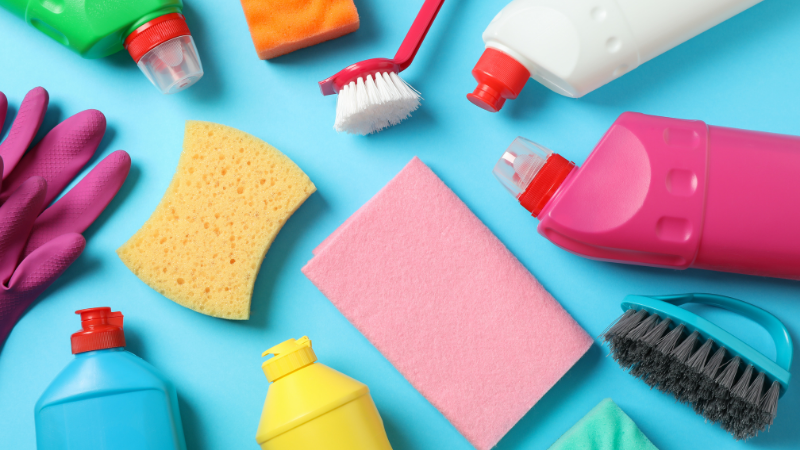 6. Cleaning Supplies
Some movers have policies against transporting cleaning supplies, making it necessary to dispose of them prior to moving day. Pour the entirety of the all-purpose cleaning solutions down the sink. Rinse the bottles with water, and if the containers are recyclable, recycle them.
7. Medicines
The proper disposal of unwanted medications prevents these substances from contaminating the environment. Pouring prescription medicine into the drain or flushing them down the toilet causes them to enter streams or seep into the groundwater. Water treatment plants cannot remove medicines.
Unused, unwanted or expired prescription medications should be discarded into the trash. First mix the drugs with coffee grounds, then seal them in a disposable container. Remove identifiable information, such as the prescription number. Now, the medications can be safely thrown into the garbage.
8. Televisions
Televisions, especially older ones, contain hazardous materials, including lead, and should not be discarded in the trash. Rather, contact electronics stores to ask if they offer a recycling program (many popular chains do), via a recycling event, haul away option or drop-off site.
9. Mattresses
Local municipalities may collect an old mattress on bulk trash collection day, if it is sealed in a plastic mattress bag (which prevents bed bugs). Or, if the mattress is in good condition, donate it to a charity, such as the Salvation Army, the Red Cross, or a homeless shelter.
10. Packing Materials
Although bubble wrap is recyclable, it is not accepted in curbside recycling bins. Made with low-density polyethylene, bubble wrap can clog machines at local recycling centers. Packing stores accept bubble wrap and reuse them in eco-friendly ways. Or contact Earth911 for soft plastic recycling centers.
11. Clothes
Clothing in good condition can be sold or donated. Secondhand shops may take wearable clothing items. Or consider dropping off coats and jackets at coat drives during the winter months.  Clothing that is unwearable may be dropped off at textile recycling centers.
Ready to Move? Find a Professional Mover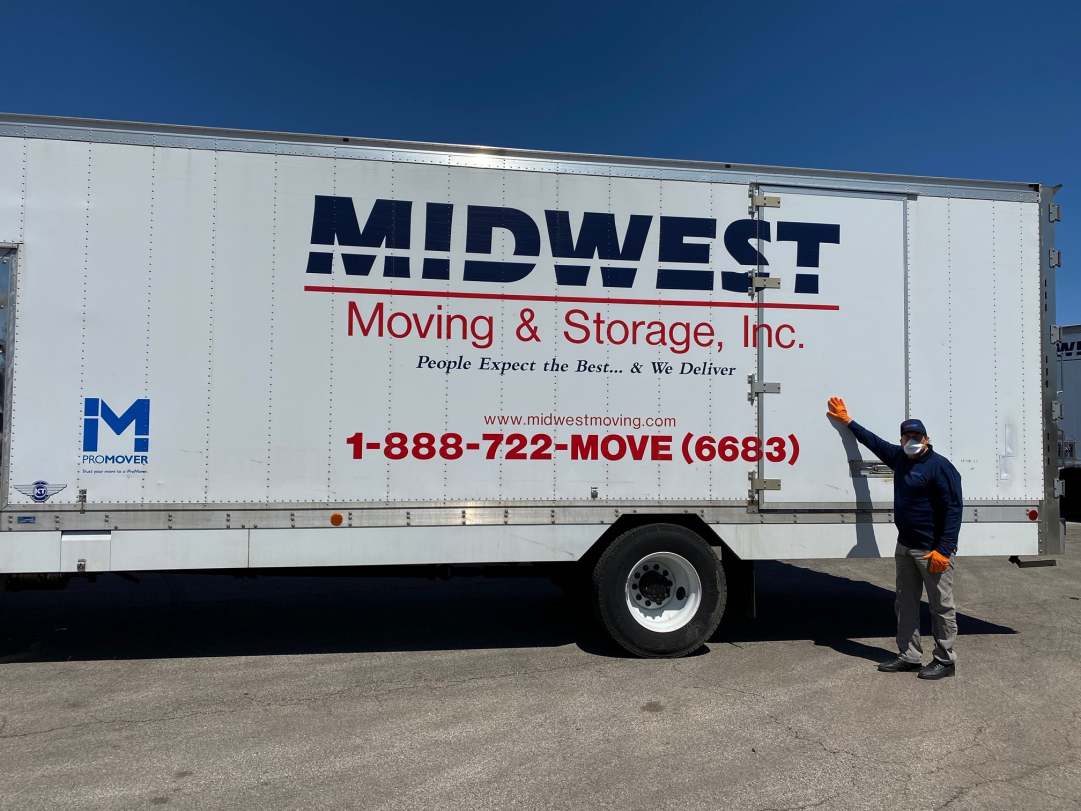 While discarding unwanted household goods is a helpful step when moving, equally important is choosing a residential mover you can trust. Mid-West Moving & Storage is a local moving service that has relocated countless satisfied families into and out of Chicagoland.
Our bonded and insured moving crews are experienced in all types of residential moves. We have relocated individuals and families to and from apartments, family homes, dorms, condos, and retirement communities. We will deliver the same quality service to your upcoming residential move.
Expect skill and care when you work with our highly rated moving service. Our movers protect your property and household belongings while the truck is being loaded and unloaded. We use hardwood floor runners, carpet shields, door jambs, padding, and stretch wrap during the moving process.
Mid-West Moving & Storage handles all the logistics from start to finish. You will be assigned a move counselor, who will keep you informed about every step of the move. We can also help with planning the layout of furniture and appliances and provide short- and long-term storage options.
A residential move can be exciting yet stressful. Minimize the stress by working with the moving experts at Mid-West Moving & Storage. We'll ensure your move around Chicagoland is as seamless as possible. Contact us today for customized moving services, and be one step closer to your next destination.
Contact Us
For a free estimate on your next move, give us a call at 847-593-7201 or fill out a contact form.