Last Updated on July 18, 2022 by Kari-Ann Ryan
Today's homeowners may erringly believe they are savvy enough to spot a moving scam when they see one. However, fraudsters nowadays are sophisticated and utilize the latest technology to their advantage. In fact, moving cons are prevalent: people in the US lost $1.48 billion in 2018 alone.
In 2018, nearly 6000 individuals filed moving fraud complaints with the Federal Motor Carrier Safety Administration (FMCSA). Over half of complaints involved overcharges. Almost 40 percent reported lost or damaged property. Younger people were more at risk for losing money due to fraud than older folks.
Seemingly never-ending frustrations and stresses can accompany a residential move. The last thing a homeowner needs on top of the hassle of moving is becoming a victim to moving fraud. Keep a relocation on the right track by being aware of these ever-increasing moving scams.
Scam #1: Estimates without an in-home evaluation
Over-the-phone estimates are unreliable. Estimating the number and weight of belongings that will fit into the moving truck is difficult without making an onsite visit to the home. The tactic is to give the property owner a too-good-to-be-true estimate over the phone and charge more later.
Avoid becoming a victim by requesting an in-home estimate. Even in this scenario, it is prudent to evaluate the estimator. Be wary of individuals who don't ask questions about what's to be moved or who simply glance at the goods. Meet the mover, ask questions, and obtain an accurate quote.
Scam #2: Bait-and-switch fraud
The bait-and-switch swindler attempts to lure a naïve homeowner into the trap by offering an unbelievably low moving estimate over the phone. The fraudulent mover never sets foot inside the home to give a proper estimate, and the homeowner, hearing a good deal, makes the hire.
Once the homeowner's belongings are loaded onto the truck, the fraudulent mover will demand an exorbitant price to deliver or release the goods. The homeowner, made desperate by the outright scam, forks over the cash—and becomes another victim of bait-and-switch fraud.
Be a wiser consumer by asking the potential moving company about itemized fees related to the move. An honest mover will inform the homeowner about expected costs. Plus, if the estimate is too low, read consumer reviews, check the BBBs rating, and consider requesting additional quotes.
Scam #3: Paying a large cash deposit
Reputable movers are unlikely to ask for an upfront cash deposit. An unwitting homeowner who pays a large cash deposit to a scheming mover may never see his belongings again. Legitimate reasons for a small upfront deposit, however, include moves during peak times or those in high-volume areas.
Avoid this scam by asking follow up questions, like, "What is the deposit for?" Be aware that quality movers require payment, as outlined in the contract, upon delivery. Use a credit card to pay the moving bill, rather than cash, to obtain a record in the event complaints arise.
Scam #4: Misleading contracts
Contracts from moving scammers will either lack important details or be intentionally confusing. Incomplete or overly complex contracts are designed to trick unsuspecting homeowners into agreement. A misleading contract allows the mover to charge more once the move is complete.
A trustworthy mover, however, provides a clear contract with details about the guaranteed price, delivery date and times, supplies, complete list of items, and extra fees. Read through the entire contract prior to signing. When moving expensive items, consider hiring a lawyer to look over the contract.
Scam #5: Generic greetings
Scammers intent on preying on their next victim may answer the phone with generic greetings, such as, "Movers" or "Moving company". These fraudsters change their company names to avoid bad ratings with the BBB or avoid licensure with the FMCSA.
Prevent from becoming prey to scammers who aren't clear about their names by checking with the FMCSA. If the moving company is not listed with this health inspector of the moving industry, continue the search for a reputable mover. A licensed mover will be listed on the FMCSA website.
Scam #6: Poor customer reviews
When the customer reviews are overwhelmingly poor, it may be a legitimate warning of a potential scammer. However, a few negative reviews are to be expected, even for the best quality mover. Equally telling are movers with no customer ratings at all—it's best to avoid these companies.
Peruse the consumer reviews to gauge how well the potential mover performs. Rather than look at just the star rating, also examine the content of reviews on third-party sites: problems customers encountered, dates of the move, and responses from the mover.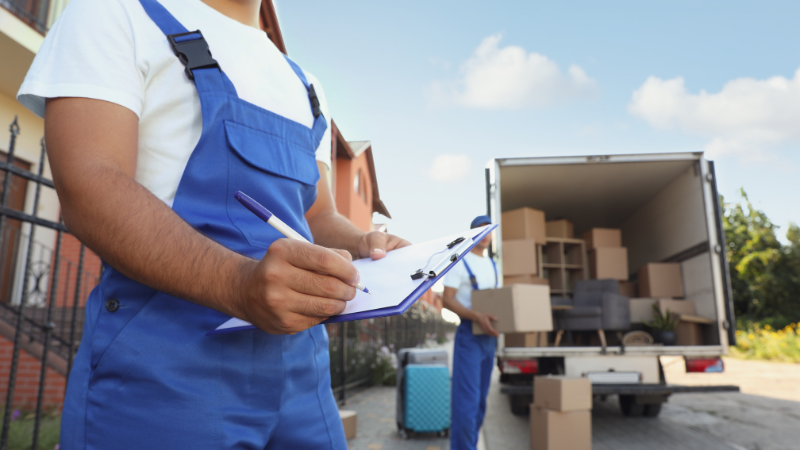 Moving to a new home is stressful enough. Homeowners don't need the extra hassles from conmen disguised as movers. Protect yourself and your property by working with the reputable, professional, and licensed residential movers at Mid-West Moving & Storage. Our experience ensures a seamless move.
As a moving company with excellent star ratings from countless satisfied customers, Mid-West Moving & Storage is equipped with the crews and equipment to take you to your next destination with the least amount of stress as possible. Our movers are background checked, licensed, and bonded.
Our uniformed movers protect your belongings with padding and stretch wrapping. Both your current and next home will be safeguarded with hardwood floor runners, door jambs, and carpet shields during the move. We also offer packing and unpacking services, including those for fragile and sensitive goods.
As a trusted local mover, Mid-West Moving & Storage specialists will help you plan your upcoming move. We provide regular updates so that you know where your belongings are located with every phase of the move. Short- and long-term storage options are an added convenience.
Mid-West Moving & Storage has successfully moved Chicagoland families and individuals for decades. We'll help you relocate, whether it is to and from a condo, town home, apartment, dorm, or retirement home. Call us today for a local home mover you can count on.