Last Updated on September 16, 2022 by Kari-Ann Ryan
Chicago is centrally located, having remained a hub for transportation and commerce for several decades. The city boasts world-class universities, like the University of Chicago, as well as sports teams, miles of beaches along the lakefront, a diverse economy, and its famous deep-dish pizza.
The cost of living in Chicago is comparable to the cost of living in other major cities, such as Miami and Denver. However, taking up residence in the Windy City costs slightly less than living in certain large US cities, like New York, Boston, or San Francisco.
Living in the Windy City offers residents countless perks. But along with the advantages of making the nations' third-largest city home is its high cost of living. Nevertheless, Chicago gives its residents plenty of bang for their buck. Following is the average cost of living for the city.
1. Windy City Housing
Chicago real estate is becoming more affordable, but prices depend on the neighborhood. Housing costs are high, remaining at 52.9 percent above the national average. As the real estate market in this city is seeing a decrease, housing costs are dipping slightly from years prior.
Current home prices in the city hover around $370,000 for a four-bedroom house. A three-bedroom property will cost about $225,000. Couples looking to buy a two-bedroom home can expect to pay approximately $200,000. The average purchase price is about $280,000.
Even though housing costs are high, Chicago is still primarily a renter's market. A 900-square-foot rental property in an upscale part of the city averages $2,020 per month. Renters in the market for a three-bedroom apartment can expect to shell out $2,150 per month.
2. Windy City Utilities
Apartment living will set back couples approximately $190 in utility costs. Internet in a studio apartment has a cost of approximately $68 per month, which is slightly higher than the national average. Basic apartment utilities include garbage pickup, water, heating, electricity, and internet.
Plan for higher utilities bills during the winter months compared to the summer months.
3. Windy City Food
Chicago is home to great eats, like the iconic Chicago hot dog and a smorgasbord of ethnic flavors. An inexpensive restaurant will give a single resident a meal for about $20.  A three-course meal at a midrange restaurant, however, will set a couple back $80.
Grocery prices are 4 percent above the national average, which means they are less expensive than shopping in San Francisco or New York. A loaf of bread, for example, costs $2.80; a dozen eggs is $2.85; a pound of ground beef averages $7.42; and, one pound of rice is $1.64.
4. Windy City Transportation
Residents who do not own a car must use public transportation to get around the city. Chicago features a robust subway system and offers bus rides via the Chicago Transit Authority (CTA). A CTA pass gives residents access to both the city's trains and buses; a 30-day pass is $75.
Owning a car in one of the most congested cities comes with its own set of expenses. Chicago's least expensive auto insurance ranges from $672 to $1,212 per year. An annual city vehicle sticker costs car owners anywhere from $90.88 to $144.33. A gallon of gas averages $3.16.
Windy City residents take advantage of the fact that the city is conveniently walkable. In fact, Chicago has a walk score of 77. It is ranked as the fourth walkable city in the United States. Bicyclists can get around town and utilize the public transport options available to cyclists. Bikes can be inexpensively rented from any of the city's 600 docking stations.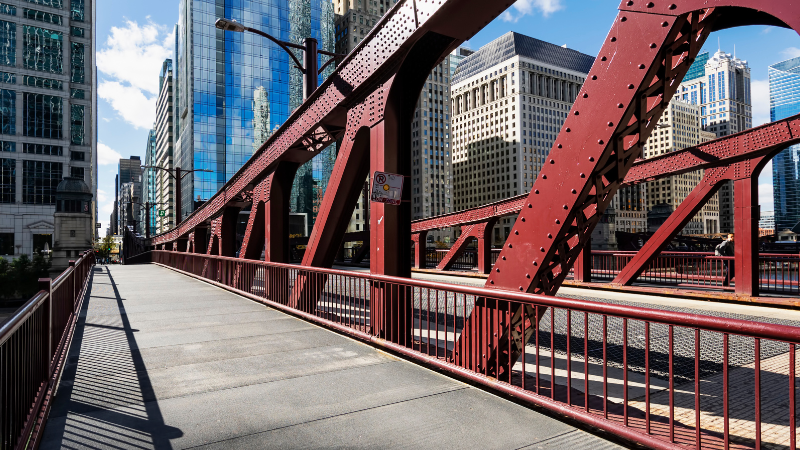 5. Windy City Healthcare
Hospitals and healthcare systems in Chicago rank highly, so it's no surprise that healthcare costs are 21 percent higher than the national average. While each individual's healthcare needs vary, the average cost for a physician's visit is $181.50 and a dental visit is $137.50.
6. Windy City Salaries
An individual who aims to live comfortably in Chicago should earn $62,097, which is the area's median annual income. While this income level is 7 percent higher than the national average, it is far less than salaries earned by workers in Boston or San Francisco.
The highest-paying jobs in Chicago are in the legal field, at $128,000 per year. While lawyers in Chicago earn 17 percent more than anywhere else in the country, construction workers are also well compensated. Construction workers earn $72,000, which is 38 percent over the national average.
Chicago offers big city amenities, and people who choose to move here find ways to take their income further. Public transit is priced below average in the city, so car ownership and the associated expenses may be unnecessary. Residents also enjoy below-average costs for groceries.
Need a Professional Mover?
People eyeing the Windy City as a potential home are presented with endless possibilities to make it work. One Chicago company that is essential to your decision to relocate to this desirable city is Mid-West Moving & Storage. We are a residential mover with affordable options and high-quality service.
Whether you intend to move to a family home, apartment, condo, dorm, or retirement community in the Windy City, Mid-West Moving & Storage will transport your possessions with care. Our moving crews utilize railing covers, door jambs, and carpet shields to protect your valuables.
Our professional movers are licensed, bonded, and background checked so that you have maximum peace of mind as they transport your belongings. Crews offer packing and unpacking services for all goods, including fragile items, and are experienced in securely handling sensitive documents.
Move specialists from Mid-West Moving & Storage will create a detailed plan of your move, including the layout of your furniture and appliances. We offer convenient short- and long-term storage options. Our constant communication keeps you informed of the progress of your move.
Relocating to a new home can be a seamless transition when you work with the experienced professional movers at Mid-West Moving & Storage. We'll tailor our services to meet your unique needs and tackle challenges along the way. Call us for a successful move in or around Chicago, Illinois.
Contact Us
For a free estimate on your next move, give us a call at 847-593-7201 or fill out a contact form.