Last Updated on December 6, 2022 by Kari-Ann Ryan
Booking a moving company as far in advance as possible is advisable. Individuals who have never relocated before might wonder exactly how far ahead this might be: a week, two weeks, a month or more? Here are some tips to help you determine when it is a good time to hire a residential mover.
What are the advantages of scheduling a mover early on?
Customers stand to gain at least four clear advantages when they book a moving company well in advance of their anticipated move date. It's a given that people looking to move will have a handful of potential movers in mind and quotes to go along with them.
Since reputable movers' schedules can fill up weeks or months ahead, people who book early improve their chances of their preferred mover having the desired availability. Additionally, a larger selection of movers will be available from which perspective customers may choose.
The earlier individuals book their move, the better the moving rate. The majority of residential movers lock in the rate once the move is reserved. Once movers become busier, such as during the peak summer moving season, prices go up. Booking early may also come with discounts.
Some homeowners must move on a specific day of the month. When closing the sale of a home and moving into a new one impact the move date, then booking early gives these individuals a better chance of scheduling a move on the most convenient day and time.
Lastly, people who confirm a mover early on give themselves plenty of time to plan the remainder of their move. With the moving company scheduled, individuals can focus on packing, changing their address, or handling any other minor logistics of the move.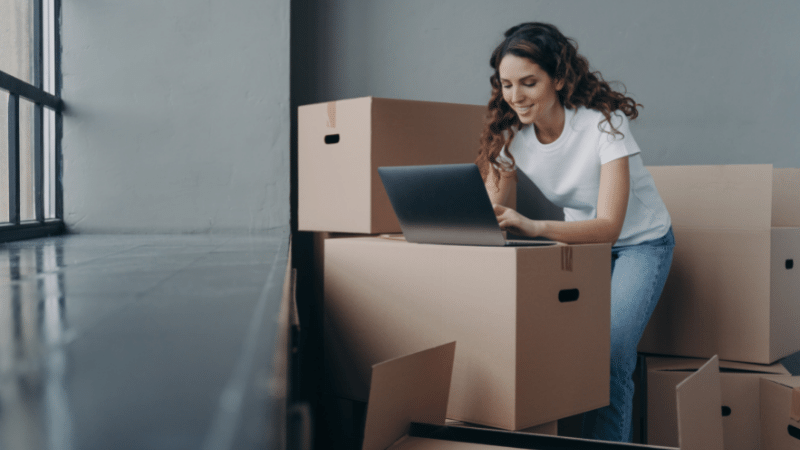 How long should I book a mover ahead of my move?
While the advantages of booking a mover well in advance are clear, individuals may ask how much advance notice a moving company needs. Some professional movers require at least three months' notice, while others are able to handle last-minute moves.
1. Long-distance Moves: 2 to 3 months
Individuals planning a long-distance move should anticipate reserving a mover at least two months prior to the expected move date. Interstate moves require extensive planning. When moving long-distance during the busy moving season or around the holidays, at least 12 weeks prior is recommended.
2. Local Moves: 1 to 2 days
On the other hand, professional movers might accommodate a last-minute move, provided it is booked 1 to 2 days in advance. Location and availability heavily factor in. Plus, individuals moving on short notice should expect to be extra flexible with their moving dates and times.
However, intending to book a mover on short notice is not advisable. Last-minute moves can leave individuals vulnerable to moving scams. Plus, the choice of movers will be limited, and the quality of service can be subpar. If an emergency relocation is necessary, consider self-moving.
3. Complex Moves: 2 to 3 months
The complexity of the move as well as the size of the move affect how far in advance an individual must book a mover. Larger-sized moves should be reserved well in advance to ensure the moving company will be able to accommodate the size of the move.
If a large move includes moving certain valuables, such as a piano, artwork or antiques, plan to book the move early on. Reputable moving companies must have advance notice in order to guarantee they will have the equipment and moving crews to handle specialty items.
Other elements can impact the difficulty of the move. Elevators, stair carries, long carries, or narrow streets in either the place of origin or destination (or both) should be communicated to the mover, as they can significantly increase the complexity of the move.
Long carries, for example, are instances when the distance from the back door of the moving truck to the front door of the home or building at the destination is unusually long. The approximately seventy-five feet of distance that the moving crews must traverse can increase the move's difficulty.
4. Summer Season Moves: 2 months
The busy moving season occurs every summer, when the weather is optimal and the kids are out of school. Moving companies tend to fill their schedules quickly from May to September. When planning a summer move, book a mover at least two months ahead of the move date.
5. Winter Season Moves: 2 to 4 weeks
Conversely, winter is a moving company's slow season. Not many people want to brave the snow and risk damage to their belongings during an icy winter relocation. As a result, a mover's schedule is wide open. Reserve a mover 2 to 4 weeks in advance of a winter move date.
Schedule a Mover Today
In general, as soon as most of the move details are figured out, book the mover. Reserving a quality mover should be a top priority. Mid-West Moving & Storage is a trusted residential moving company with the industry experience to handle both local and long-distance moves.
Our licensed, bonded and background-checked moving crews are experts in handling items with professionalism. We utilize padding and stretch-wrapping to protect furniture and belongings. Hardwood floor runners, door jambs, and carpet shields protect your home at the origin and destination.
The experienced moving crews at Mid-West Moving & Storage have efficiently moved countless satisfied customers within Chicago. We've handled relocations to and from homes, apartments, dorms, retirement homes and condos. We'll provide you with regular updates on your local move.
As a professional moving company, we also expertly relocate people to and from Chicago. Our long-distance moves include efficient packing and packing services. Crews follow an innovative packing process, enabling us to pack and unpack your home within one day.
Whether you choose our moving service for a local or long-distance move, rest assured that your belongings will remain in trustworthy and experienced hands. We've been helping people relocate since 1983 and have earned a stellar reputation within the community.
Choose Mid-West Moving & Storage when you are planning an upcoming move to, from or within Chicago. You'll receive ongoing support from our move counselors plus short- and long-term storage options.
Call us at 847-593-7201 today to schedule a move with the area's most trusted move partner.