Last Updated on December 19, 2022 by Kari-Ann Ryan
Signing the lease on a first apartment is a symbol of independence. What accompanies that newfound freedom are new challenges and responsibilities. Both excitement and a feeling of overwhelm can coincide. Here are helpful moving tips to tip the scale toward enthusiasm rather than stress.
A first apartment is a dream for many young people and couples moving in together. Ideally, the apartment will reflect the renter's personality, while giving him endless opportunities to decorate based on personal taste. Furnishings will also match the renter's unique style.
The benefits of moving into a first apartment come with the anxiety of living life on new terms. It's important to organize a safe and smooth relocation. Obstacle are bound to occur in the life of an inexperienced renter. However, adhering to a few tips can mitigate the worries.
Tip 1: Save up to pay for living expenses
Being financially prepared to live independently in a first apartment should be a priority. It's important for first-time renters to feel comfortable financially. During the first several months in a new place, expenses can quickly mount; and renters should be able to cover them.
Prior to signing on the dotted line of the lease, add up the costs that will be necessary for a successful move. Calculate the moving costs, the first three months' rent and utility bills, and the security deposit. Set aside money for two months' worth of living expenses and emergencies.
Tip 2: Decide on a prime location
While moving down the street is one possibility, many renters move to a brand-new city. Before settling on an apartment, explore the neighborhood to determine whether it is a suitable area. Look up the local crime rates and walk around to get a feel for the traffic and noise.
Proximity to a university or place of employment are equally important. Locate the nearest grocery stores, pharmacies, banks, and restaurants. Check out the availability of public transportation options, such as trains and buses, and parking. Large cities can be plagued with parking issues.
Tip 3: Consider buying renter's insurance
Landlords may or may not require proof of renter's insurance prior to moving in. Disasters are possible in an apartment and range from water damage to fire damage and vandalism. Apartments located in high-risk geographical areas, can be susceptible to natural calamities.
Keep physical possessions and valuables protected by purchasing renter's insurance. Policies vary between insurance companies, but a good policy will help cover the costs when property losses occur. Most renter's insurance policies are affordable, with premiums averaging $17 per month.
Tip 4: Learn about mail delivery
Mail and package delivery may differ among apartment communities. Some feature a community mailbox where renters pick up their mail. Apartments might have individual mail slots. Or the doorman might store packages until they are picked up. Packages may even be left outside the building.
Find out how mail and packages are delivered within the specific apartment community. If mail is left outside the building, consider renting a PO Box. Packages are securely left inside the post office, and renters can pick up their mail, oftentimes with 24-hour access.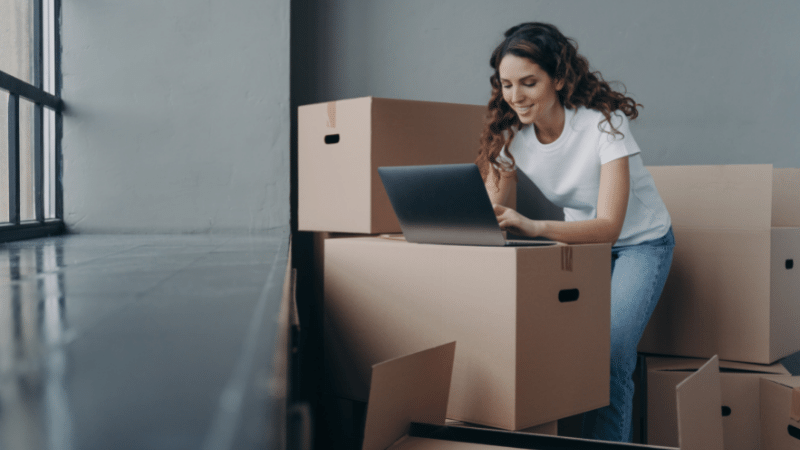 Tip 5: Set up utilities
Contact the utility companies to set up the gas, sewer, water, electricity, and internet before moving into the apartment. Additional utilities that require setup include security systems, trash collection, and the phone. Some utility services can be set up in advance, while others require setup on moving day.
Tip 6: Buy household items
Certain crucial household goods must be purchased when moving into a first apartment. Buy toilet paper, soap, shower curtains, and other toiletry items. First-time renters will also need basic cleaning supplies, trash cans, dishes, first-aid kits, and a few kitchen essentials for meal preparation.
Also helpful is owning a toolbox. Even a small, portable one will serve to hang pictures or wall hangings, assemble furniture, or fix mishaps in the apartment. The toolbox should ideally consist of wrenches, hammers, nails, and screwdrivers. Buy a plunger in case the toilet overflows.
Tip 7: Learn the rules
An apartment community may enforce certain rules and regulations. Renters are advised to become aware of these rules as soon as possible upon moving in. An apartment may have safety regulations or cleaning requirements that must be strictly adhered to.
Tip 8: Hire a residential mover
Finding a reputable mover precedes comfortably settling into a first apartment. A professional mover facilitates a seamless transition into the new place. Experienced moving crews take care to avoid damaging valuables and the apartment floors, and generally take the stress out of moving day.
Obtain a few moving quotes from professional moving companies. The right one will be a mover that is licensed, experienced, and trustworthy. A residential mover that Chicagoland renters trust is Mid-West Moving & Storage. We help individuals and families move into and around Chicago.
Our dedicated moving crews are licensed, bonded, background-checked, and trained to provide excellent customer service. We safeguard your home or apartment with floor runners, railing covers, door jambs, and carpet shields at both the origin and destination during the moving process.
If you are short on time, Mid-West Moving & Storage offers packing and unpacking services. We also provide convenient short- and long-term storage options. Our move specialists create a detailed plan of the move, including the layout of furniture and appliances at your new home.
Our customers enjoy peace of mind from the start of their move through completion. You will be assigned a move counselor who will guide you through the process. We also keep customers updated with regular communications, so you know exactly where your possessions are located.
When you are planning a local move, choose Mid-West Moving & Storage, like so many satisfied area residents have. We'll ensure your relocation to a new apartment, dorm, or retirement home stays within budget. Call our Chicagoland office today and find out why we're the area's number one home mover.