Last Updated on January 19, 2023 by Kari-Ann Ryan
While hunting for an apartment or rental home, it's important to be aware of potential scams. Rental scams abound as con artists misrepresent themselves as property owners and disappear once a security deposit or first month's rent is received. Here are common rental scams and tactics to avoid them.
Rental units are in high demand. Scammers take advantage of this situation by duping prospective renters who are desperate to find an affordable rental. In fact, in 2021, the FBIs Internet Crime Complaint Center received nearly 12,000 reports of rental scams—over 50 percent higher than in 2020.
It pays for apartment hunters to be vigilant for rental scams. Knowing how rental scams work helps prevent getting caught in a trap. Typically, the scam artist posts an illegitimate listing for a home or apartment, tricking renters into sending them money and then leaving them without a home.
Phony deals primarily come in two forms: phantom rentals and ad hijacking. Phantom rentals occur when scammers create ads of homes or apartments that they do not own or have the legal authority to rent. The con artist makes excuses for why the property cannot be seen in-person.
Ad hijacking occurs when the fraudsters modify legitimate real estate listings, replacing the real estate agent's contact information with their own. The unwitting victims reveal sensitive personal information, like social security numbers and bank account details, that the con artist uses in identity theft.
A typical rental scammer operates with ads for rentals with below-market price points. The fraudster communicates with the potential renter via phone or email, offers a virtual tour, convinces the victim to send an application fee or security deposit, and then leaves without a trace.
Scam 1: Fake Ads on Social Platforms
Some of the latest rental scams take place on social media platforms where extra security features or verifications are nonexistent, making it easy to commit fraud. Craigslist and Facebook Marketplace are two popular online marketplaces where fake rental ads are posted to lure unsuspecting victims.
Online platforms that do not cater specifically to the rental market can draw tenants looking for low prices and who are thereby unlikely to question the low rent. Scammers post low-quality (and possibly stolen) photos, do not reveal a property address, and require urgency to follow through on the deal.
Scam 2: Vague Leases
Incomplete leases allow scammers to conduct fraud. The con artist creates an incomplete lease that allows him to manipulate or change critical details after it's been signed. The victim of a vague rental agreement may find himself with unexpected charges.
Warning signs of an incomplete lease include lack of a specific rental amount, exact address of the property or terms of liability for damages. The imposter may even request rent before the agreement is signed—an unmistakable giveaway that the deal is illegitimate.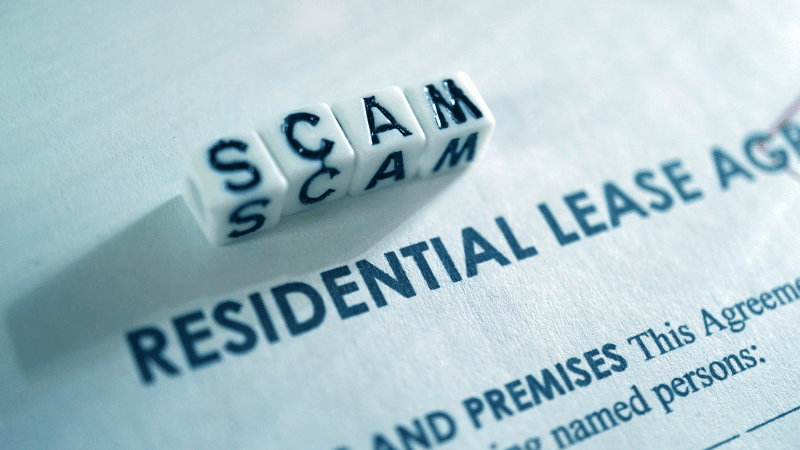 Scam 3: Applications Requesting Sensitive Info
Con artists may send potential victims an extensive rental application requesting sensitive personal information. Their goal is to double their loot by not only defrauding the victim financially but making a getaway with personal details that can later be used to commit identity theft.
The fraudster sends the rental applicant the lengthy agreement that must be signed before the property can be viewed, if at all. Sensitive information, like date of birth, SSN, driver's license number and credit card numbers are requested. Never provide these details until the property is seen.
Scam 4: Deposits Required Via Untraditional Methods
Legitimate landlords accept rental deposits via standard channels. A clear sign of a scam is when the fraudster requests payment be sent through methods that are untraceable or cannot be disputed or reversed, such as wire transfers, cashier's check, and payment apps, like Venmo.
Avoid a scam like this by making payments via credit or debit cards, which are secure and provide protections against fraud. Especially if the supposed landlord asks for payment via gift cards or cryptocurrency, be aware that the transaction is fraudulent.
While affordable rental properties are a dream, dangers can lurk. Prevent becoming a victim to a rental scam by researching the listing agent or his company on the Better Business Bureau. A legitimate rental apartment will not be listed in more than one area. Visit and tour the rental.
Search for the address on Google Maps and view the images. If an ad seems attractive, perform a reverse image search of the photo to determine if scammers have stolen the photo from a legitimate listing. Meet the landlord in person and do not make payments before signing the lease.
Individuals who find they've become a victim to a rental scam should freeze their credit, attempt to reverse payments made to the con artist, file a report with the Federal Trade Commission or local authorities, and report the scam listing to the FBIs Internet Crime Complaint Center.
Finding a new rental property to call home does not have to be a hassle. It's important to work with legitimate landlords and reputable companies. A trustworthy, professional mover that locals rely upon is Mid-West Moving & Storage. We've relocated countless satisfied families and individuals over the decades.
Our residential moving company has earned a stellar reputation. Moving crews are licensed, bonded, and background checked so that customers enjoy peace of mind. We offer comprehensive services, including short- and long-term storage, packing and unpacking services, and a detailed moving plan.
Move specialists keep you updated on the progress of your move. All belongings are carefully handled. We also protect the home with carpet shields, floor runners, and railing covers. Our experienced crews provide efficient moving services that remain within budget and stay on schedule.
Whether you are moving to or from a Chicagoland home, dorm, apartment, retirement community, or condo, the local movers at Mid-West Moving & Storage will get you to your destination with minimal stress and maximum satisfaction. Contact us at our Chicago, Illinois, location for a free estimate.