Last Updated on April 12, 2023 by Kari-Ann Ryan
Housing options are plentiful, from single-family homes to townhouses and condos. Individuals and families must consider whether they'd like to live in a detached home or a community-style one, such as a townhouse or condo. When deciding between the latter, it's important to know the differences.
What is a townhouse?
A townhouse is similar in style to both a single-family home and a condo. The townhome is multi-level, with typically two to three stories. The building shares walls with the townhome next door. In a townhouse, additional units are not positioned above or below it.
A townhouse is ideal for young families and first-time homeowners. Townhomes are also abundant in age-restricted active adult communities. People living in townhomes experience more privacy than they would when living in a condo. Townhomes usually have a front and back yard.
What is a condo?
A condo is a residence built among other units. Multiple units are included within the condo building, which means people living in a condo have neighbors above, below, and next door. Condos can be located within luxury high-rises in urban settings or within residential buildings in suburban areas.
The condo is similar to an apartment—the key difference is that the resident owns the condo and does not pay rent to a landlord. The individual living in a condo owns whatever is within the interior space, but nothing outside of it, such as common areas and land.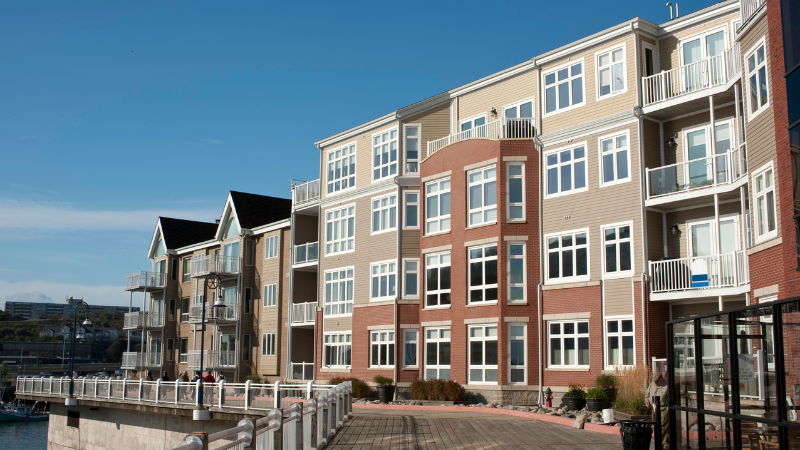 1. Homeowner's Association Fees
Whether living in a condo or townhome, residents pay homeowner's association (HOA) fees. Condos, for instance, charge their residents fees to maintain the lobby, elevators, and land outside the unit. Condo owners pay monthly HOA fees and are obligated to follow the association rules.
Townhouse communities are also maintained by the HOA. While the fees do not cover the upkeep of the individual townhome, they do pay for trash and snow removal. The look and feel of the community must be preserved, so townhouse residents are required to abide by HOA guidelines.
HOA fees are higher in condos. The higher rates are due to the fact that residents chip in to pay for the enhancement of the entire building in which they live. Further adding to the hefty fees are the numerous amenities, which are funded by these monthly HOA charges.
Townhome owners pay less HOA fees because they maintain the interior of the property. Due to the fewer communal expenses, especially in comparison to living in a condo, the monthly fees are lower. Townhomes also don't offer a wide range of amenities, reducing the HOA fees.
2. Financing and Resale Value
Condos are cheaper to buy than townhomes, because the resident owns only the interior unit. The smaller square footage inside the condo also means owners pay less in property taxes and insurance; plus, owners don't pay insurance or taxes on the rest of the building.
Buying a townhouse, on the other hand, is oftentimes more expensive. Townhomes, though, are more straightforward to finance. The resale value of the townhouse can vary dramatically based on how well the owner maintains the interior or enhances it with upgrades.
3. Amenities
Lifestyle differs between condos and townhouses. Condo owners, for instance, do not have access to private outdoor yards. But they do give residents unparalleled convenience, especially in urban areas. Owners enjoy security, swimming pools, fitness centers, and high-rise rooftop decks.
Townhouse owners have access to a yard, which is a good option for families with young children. Neighbors are close by, offering residents plenty of opportunities to socialize. In comparison to condos, townhouses offer more privacy. Plus, townhome owners have more responsibilities.
4. Responsibilities and Rules
Condo owners are responsible for maintaining their own unit. The HOA is in charge of the upkeep of everything else, such as a leaky roof or a plumbing problem. But if a condo owner wants to remodel the interior, the HOA guidelines dictate the type of remodeling allowed.
Townhouse owners are tasked with not only maintaining the interior of their home but the land it sits on. The owner must follow rules about mowing the lawn, what color paint is allowed and the type of fences that can be installed. The HOA, however, collects trash and removes snow.
Deciding between a townhouse or a condo comes down to priorities. Growing families may value the yard space, privacy, and close-knit community feel offered by townhome living. Conversely, buying a condo may appeal to those prioritizing convenience, amenities, and less responsibility.
Both condos and townhouses offer a wide range of advantages and disadvantages, while also offering community-style living. Those in the market for a new home are advised to consider several properties, then evaluate them for the details of ownership, fees, and costs.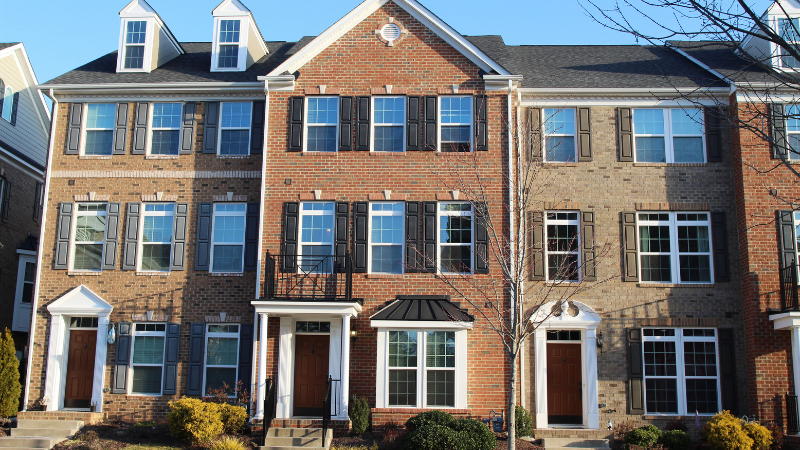 When you find a home and are ready to move, there's only one clear winner when it comes to residential movers: Mid-West Moving & Storage. We are experienced in moving families and individuals into and out of condos, apartments, dorms, and townhouses.
Our professional movers are equipped with the training and experience to move people into or out of large buildings. We are capable of navigating stairs, elevators, and limited parking. Our move specialists coordinate the move times with property management to ensure a seamless move.
Mid-West Moving & Storage offers customers conveniences, such as short- and long-term storage, crating services, bed and furniture assembly and packing and unpacking services. We'll customize an affordable move plan so that your residential relocation is completed as smoothly as possible.
Our residential movers are licensed and insured to give our customers maximum peace of mind. We'll develop a full inventory of personal items and assist with furniture arrangement. Your move can be scheduled on any one of our flexible move dates.
Chicagoans choose Mid-West Moving & Storage for all their local relocation needs. Our professional movers will move your belongings safely to or from downtown Chicago or the suburbs.
Call our Chicago, Illinois, location today at 847.593.7201 or fill out a form and request your free moving quote.