Last Updated on May 23, 2023 by Kari-Ann Ryan
Relocating less furniture means a lower moving quote. But in some cases, the cost of replacing the discarded furniture is higher than having it shipped. When it comes to deciding whether that armoire or chesterfield sofa is worth moving, consider these handy tips.
The moving process begins with decluttering. Combing through years' worth of stuff and discarding the items that have little use in the new home makes it easier to pack—and later, unpack. Furniture, however, can be a tough sell, perhaps because it's been in the home for so long.
It is important to decide whether to move these heavy, pricey furniture pieces to the new place. Costly furniture with good functional value may be worth moving. But sometimes, it's more practical to sell or donate used furniture before moving and replacing it with new ones at the destination.
1.      Functionality
Start with determining if a piece of furniture still retains functionality and durability. An expensive dining table or comfy bed is usually worth keeping because they can be repurposed for later generations. It may cost more to replace a table with one that is equally durable and high quality.
2.      Practicality
Practicality is another consideration when deciding to move furniture. An elaborate outdoor playset that requires disassembly and then reassembly at the new home may be better off donated or sold. Families can always purchase a new, updated playset for the kids once in their new home.
Similarly, a massive wooden desk that requires an entire moving crew to lift and load onto the truck may cause the owner to reconsider. Large, heavy, and awkward furniture can be difficult and pricey to move, making it a practical decision to discard it prior to relocating.
3.      Sentimentality
An antique chest of drawers that once belonged to a grandfather is likely to have sentimental value. Likewise, a small table that the kids used holds a special place in the hearts of parents. Discarding items of sentimental value in order to save a few dollars can lead to regret.
But moving an antique chest into the new home may not be practical, especially when the furniture will not fit or is too fragile to survive the rigors of the move. In such cases, give the furniture to a relative, so that it will stay within the family.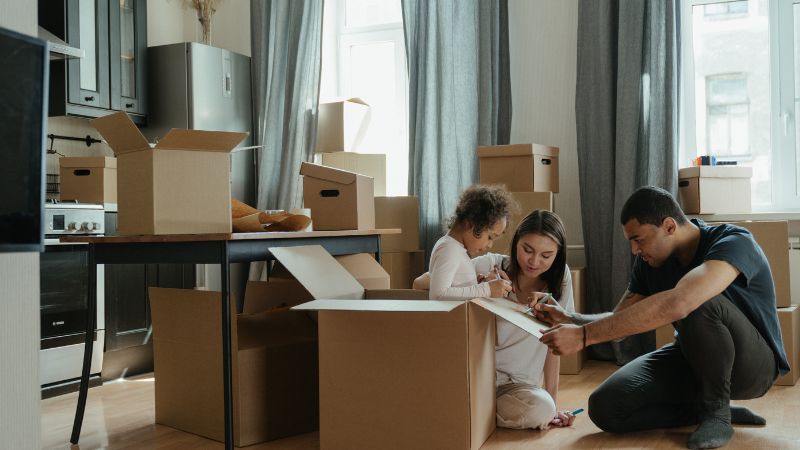 4.      Fragility
When pieces of furniture are old and rickety, they may not be worth moving to the new home. These fragile items could break into pieces along the journey, and the homeowner must buy replacement parts to repair them after moving in.
Regardless of if a rickety chair survives the move, the furniture may have a limited lifespan. Individuals deliberating whether to move flimsy furniture should remember that parts may have to be replaced in a few years. In such cases, it's best to donate the pieces instead of hauling them along.
5.      Fit
Moving plans often involve relocating to greener pastures. Individuals living in a country house might relocate to a home with an ocean view, for instance. When relocating, consider whether the current furniture will fit the aesthetics of the new home. If it doesn't, discard it before the move.
Consider whether the size and layout of the new home can accommodate furniture from the old one. When downsizing, for instance, it makes most sense to sell or donate a pool table instead of paying for it to be moved and discarding it later.
6.      Desirability
Some homeowners love shopping for new furniture as well as decorating the home with it. If hunting for the perfect dining table is enjoyable, then consider selling off the old table before the move. This gives homeowners a reason to browse the wide array of tables for their new home.
On the other hand, people who do not enjoy searching for new furniture will feel less stressed by keeping their old furniture and having it moved into the new home. A home furnished with a comfortable bed and a kitchen table makes it easier to settle in.
Also factor in time for furniture shopping. Homeowners with a hectic schedule benefit from sticking with their current furniture. If relocating is due to a new job, it may be worth the extra cost to move the bed and table. Once the homeowner has more time, replacements can be purchased.
7.      Cost
Bulky, heavy furniture is costly to move. Pianos, for instance, can cost upwards of $1,000 to relocate to a new home across the country. Individuals on a budget are better off selling goods that are too pricey to move.
Prior to a residential move, do the homework necessary to trim unnecessary costs. A part of this is choosing which furniture to move or sell. When you've decided, the next step is to contact a residential moving service whom you can trust, like Mid-West Moving & Storage.
We are Chicagoland's premier moving service. Our dedicated crews of movers help individuals and families move into or out of the Chicago area. We also provide furniture assembly and disassembly services, so that you can take even the most awkward pieces of furniture with you when you move.
Professional movers are experienced in assembling and disassembling a wide assortment of household furniture. We successfully handle grandfather clocks, hot tubs, pianos, children's playsets, and beds. Our expertise also includes the disassembly and moving of pool tables and entertainment systems.
Regardless of the weight and size of your furniture or other household items, the skilled crews at Mid-West Moving & Storage are equipped with the manpower, experience, and equipment to ensure your possessions arrive at the destination in the same condition as when they were packed.
When you work with Mid-West Moving & Storage, you receive excellent customer service, along with timely moves, for an affordable price. Our efficient moving service is available to homeowners in Chicago, Illinois, and the surrounding areas.
Call our Chicago, Illinois, location today at 847.593.7201 or fill out a form and request your free moving quote.