Last Updated on August 15, 2023 by Kari-Ann Ryan
An empty house, no matter how expensive, never feels like home. The addition of furniture is what makes a new place a welcoming home. But a fancy dining set or sofa can be an overwhelming expense. It's possible to find inexpensive furniture, such as from these great places.
Before hunting for inexpensive furniture, take an inventory of what pieces have the potential to give the house a comfy, cozy feel. Start by looking for an anchor piece, and then using its unique style to find inspiration to furnish the rest of the home.
Consider shopping online for inexpensive pieces, as it's convenient to do so from a sunlit seat at the kitchen table. Online retailers abound, making shopping an endless adventure—at least until the perfect dining room table and accompanying set of chairs are found.
1. Wayfair
The online retail giant Wayfair offers countless furniture styles to accentuate a bedroom or fill up an entire home. Consumers have the option to customize their search, searching for furniture that meets a certain style or color. Frequent discounts sweeten the deal.
Examples of inexpensive furniture found at Wayfair include a reclining sectional for less than $650 and end tables that cost less than a pair of movie tickets. Join its loyalty program and save even more. Those worried about the high cost of shipping will have no fears, as it's always free.
2. Amazon
Long known as a retailer that sells everything under the sun, Amazon offers a good selection of cheap furniture, too. Buyers can snag chairs for under $50 and ottomans built with a sizeable storage capacity for less than $20. Join Amazon Prime and receive free shipping and a speedy delivery.
Amazon's furniture selection is vast, thanks to the large number of retailers who sell through the site. Buyers rarely feel overwhelmed by the large inventory available, since the furniture offerings are well-organized. Shop by interest or browse Amazon's trends categories.
3. Ikea
Anyone on a strict furniture budget will find a generous selection of affordable furniture at Ikea. Like Wayfair and Amazon, shopping at Ikea can be done online. Savings are exceptional, but most furniture pieces must be assembled by the buyer. Ikea, however, does offer a $69 assembly service.
Ikea shoppers can purchase a dining table or a three-drawer chest for under $40. Join the Ikea Family program for even more discounts and special pricing opportunities. Shipping is straightforward, starting at $5 for small items and $49 for large goods. Or shop in-store to save on shipping costs.
4. Etsy
Diverse independent businesses sell unique statement pieces on Etsy. Small business owners offer everything from vintage to minimalist and mid-century modern furniture. DIY additions are available from a select group of sellers, which allow buyers to upgrade their current furniture.
Browsing Etsy is a breeze, as their furniture is organized by room and interest. Depending on the seller, buyers can find free shipping. Sellers that do not offer free shipping usually determine the shipping cost by calculating the distance between the buyer and seller.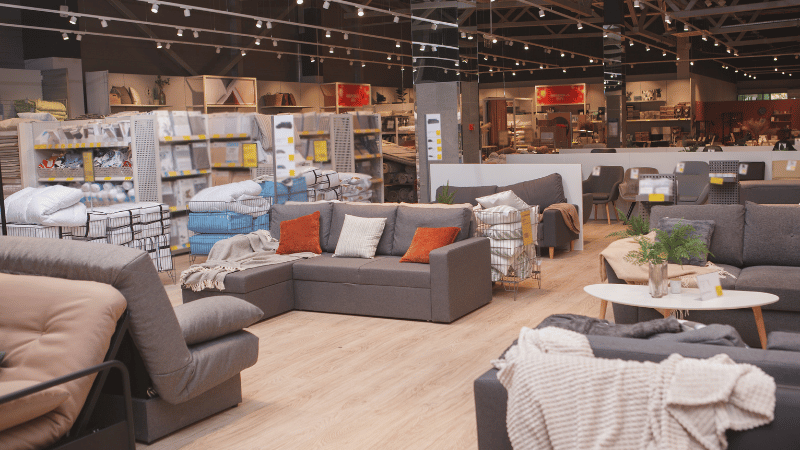 5. Home Depot
Home improvement goods are found at Home Depot. But the retailer also offers a wide selection of inexpensive furniture featuring exclusive brands. Furnish a home office with a computer desk for under $110 and a leather desk chair for less than $65.
Third-party sellers on the retailer site also offer plenty of inexpensive furniture options. Shipping costs apply, but buyers can avoid paying the fees on select items by scheduling free in-store pickup. Consumers who are unhappy with a purchase can return it within 30 days.
6. Goodwill
While the abovementioned places offer great deals on new furniture, steals may also be found at second-hand stores. Goodwill is filled with knickknacks and treasures that appeal to second-hand shoppers. Three-thousand Goodwill stores are scattered throughout the US and Canada.
New inventory arrives each day, so shop early in the morning. Frequent visits ensure finding the perfect accent piece for the home. Bring a tape measure to make sure the antique dresser or armoire will fit through the home's doorway. Arrange for a pickup truck to get the furniture home.
7. Estate Sales
Spring and summer are warm-weather seasons when estate sales pop up in the neighborhood. Scour the estate sales to find quality furniture at bargain prices. Show up at opening for the best selection. If prices are more important, shop on the last day, one hour before the estate sale closes.
Inexpensive furniture can be found in a myriad of good places, online or in-store. Prices can drop even further on certain items when coupons from RetailMeNot or Groupon are used. Shop around the holidays for limited-time deals. Building furniture can be a cost-saving measure.
Finding appealing furniture at unbeatable prices is a rewarding experience. While you're hunting for inexpensive furniture, you may also be looking for a mover that can relocate or store the pieces. Mid-West Moving & Storage offers convenient moving services that cater to businesses large and small.
We offer efficient furniture, fixes and equipment services that help companies store their goods in a secure storage facility while their building is under renovation. Our moving crews are also experienced in collecting and discarding unwanted furniture from your business.
Mid-West Moving & Storage is the area's most trusted professional mover for corporate relocations. Our moving specialists are skilled in disassembling large pieces of furniture and equipment, transporting even fragile goods safely, and then re-assembling or installing them at the destination.
Whether your business has a need for quality decommissioning services, moving and installation, or convenient receiving and warehousing options, the reliable team at Mid-West Moving & Storage can help. Our licensed, bonded, and insured furniture movers consistently deliver excellent service.
Mid-West Moving & Storage takes pride in coordinating all aspects of your project, assigning a coordinator to guide and communicate with you through the entire process. We are dedicated to serving Chicagoland. Contact our Elk Grove Village, Illinois, office to learn about our well-rated services.
Call today at 847-593-7201 to obtain details about our moving services and receive a quote.