Last Updated on November 21, 2023 by Kari-Ann Ryan
Arlington Heights is a populous village in Illinois. Residents enjoy a wealth of opportunities in this suburban area. Its prime location near one of the biggest airports is just one draw. Find out the other pros as well as the cons of living in this diverse Illinois neighborhood.
In the mid-1800s, a Yankee stonecutter founded Arlington Heights. Back then, the village was originally called Town of Dutton. Over the next several years, the farming community's name changed multiple times before being officially known as Arlington Heights in 1874.
The village experienced significant growth with the introduction of a train depot. Farmers utilized this reliable form of transport to move their goods. The train depot became a community gathering place, prompting development and a population boom. Today the train gives commuters access to Chicago.
Arlington Heights is more than a transit-oriented neighborhood. Residents shop, dine, and enjoy a wide variety of entertainment venues. Numerous events are held throughout the year in local parks. The village holds a strong sense of place for residents, visitors, and the people who work here.
Pros of Living in Arlington Heights, Illinois
1. Leisure Activities
Arlington Heights' residents experience a suburban-urban feel. The diverse mix of residents has access to the Arlington International Racecourse, one of the most exquisite horseracing facilities in the nation. The Metropolis Performing Arts Center provides theatrical shows for the entire family.
Considering that Arlington Heights experiences all four seasons, families and individuals have plenty of opportunities to enjoy activities in the snow and sun. Summertime temperatures reach highs of around 84 degrees Fahrenheit while winter lows plummet to around 17 degrees.
2. Job Opportunities
Employment opportunities are better in this village than the rest of the country. The unemployment rate is 4.8 percent, which is lower than the national average of 6.0 percent. With a median income of $106,996, workers find jobs at places like Northwest Community Hospital.
The legal profession in Arlington Heights pays the highest salary, at $123,971. The highest-paying industries in the village include agriculture, forestry, fishing, and hunting, which pay approximately $137,778. Salaries in the computer, math, architecture, and engineering fields are also higher.
3. Education
Schools are highly rated in Arlington Heights, with several receiving grades of A+ or A. Top public schools include Prospect High School and John Hersey High school. Private schools that rank highly are Elgin Academy, The Einstein Academy and Northridge Preparatory School.
The excellent education system in the village is ideal for families with young children and teens. Schools in this area spend $13,922 per student and focus on curriculums that emphasize creative problem solving, teamwork, and the development of critical thinking skills.
Cons of Living in Arlington Heights, Illinois
1. Housing
The housing market in Arlington Heights is competitive. The median home price is $400,000, which is up 19.2 percent since last year and slightly higher than the national average. Renters have options with the median rent being $1,507, which is higher than the national average of $1,163.
2. Transportation
People who live in the village yet commute to work rely on a vehicle. Commute times, at 29.8 minutes, are longer than the US average of 26.4 minutes. Yet 79 percent of residents choose to drive, while a mere 7.1 percent opt to take mass transit. A smaller number, 5.4 percent, carpool.
3. Crime
Arlington Heights is a safe community; but despite its low crime rate, crime occurs. The violent crime rate is 7.7, which is significantly lower than the US average of 22.7. Similarly, property crime here is lower, at 17.1, which is markedly lower than the national average of 35.4.
4. Cost of Living
The cost of living is higher in Arlington Heights than in other parts of the nation and even Illinois. Locals pay 5.7 percent more than the US average for housing, childcare, food, transportation, healthcare, and taxes. These costs are 12.8 percent higher than the average in Illinois.
Families must earn a minimum annual income of $69,840 to live comfortably in this village. Individuals are recommended to earn at least $59,200 to afford the higher housing costs, transportation, and miscellaneous expenses—all of which exceed the US average cost of living indices.
Residents enjoy Arlington Heights for its many pros and acclimate to the few cons. The village offers everything from peaceful outings to the many museums and historical sights and exciting nights at the live music clubs. Plus, 30 Fortune 500 companies are headquartered here.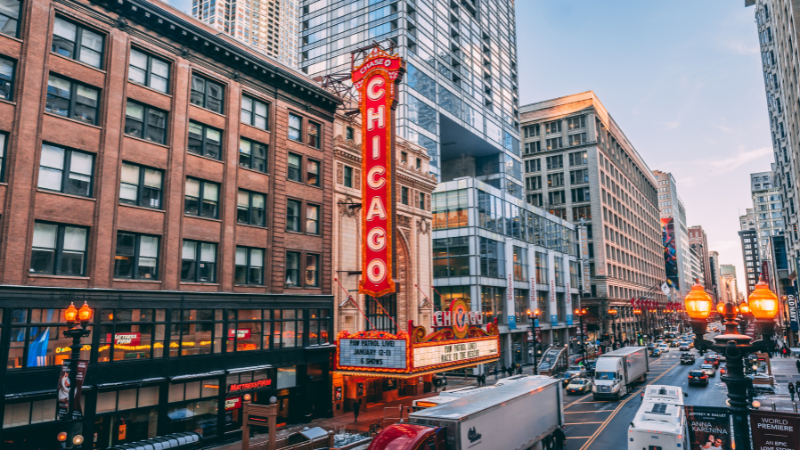 With a population of 77,283, residents attest to the high quality of life that is possible here. When you see the potential of living in Arlington Heights, you'll need a reliable residential mover like Mid-West Moving & Storage to get you moved in and settled.
Whether you plan to move into a family home, an apartment, a retirement home, or a condo, our licensed, bonded, and background-checked movers deliver budget-friendly moving services. You can be assured of the careful handling of all your prized possessions.
Moving crews use equipment to protect your goods. We prevent damage to your furniture and other belongings with stretch-wrapping and padding. Hardwood floor runners, door jambs, railing covers, and carpet shields are also used at both the origin and destination.
Mid-West Moving & Storage's valued customers are assigned a move counselor who serves as the point of contact for all communications and updates regarding the progress of the move. Regular updates via phone or email ensure that you are aware of where your items are at all stages.
Our reputable moving company offers a range of convenient services, such as packing and unpacking, short- and long-term storage, and help preparing a detailed floorplan for furniture, appliances, and other property in your new home. We offer all the services you need to move confidently.
When an exciting relocation to Arlington Heights or any other Chicagoland location is on the horizon, choose Mid-West Moving & Storage. We'll make your residential move a success with our highly rated moving services.
Call our Chicago, Illinois, location today at 847.593.7201 or fill out a form online and request your free moving quote.