Moving without packing!
Mid-West Moving & Storage offers the "boxless" move — moving the contents in the furniture instead of the contents and the furniture. Boxless moves help insure the integrity of possessions.
Movers should be in uniforms with badges. Ask your mover about background checks.Understand how your move counselor will be there to insure that only the appropriate people are in your locations. How about open doors? Who is there to insure the integrity of your building? Also, what is the process to check for suspicious vehicles on the job sites – especially unmarked commercial ones?
---
Mid-West Moving & Storage is green. We use recycled content packaging and industry best practices to reduce moving waste and energy costs.
Make sure your mover has the capacity to handle all of your needs. We have a 21,000 square foot facility, 45 employees, and a fleet of 22 trucks.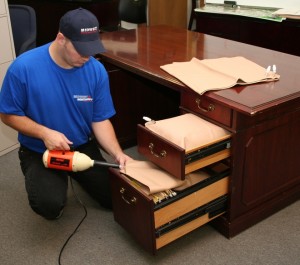 Look for a company that has the equipment that will not require you to pack and unpack. Ask about Spider Cranes and Space Gobblers. Make sure computers and data equipment are packed in locked numbered boxes.
Look for an IOMI® Certified Mover when choosing a mover.
IOMI® Certified Office Movers® learn the latest techniques to minimize risk of damage to furniture and computers, and are trained in extensive building protection to minimize risk of damage to carpet, walls, doors, and door jambs.
WE ARE GREEN.  By using recycled content packaging and an 8-step industry best practices process, we can reduce office moving waste and energy costs by up to 30%.
Mid-West Moving & Storage is a multilingual 8(a) strategic supplier for Federal Agencies in the continental United States (CONUS)