Building Security Services in Chicago, IL for Your Move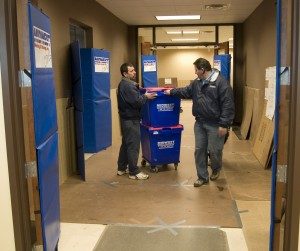 Keeping with our specialty at protecting your buildings, assets and company secrets, Midwest Move Counselors tour your building and walk the path of entering and exiting your building during a move, identifying risk opportunities and  key points of potential damage of the building.
The MMS Building Protection Evaluation Service (BPES)
Areas of Inspection & Focus
Floor Protection – carpets, hard wood floors – computer flooring
Wall Protection – executive offices, conference rooms, computer rooms, display areas
Elevator wall & door protection.- room for your biggest items? Service elevator availability?
Plant & Art Protection – What makes your office special – Green Plants – Fine Art
Computers, scanners, copiers, servers – specialty data equipment – insuring a safe secure shut down, move and start up. Tips to minimize downtime
Building Security – Loading docks, access doors, weekend security.  Insights into limiting access, insuring your company secrets
Cataloging and photographing each point and providing a written recommendation of the best practice building protection for each protection point.
Midwest has a number of partners who can help.