Our Smart Move Service in Chicago, IL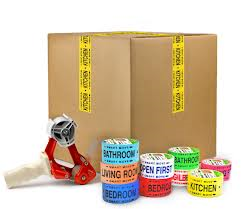 A Mid-West Smart Move is the complete moving system designed to organize and streamline the moving process.
Are there a hundred plain boxes to go through and identify with the manifest or are there 100 bright colored, marked boxes that everyone knows where they belong?  That is what Smart Tape does for you.  Every box is labeled with Smart Tape that identifies the exact room the contents should be placed.
Smart Tape is a color-coded moving tape that comes with a room description printed clearly on each roll.  All you have to do is tape your boxes like you normally do and everything remains completely organized.  No more boxes in the wrong room, no more directing movers where to take things, no more hunting through your storage unit, and no more stress or mess!
Mid-west Smart Move Testimonial
From: Alice
To: Jill Regan
Subject: RE: Relocation

I would like to express my complete satisfaction and excellent 
experience using Midwest Moving for my recent residential move. 
I was downsizing a bit from a 2-story house with full basement 
and garage to a large condo. Thanks to Bill Owens for his wise 
recommendation to have Midwest pack and, importantly, unpack me. 
Everything went flawlessly and by the time Midwest left, my new 
place was about 80% in place with no boxes and paper lying about.

The crew was terrific. Very professional, helpful and well 
organized. Not a minute was wasted. I could not believe how 
quickly the trucks were loaded and unloaded on move day. The men 
worked as a real team and the spirit was jovial and enjoyable. I 
was fortunate to have 3 of the men be on the job for the pack, 
move and unpack days so by the end of day 3 we were family. My 
physical stamina is not what it used to be and I appreciated the 
special care and help they 
provided above the usual.

The 5'5 terra cotta warrior made the move in great shape. In fact, 
Bruce added felt padding to the bottom so the 250 lb. statue can 
be moved around when needed.  My mother's rounded glass china 
cabinet came thru the move flawlessly. In fact, nothing was 
damaged during 
the move.

I have already recommended Midwest to 2 friends who will be 
moving in next 6-12 months. My real estate agent told me they 
recognize Midwest as the best movers on the North Shore.

I would like to especially thank Bill Owens a great captain and a 
wonderful, caring man. Jill Regan for her great project management 
and follow-up. Laimus and Bruce were terrific supervisors and knew 
how to handle the tricky things like the treadmill. I am 
especially grateful to Alberto and Pancho (Francisco) who were 
always at my side and knew exactly what to do and move what where.

Thanks again.
Alice