Last Updated on August 30, 2022 by Kari-Ann Ryan
Coronavirus-era catchphrases, such "social distancing" and "the new normal," say a lot about how things have felt not-so-normal in recent months.
But life goes on—even during a crisis. As a National Van Lines interstate-moving agent, Mid-West Moving & Storage is ready, willing and able to deliver the best in no-touch moving estimates during these uncertain times.
Now is Better than Then
Figuring out how much a move costs traditionally involved inviting a relocation professional to your house. He would look at your rooms—from kitchen to dining room to living room to bedrooms—while calculating how much it would cost to move you to your new home.
But technological advances mean customers have several social distance-approved, no-touch options that are as accurate as the in-person approach, but offer more safety and convenience.
No-Touch Experience
Say you're a do-it-yourselfer. You'll like our new Virtual Estimate option! This high-tech estimating tool lets you use your tablet or smartphone. You walk through the rooms of your home and photograph your possessions. It might be hard to believe, but this method takes only 15 minutes on average to finish.
In addition, the convenience is immeasurable. You don't have to worry about making, keeping, canceling or rescheduling appointments. It's a tremendously flexible 24-7 option.
Want to move your vehicles, too? We can handle that. Just make sure to mention it during our conversation.
Face to face
Maybe you prefer face-to-face contact, but want the 100% safety of zero contact. FaceTime offers the best of both worlds: You're in real-time dialog with a moving company, but you're doing it at a "virtually" safe distance. This easy-to-use process provides back-and-forth interaction so if you think of a question you're able to ask and get an immediate answer. This process offers a high degree of accuracy, plus the help of a moving-estimate expert.
Steps to safety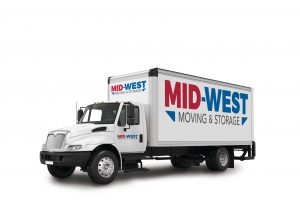 At Mid-West Moving & Storage, we're dedicated to protecting your health and well-being. To that end, we've instituted the COVID-19-containing preventive steps developed by the U.S. Centers for Disease Control and Prevention. These measures include keeping tabs on the health of office employees, drivers and moving crews.
We can get through this together as we navigate the coronavirus situation. In good times and not-so-good times, Mid-West Moving & Storage will always work to achieve the best for you, our customer.
Contact Mid-West Moving & Storage
If you have any questions regarding these moving and packing tips or would like a free estimate for packing and/or moving services, please fill out a contact form or give us a call at 847.593.7201.