Schaumburg Movers
Whether you're moving to or from Schaumburg, IL, Mid-West Moving & Storage is prepared to make your move simple and seamless. With our local movers, you can ensure that everything will go smoothly while getting the chance to relax and enjoy your new home or building. Our additional services can also handle other aspects, whether you need your belongings packed, stored, furniture assembled, etc.
At Mid-West Moving & Storage, we treat our customers like family; our Chicago movers are both friendly and professional to provide the care  you deserve during your move. Our movers also use a seven-step technique to save you both time and money, even reducing unpacking time to as little as one day. 
Current or future Schaumburg residents and businesses can utilize our moving services, including:
Full-service moving to and from your current location
Time-saving moving and storage equipment
Secure document storage to save you space
Packing and unpacking all items
Flexible local and long distance moving services
At-your-convenience container loading and moving
Schaumburg Moving Company
Mid-West Moving & Storage strives to provide the best moving and storage services for Schaumburg residents and businesses. Check out our different moving services to get an idea of what you can expect:
If you have questions regarding any of these services, please don't hesitate to reach out to your move counselor or give us a call. We'd be happy to discuss the details of your move in order to provide you with the peace of mind that you deserve.
---
Schaumburg Movers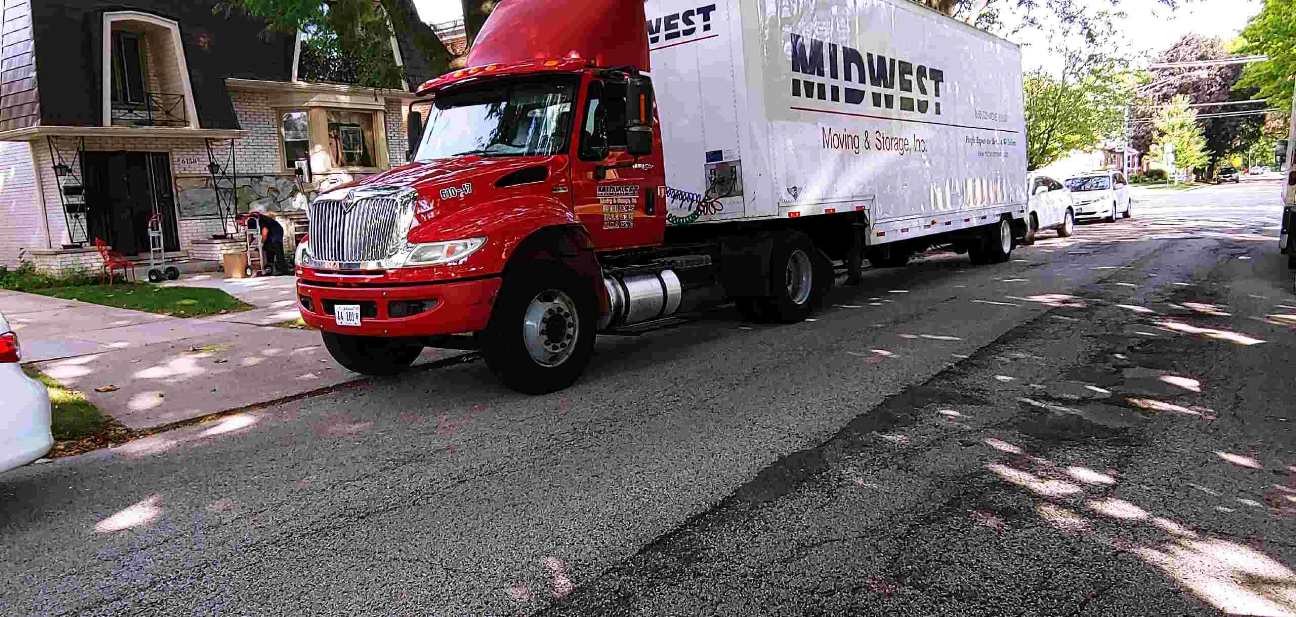 Using Mid-West Moving & Storage as your professional movers makes moving in Schaumburg convenient. Our concierge services allow residents to reserve service elevators in select buildings and compare TV, internet, phone, and security service options for quick home set-up.
Certified by the International Office Moving Institute, Mid-West Moving & Storage focuses on minimizing downtime and protecting property for every client we serve. To serve government offices safely and securely, our staff is also certified in Homeland Security for Office Moves. We also have additional training for moving laboratory equipment and machines.
Each of our movers are individually background-checked, certified, trained, and experienced to provide you with the best service. Providing all packing boxes, crates, and other materials, we can have you quickly packed while ensuring your items are safe from damage during the move. They can also disassemble and reassemble furniture while the rest of your belongings are being moved to ensure complete efficiency.
---
Contact Us
With many homes and buildings to choose from, Schaumburg's offices and residents can rely on Mid-West Moving & Storage's years of experience to safely pack and move belongings to any location. We have been a trusted moving company to the Chicagoland area since 1983.
For a free quote, call 847.593.7201 or fill out a contact form. We look forward to hearing from you!
---
Related Moving Articles:
7 Benefits of Living in Schaumburg
The Pros and Cons of Living in the Suburbs
Moving Services Northbook
Moving Company Winnetka
Movers Naperville
Movers Melrose Park
Glenview Movers
Moving Services Chicago
Arlington Heights Moving Company
Movers Elk Grove Village
Moving Services Elgin
Relocation Services Barrington
Moving and Storage Aurora
Moving and Storage Skokie, IL
Moving and Storage North Shore