Local Movers in Schaumburg, IL
Local Movers in Schaumburg, IL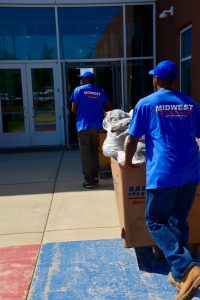 Moving to a new home is a stressful ordeal, even if your move is just across town.  There are so many things to take care of such as the sale of your home, closing on your new home, packing, and planning.  You can help make your move much easier and less stressful by working with trusted local movers that can help you with the planning, packing, and movement of your items.
Mid-West Moving & Storage provides local moving services to help those in Schaumburg, IL who are moving within Schaumburg or to a nearby town.  Our local movers are ready to help you with every aspect of your local move, including the planning and packing, to take the stress out of the situation.  Each of our professional movers is experienced and has passed a background check and they are licensed and bonded so you can trust them to move your items and treat them with care and respect.
---
Our local moving services are ideal for moving into and out of:
Homes
Condos
Dorms
And other residences
Our professionals will respect your home and belongings by handling them with care during the move.  Our packing services cover all of your items, including furniture and other large items, and we keep them protected by using padding, stretch wrapping, and other materials.  We will also use door jambs, hardwood floor runners, railing covers, and carpet shields to prevent damage to your home.
---
Local Movers Schaumburg
At Mid-West Moving & Storage, our local movers can help you with every step of your move.  One of our moving professionals will be the counselor for your move and help you through the steps, including the packing, planning, and movement.  You can also reach the counselor at any point with your questions and concerns.
Our local moving services consist of the following:
Free estimate.
Planning of your move including moving your items to your new home and deciding where to put furniture and appliances.
Packing and unpacking services for all of your items including furniture, large items, fragile items, and important documents.
Short- and long-term storage available.
Help from our trained, background checked professional movers who will work efficiently and treat your items and home with respect.
Open communication through emails and phone calls to provide you with updates and answer your questions.
Complete move done within your timeframe and budget.
---
Call Our Local Movers
If you need help planning and executing your move in the Schaumburg, IL area, contact Mid-West Moving & Storage to enlist the help of our professional local movers.  We have been a trusted moving professional in the Chicago area since 1983 and our trained and experienced movers will ensure that your move is done efficiently.  Our professionals will tailor the moving plan to accommodate your unique needs.
Give Mid-West Moving & Storage a call at 847.593.7201 if you are planning a move within or near Schaumburg, IL. 
---
Related Moving Services:
Local Movers Aurora, IL
Local Movers Chicago, IL
Local Movers Elk Grove Village, IL
Local Movers Naperville, IL