Local Movers in Aurora, IL
Local Movers in Aurora, IL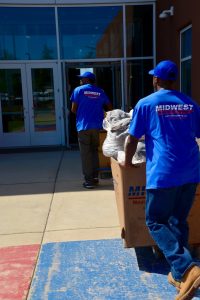 Moving can be a difficult and stressful undertaking, whether you are moving out of state or just across town.  There are many things you have to do to make your move happen, including selling your home and completing the purchase of your new home, not to mention the packing, planning, and movement of your items.  If the move is too much for you to handle on your own, you should call our local movers for assistance.
At Mid-West Moving & Storage, we provide local moving services to help those in Aurora, IL who are moving within Aurora or to a nearby area.  We can help manage your move to make the process less stressful and more efficient, including the planning, packing, and movement of your items.  Our local movers are licensed and bonded and they have each passed a background check so they can be trusted to handle your personal items within your home.
---
Call us for local moving services if you are moving to or from the following:
Home
Condo
Dorm
Apartment
Retirement home
Other residence
You can count on our professional local movers to treat your belongings and your home with care and respect.  With our packing services, we can carefully pack your items and we can even handle furniture and large objects by using stretch wrapping and padding to keep them protected.  We will also prevent damage to your new home by using door jambs, railing covers, carpet shields, and hardwood floor runners.
---
Aurora Local Movers
The local movers of Mid-West Moving & Storage will help you plan and prepare for every aspect of your move.  We will make one of our professionals the counselor of your move who will help lead the planning and supervise the packing, movement, and other activities that need to be done.  The counselor will be available to you throughout the move to respond to your questions and concerns.
---
The following steps are included in our local moving services:
Free estimate for our local moving services.
Help planning your move including the movement of your belongings and the layout of your furniture and appliances.
Full packing and unpacking services including the packing of personal belongings, fragile items, sensitive documents, and large items like furniture.
Short- and long-term storage if necessary.
Assistance from trained, uniformed and background checked local movers who can provide safe and efficient moving services.
Open communication with the counselor of your move to receive updates and ask questions
The move is done within your timeframe and budget.
---
Call for Local Moving Services
Call the experienced local movers of Mid-West Moving & Storage if you need professional assistance moving within or near Aurora, IL.  Since 1983, we have been one of the most trusted moving professionals in the Chicago area and we will work with you to create a moving plan that accommodates your needs, timeframe, and budget.
You can call Mid-West Moving & Storage at 847.593.7201 for local moving services in Aurora, IL.
---
Related Moving Services:
Local Moving Services Elk Grove Village, IL
Local Moving Services Chicago, IL
Local Moving Services Schaumburg, IL
Local Moving Services Naperville, IL