Local Movers in Elk Grove Village, IL
Local Movers in Elk Grove Village, IL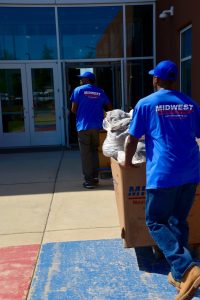 It can surely feel uncomfortable to allow anyone to handle your belongings during a move. But working with professionals who are licensed, insured, background-checked, and trusted might be able to put some worries at ease.
Mid-West Moving & Storage proudly provides local moving services to and from Elk Grove Village, IL. Each of our professionals has each of the qualities mentioned above and provides a number of services to simplify your move.
---
Our local movers can move families in and out of each of the following homes:
---
Working with Our Local Elk Grove Village Movers
You can rely on our experienced professionals and processes when working with Mid-West Moving & Storage. One of our local move counselors will work with you throughout each step of the process and prepare you for the next steps.
Our local moving services can assist with each of the following:
Creation of a detailed move plan, including layout of the appliances, furniture, and other assets and belongings.
Packing and unpacking services, treating them as if they were our own as well as protecting sensitive document and fragile items.
Frequent communication through emails and phone calls of each step of the process.
Moving your belongings efficiently throughout the moving process.
Peace of mind while working with trained, licensed, bonded and insured, experienced, screened, and uniformed movers.
Here are some more resources to use during your move:
---
Contact Our Local Movers
Since 1983, Mid-West Moving & Storage has been moving homes and businesses throughout the Chicago area to simplify the process. Each of our Chicago movers is trained, insured and bonded, uniformed, and screened to provide complete peace of mind on moving day. We will also be able to tackle challenges that arise during the process to help make your move as easy as possible.
Contact Mid-West Moving & Storage at 847.593.7201 for a free estimate on your next local move.
---
Related Moving Services:
Local Movers Schaumburg, IL
Local Movers Chicago, IL
Local Movers Aurora, IL
Local Movers Naperville, IL