Last Updated on October 22, 2020 by Kari-Ann Ryan
When the crimson leaves drop and a chill lingers in the air, fall has officially arrived. The autumn season bursts with plenty of reasons to relocate. This time of year is ideal for moving because of the increased openings in movers' schedules, affordable rates and cooperative weather.
---
1. A fall move provides scheduling flexibility.
Homeowners who plan to pick up and shift gear should consider fall as the perfect time to move. Most moving companies are heavily booked from April through early September. As a result, autumn is the off-season for the majority of movers. This means more scheduling opportunities for customers.
When homeowners choose to move during the autumn months, they have greater scheduling flexibility. Rather than be forced into a random summer's Tuesday afternoon timeslot, opt for a fall booking. Customers are more likely to snag a coveted Saturday appointment.
As the summer's busy season slows down for movers during the autumn months, resources also become increasingly available. Supplies and truck rentals are simply easier to come by. With less competition for resources in the fall, homeowners on the move will fare better.
Although moving companies' weekend openings are greater from September to November, homeowners are advised to schedule earlier in the month. Most people tend to move toward the end of the month; so, for more availability, consider scheduling for the start or middle of the month.
When booking a move in the fall months, try to arrange for an early loading and unloading. Remember that the days grow shorter during autumn, leading to reduced daylight hours. Daylight savings time also occurs in November, which even further decreases the amount of daylight.
---
2. An autumn relocation is cost-effective.
Moving companies' rates will be more reasonable during the off-peak autumn season. Try moving in the summer peak season, and homeowners can expect inflated prices that correspond to the increase in demand. In late September and afterward, homeowners are more likely to secure a cost-effective rate.
Despite the lower moving rates of the fall season, homeowners are advised to obtain multiple bids. Being presented with multiple choices allows homeowners to feel less pressured into choosing the mover with the lowest bid. A range of affordable bids equates to greater freedom.
Moving rates are just one aspect homeowners should consider. When the homeowner has the opportunity to choose from multiple bids that fall within budget, he can also give weight to the company's reputation, scheduling and other important factors that affect decision-making.
---
3. A fall move offers ideal weather conditions.
The cool, crisp air of autumn is the perfect environment to transport belongings. Especially for homeowners who live in or plan to relocate to an area with all four seasons, each month comes with an avalanche of either winter's snow and ice, spring rains or summer's heat.
The autumn months' only risks are the slippery leaves that have cascaded to the ground. The hazard of fallen leaves hardly compares to the ice storms of winter and the taxing physical stress of moving in summertime temperatures of 100 degrees Fahrenheit.
In fact, moving companies may even cancel when winter weather conditions are too risky. No reputable moving company will jeopardize the safety of their crews in inclement weather. Plus, the icy roads or blinding blizzards of winter storms can force a mover to reschedule.
The scorching heat of summer can also be uncomfortable for moving crews and homeowners. A trip from the truck to the house can leave the homeowner soaked in sweat. Similarly, the moving process will be more efficient when heat exhaustion does not have the chance to slow down movers.
Springtime rains can adversely affect some household possessions. Wood furniture, antiques and other fragile items must be moved in moderate conditions. The dry, cool conditions of autumn, therefore, are best suited for moving. Otherwise, in rainy weather, consider rescheduling to protect belongings.
When preparing for an autumn move, homeowners should wear sturdy shoes when carrying boxes. Be aware of the fallen leaves that can pose as a hazard. Before moving, homeowners should consider clearing the leaves off the pathway and keeping a broom or rake handy.
---
4. An autumn relocation allows families to be ready for the holidays.
After Labor Day in September, a flurry of holidays arrives: Halloween in October, Thanksgiving in November, Christmas in December and New Year in January. Moving into a new home even as late as November, however, gives families a chance to prepare for the season's festivities.
The gift-giving season can be a stressful time. Once the move is underway in autumn, families can focus on the upcoming holidays. Moving well beforehand allows homeowners to unpack and settle into their new home in time for the arrival of the festive (yet hectic) holiday season.
---
Work with a Trusted Mover
When you are preparing for a local residential relocation, consult the Windy City's most reputable moving company, Mid-West Moving & Storage. Our licensed, bonded and background-checked movers will ensure the security of your household possessions and facilitate a successful move.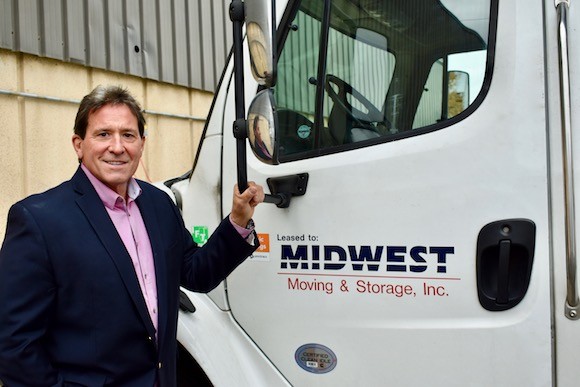 Mid-West Moving & Storage crews are experienced and trained. We safeguard your building materials with railing covers, door jambs, carpet shields and hardwood floor runners. Your belongings, including furniture, remain fully protected during the move with our stretch wrapping and padding.
Our teams of skilled, professional movers have helped countless satisfied customers move to and from family homes, apartments, retirement communities, dorms and condos. Throughout the relocation process, we keep our customers up to date on every aspect of the move.
Mid-West Moving & Storage specialists will prepare a detailed plan for your move, including the layout, so crews know where to position furniture. Our packing and unpacking services are beneficial to those in a time crunch. We also provide short- and long-term storage.
As a local mover, Mid-West Moving & Storage is prepared to meet the moving needs of our valued customers. We've served the Windy City for over 30 years. Our movers continue to take pride in helping Chicagoland residents relocate.
Get a Free Estimate
Call us at 847-593-7201 to schedule an upcoming move in or around Chicago.