Last Updated on October 17, 2023 by Kari-Ann Ryan
Evanston offers its residents a rich cultural scene, a diverse population, and access to nearby Chicago. As a suburb of Chicago, Evanston is a great alternative to living in the city. However, as with all suburbs, Evanston has its own sets of pros and cons, like the ones that follow.
Even before the town of Evanston was founded, Northwestern University, one of the country's leading research universities, opened its doors in 1855 to 10 students. One of the founders of the university, John Evans, submitted his plan to a judge to name the town Evanston. In 1857, Evanston was officially named.
Pros of Living in Evanston, Illinois
Leisure Activities
Removed from city life, Evanston provides laid-back suburban living. At the same time, it's close to Chicago's thriving music, sports, arts, cultural, and food scenes. Residing in Evanston means residents get the best of both worlds without having to deal with the hassles of city living.
Like Chicago, Evanston, too, boasts of its own music, sports, and food scenes. Cultural and artistic activities are plentiful in this suburb. Residents don't have to travel to the city, 13 miles away, to dine and drink at restaurants and breweries dotted all around Evanston.
The whole family can enjoy countless outdoor activities when they live in Evanston, since Lake Michigan is a stone's throw away. Residents have access to 5 beaches along the coast of Lake Michigan, like Evanston Beach and Northwestern University Lincoln St Beach.
Public parks are just as abundant in Evanston. Take the family to a park and enjoy the great outdoors. Residents can easily find parks since most homes in Evanston are located within a half mile of one. In fact, the suburb has 89 parks, some with community gardens and beaches.
Schools
Evanston serves over 8,000 students via the Evanston/Skokie School District 65. The school system is robust, with 10 elementary schools, 3 middle schools, an early childhood center, and educational facilities for students with disabilities. Evanston Township High School serves high schoolers.
Schools are highly rated in Evanston. As mentioned, Northwestern University, a top-tier university, is located here and attended by college-age students. Families with younger students will discover that out of the 36 public schools in Evanston, 23 are rated A or higher.
Crime Rate
Another draw for prospective residents is that Evanston has a low crime rate, especially when compared to its more dangerous neighbor, Chicago. Crime in Evanston is at or below the US average. Although crimes do occur, in general, Evanston is a safe area to work, play, and raise a family.
Career Opportunities
Job opportunities are plentiful in Evanston. The biggest employers are Northwestern University, NorthShore University Health System, City of Evanston, and Saint Francis Hospital. The average salary for Evanston residents is $68K. Popular occupations are software engineer, project manager, and software developer.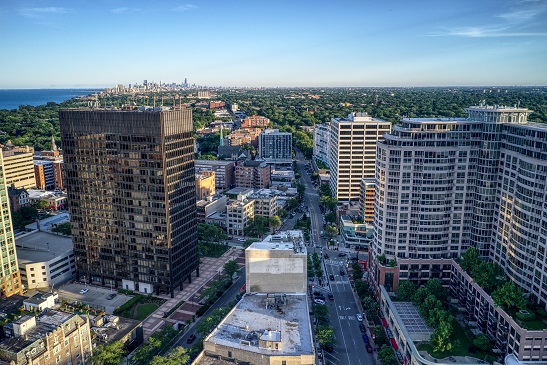 Cons of Living in Evanston, Illinois
Weather
Winters in Evanston can be brutal, with sub-zero temperatures and immense snowfalls making everyday life a challenge throughout the season. However, Evanston has implemented a Snow Shoveling program to give volunteers an opportunity to shovel snow for seniors and those with disabilities.
Cost of Living
The high cost of living in Evanston can be a major drawback for some people who are considering making this suburb a potential home. Its cost-of-living score is 120/100, which is higher than the national average. In fact, living in Evanston is costlier than living in the city of Chicago.
The cost of living in Evanston, which averages $2124 for an individual and $5382 for a family of 4, ranks in the top 4 percent of the most expensive cities in the world. Rent and utilities alone cost $1369 for one person and $2857 for a family of 4.
As with the cost of living, housing prices in Evanston are higher than the national average. The housing market is also extremely competitive, with homes receiving 3 offers on average and selling within 50 days. The average selling price of a home in Evanston is $355K as of September 2022.
Transportation
Unlike Chicago, Evanston has limited internal public transportation options. Transportation costs are also 29 percent higher than the national average. Residents can ride the CTA trains and buses, the Metra commuter rail system, or the Pace bus system, which serves Chicago's surrounding areas.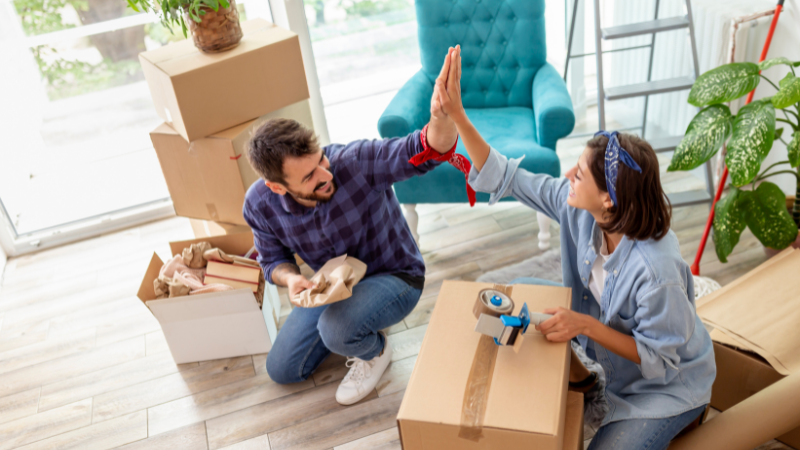 Evanston is a welcoming place for individuals and families who wish to be in close proximity to all the opportunities its neighboring city, Chicago, provides yet are able to afford its high cost of living and high home prices and tolerate the harsh winter chills.
When the pros outweigh the cons, and you decide to move to Evanston, you'll need a reputable residential mover on your side. Although living in Evanston can be costly, hiring a professional mover, like Mid-West Moving & Storage, doesn't have to be.
We're a budget-friendly, professional mover ready to transport your belongings safely to Evanston or any other suburb in Chicagoland. Our local moving crews are licensed, bonded, and background checked to ensure your property remains secure. Movers are also trained to handle goods safely.
If you're relocating to a family home, apartment, retirement home, condo, or dorm in any of Chicago's many leading universities, you'll find Mid-West Moving & Storage to be the right choice. We've moved countless satisfied families and individuals. We'll offer you the same top-class customer service.
Your belongings will be protected during all stages of the move. Our moving crews utilize stretch wrapping, padding, railing covers, hardwood floor runners, door jambs, and carpet shields to prevent nicks and dents in floors, furniture, or other items being transported.
Mid-West Moving and Storage offers comprehensive residential moving services. Move counselors are available to create a detailed moving plan and update you at each phase of the move. We offer conveniences, like short- and long-term storage and packing and unpacking services.
As a leading residential mover, we've served Chicagoland with pride for decades. Our industry experience ensures your move will be as successful as possible. We tailor our services to address any challenges along the way.
Call Mid-West Moving & Storage at 847.593.7201 for your upcoming residential move.