Last Updated on November 14, 2022 by Kari-Ann Ryan
Moving when the snow accumulates several inches high, icicles dangle from the rooftop, or the sidewalks are covered in slick sheets of ice is favored by few homeowners. But necessity can make relocating during this hazardous time of year a priority. Here are tips to make winter moving easier.
Winter weather offers little incentive to move to a new area. Despite Old Man Winter causing a chill in the air, 5 percent of people relocating decide to brave the conditions during months of November and December. Forty percent, on the other hand, choose to move during the busy months of June, July, and August.
People may choose to move in winter for numerous reasons. Low home prices during the cold season make it a buyer's market. Similar to the low demand in the real estate market, professional moving companies offer lower rates in winter because it is their slowest season.
While imagining a move during the height of winter may seem daunting, it can be done. Homeowners should expect to face extra hurdles in winter as well as the cold, unpredictable weather. But being fully prepared for a winter move will lead to greater chances of success.
1. Find a professional mover early
The first step in relocating during winter is to hire a reputable mover as early as possible. Examine the company's policies to determine what is covered in the event belongings are damaged during transit. Moving trucks can slip and slide on snowy roadways, and icy sidewalks can cause a stumble.
2. Move at the tail end of winter
If possible, schedule the move toward the end of winter, when the major mid-winter storms are likely to have passed. While potentially avoiding disastrous winter weather conditions by moving on a warmer day, homeowners also receive lower quotes from moving companies.
3. Plan for a backup move date
Considering the unpredictability of winter snow and ice, having a backup move date is helpful. Plan for a second move date in case bad weather conditions force movers to reschedule. Prepare for delays, too, since daylight ends early in winter, typically around 5:00 pm.
4. Schedule an early morning move
Schedule the move for early morning to maximize daylight hours. Only 12 hours of daylight are available in winter, making it essential to give the moving crews enough time to load, transport, unpack and install all appliances during this limited window.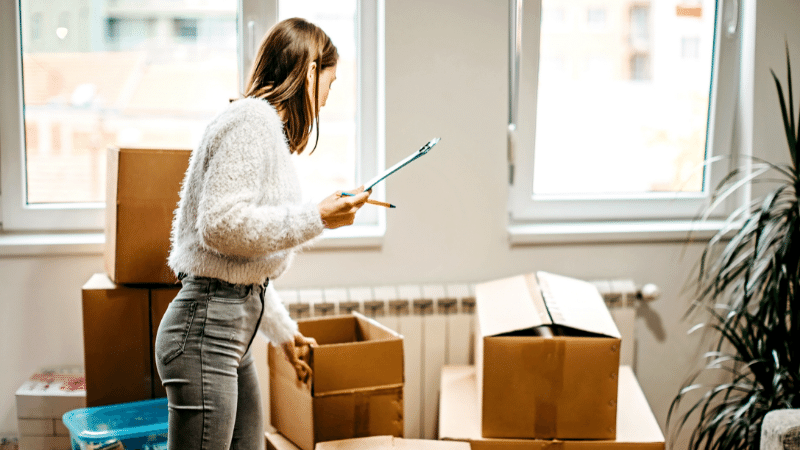 5. Pack with winter weather in mind
Packing for a summer move differs from packing for a winter one—and the main difference revolves around the weather. Once belongings are loaded onto the moving truck, they are exposed to frigid winter weather, especially if the interior of the vehicle is not climate controlled.
Sensitive and fragile possessions, such as electronics, musical instruments, or antique wooden furniture, can crack or become otherwise damaged under extremely low temperatures inside the truck. Pack with care, ensuring ample bubble wrap and packing paper are used to protect the belongings.
6. Pack an emergency kit
While packing, also prepare an emergency kit. Blankets, candles, and a flashlight should be included in the event of a power outage. Also pack extra clothes, toiletries, and a first-aid kit. Moving in inclement weather requires preparation for the unexpected.
7. Shovel snow and ice from walkways
On the morning of the winter move date, shovel the snow and clear the ice from the sidewalk and driveway to keep everyone safe from slips and falls. If snow plows normally plow through the streets, plan for a move time when the plows won't block the moving vans.
Rather than pack up the salt and shovels, keep them on hand in case it is necessary to clear snow and ice on the day of the move. Once the winter sludge has been cleared on moving day, pack up these winter essentials.
8. Protect the floors
Despite shoveling the walkways, winter snow, water, and salt can be tracked into the home. Protect the hardwood floors by laying down tarp. Similarly, protect the carpets with cardboard. When working with a professional mover, they are likely to lay down floor protections.
9. Turn on the utilities
A cold home can cause water pipes to burst. Prevent this mishap by turning on the utilities, including heat, in the new home. If possible, turn on the heat a few days prior to moving in. Run the water to keep it flowing and prevent a frozen or burst pipe.
10. Provide warm drinks
A cold, blistery winter day can be miserable for everyone. Show the movers appreciation by giving out warm beverages, such as tea, coffee, or hot cocoa. The gesture can help make the move more enjoyable, possibly leading to better customer service from the moving crews.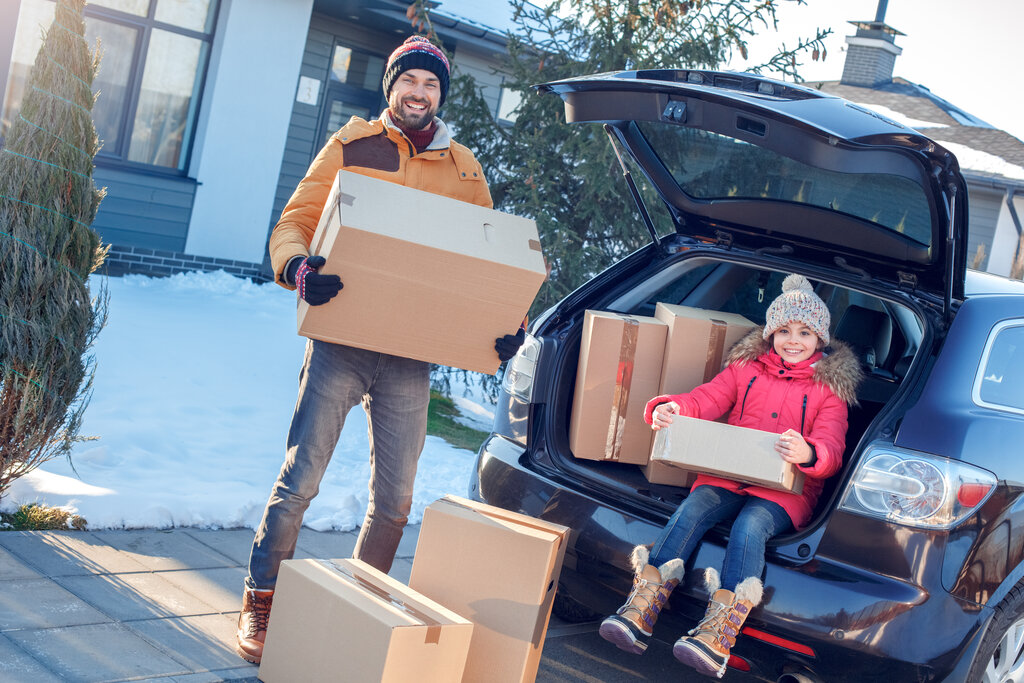 When you are planning to move within Chicago or out of state during winter or any other season, Mid-West Moving & Storage is your number one mover of choice. We offer years of industry experience, thereby ensuring your move in any weather conditions will be as seamless as possible.
Moving crews from our reputable moving company are licensed, bonded, and background checked. Homeowners enjoy peace of mind knowing their valuables are in trustworthy hands. We carefully protect all your personal belongings, including sensitive documents and fragile items, during the move.
Mid-West Moving & Storage also offers convenient short- and long-term storage options. Our crews are available to pack and unpack your goods. Experienced and trained in our innovative packing process, movers will pack and unpack your belongings in record time—often within one day.
Customers utilizing our efficient moving services are kept updated on their move through frequent communications from our move specialists. Our move counselors will also help you plan for the move, including creating a layout for furniture, appliances, or other property.
Mid-West Moving & Storage is an industry leader. Trusted by countless individuals and families, our professional moving service will meet your expectations for excellent customer service and the safe handling of your belongings.
Call our Chicagoland office at 847.593.7201 for your upcoming local or long-distance move.