Last Updated on February 14, 2023 by Kari-Ann Ryan
Oak Park, Illinois, is a well-known and highly regarded suburb of Chicago. The community laid down its roots in the 1800s, paving the way for development and an enthusiastic list of residents. Today, people choose to move here for its numerous advantages, while managing its few drawbacks.
Native Americans, from the Potawatomi to the Fox, first inhabited what is now known as Oak Park. European settlers then flocked here in 1835, building homes that would serve as resting places for weary travelers moving between Chicago and the Des Plaines River.
The settlement grew when railroad tracks were laid down in 1848. After Chicago's Great Fire of 1871, many city dwellers relocated to Oak Park, leading to a boom in development. Since then, several notable citizens made their home in this sprawling suburb.
Frank Lloyd Wright, for instance, called Oak Park home for a number of years during the turn of the century. He also worked here, building beautiful homes that are still renowned for their architectural brilliance. Ernest Hemingway, while not a fan of the suburb, was born here.
Today, Oak Park is a small community serving 54,100 residents. Most of the suburb's residents are young, with the average age being 39. Many families enjoy raising their children here, since highly rated schools are dotted around the tight-knit suburb.
Pros of Living in Oak Park, Illinois
1. Housing
Several factors must be considered when determining whether a suburb offers worthwhile pros and few cons. One of them is housing. Oak Park homes have a median home value of $409,000. Over 60 percent of residents own their home, while the remaining 40 percent rent for an average of $1,303.
The average rent price is slightly cheaper in Oak Park than Chicago, with a median of $1600, comparing to Chicago's median rent of $1,850. Oak Park is a good alternative for residents looking for cheaper rent but still want to be close to the city.
2. Leisure Activities
Those who are able to afford a home here enjoy living in the vibrant neighborhoods, rich with historic architecture and a downtown that caters to the entertainment and dining needs of a diverse mix of people. Plenty of shopping opportunities in the suburb's unique shops are available, too.
Don't forget, downtown Chicago is very close to Oak Park. You can easily get to the center of Chicago within half an hour either by car or by public transportation and enjoy all the activities that Chicago has to offer.
3. Job Opportunities
Given the high cost of housing, residents in Oak Park have plenty of job opportunities to afford their homes. Residents can find a variety of jobs available either in Oak Park. There are also plenty of jobs available for residents who choose to work in Chicago. In fact, many people commute from Oak Park into Chicago every day for work.
Their median income is $96,945, which is 44 percent above the national average.
4. Education
In order to land a lucrative position, the educational level of the suburb's residents should be on par. About one-third of all residents hold a bachelor's degree and one-fourth have earned a master's degree. Eight percent hold a professional degree and five percent have PhDs.
Families send their children to the suburb's excellent schools. Highly rated schools include the Jones College Prep High School and the Oak Park & River Forest High School. Public schools, like Horace Mann Elementary School, and private schools, like The Chicago Academy for the Arts, also rank highly.
5. Culture
As mentioned, Frank Lloyd Wright was a proud, long-time resident of Oak Park. He designed several unique homes and buildings in Oak Park, and visitors can tour the many properties he built with his signature American architectural style. His masterpiece is the Unity Temple.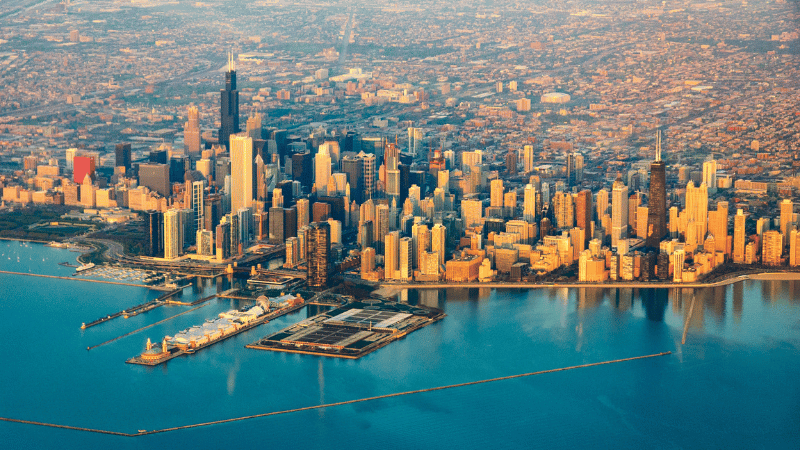 Cons of Living in Oak Park, Illinois
1. Transportation
Commuting takes significantly longer in Oak Park than in the rest of the country. The long commute can be disadvantageous to people who live here but travel to the city for work. The average commute time is 34.9 minutes, with the national average hovering around 26.4 minutes.
2. Crime
While Oak Park offers its residents a close community feel, some parts of the suburb are rife with crime. Property crimes, such as burglary, theft, and motor vehicle theft, are almost as high as the national average. Violent crimes, while slightly less than the national average, still occur.
3. Cost of Living
Compared to the national average, the cost of living in Oak Park is 32 percent higher. Housing expenses alone are 112 percent higher than what residents in other suburbs pay. Energy bills, for instance, average $165 per month and phone bills are about $181 per month.
Grocery shopping in Oak Park is 6 percent costlier than the rest of the nation. A loaf of bread costs $3.67, a gallon of milk $2.35 and a hamburger $5.02. Similarly, healthcare costs are high. A dentist's visit averages $109, and a doctor's visit is $127.
Overall, Oak Park receives a score of A+ for its housing, schools, diversity, and family friendly atmosphere. In fact, Oak Park is considered one of the best places to live in the state of Illinois. Residents enjoy a unique mix of urban and suburban living.
Prospective and even current residents have an opportunity to learn more about Oak Park on the first Sunday of each June, when the suburb's A Day in Our Village is held. The festival celebrates Oak Park's civic, cultural, business, educational, and religious groups.
Living in Oak Park offers a wealth of benefits for individuals and families. When you are ready to move to Oak Park or anywhere else in Chicagoland, you'll need a reliable residential mover, like Mid-West Moving & Storage. We'll help you relocate within budget and on schedule.
As an efficient home mover, we've helped countless area residents relocate. We've moved families and individuals to and from single-family homes, condos, townhouses, apartments, senior living facilities, and dorms. Moving crews are experienced in transporting household goods safely and securely.
During the moving process, our licensed and bonded moving crews protect your home at the origin and destination with carpet shields, door jambs, railing covers, and hardwood floor runners. Our move specialists provide customers with updates on every stage of the move.
Mid-West Moving & Storage meets all your relocation needs. We offer convenient packing and unpacking services, short- and long-term storage, and help with furniture layout. As an experienced professional mover, we're prepared to successfully tackle unanticipated challenges along the way.
When you are planning a move in or around Chicagoland, choose Mid-West Moving & Storage. Our dedicated moving crews continue to help countless locals move with ease—and we'll offer you the same top-notch service.
Call our Chicago, Illinois, office at 847.593.7201 today for a free estimate.