Last Updated on September 18, 2023 by Kari-Ann Ryan
A large percentage of Americans are looking for sustainable services and products. This equates to a majority of people seeking eco-friendly ways to move from one destination to another. When an upcoming residential relocation nears, use these eco-friendly moving and packing ideas.
Seventy-five percent of Americans are concerned about how products affect the environment. Today's young people are willing to pay more for goods and services that meet sustainability standards. Even their purchasing decisions are based on the product's level of environmental friendliness.
Over a quarter of these individuals, however, are unsure of how to identify sustainable solutions or where to find them. Fortunately, by considering the following eco-friendly tips, those who are relocating can make solid choices that align with their ideals.
1. Recycle, Donate, or Sell
Prior to moving, purge all the surplus or unwanted goods in an environmentally responsible way. This means avoiding throwing items out. Rather, give new life to personal possessions that are no longer needed by recycling, donating, or selling them to people who could re-use them.
The Environmental Protection Agency website offers information on local e-waste programs where individuals can discard their old electronics; also listed are stores that recycle electronics. Carpet Cycle is a program where carpets can be repurposed and kept out of landfills.
While charities are a practical choice for donating extra items, they are often overwhelmed with unusable (soiled or damaged) donations. Individuals can find new homes for their belongings by giving away usable clothes to friends, uploading furniture on Craigslist, or posting free items on social media.
2. Rent Reusable Moving Crates
As mentioned, Americans are willing to pay more for sustainable products, like moving boxes. The key is to know where to find them. Companies that offer heavy-duty plastic moving crates include Bungo Box, Rent a Moving Box, and ZippGo. Various sizes are available, as well as wardrobe boxes.
3. Buy Sustainable Moving Supplies
Green moving supplies are plentiful, with numerous options listed on the Green Business Bureau website. Packing peanuts can adversely affect the environment; however, a sustainable alternative is biodegradable starch, which can be dissolved in water and used to feed plants.
Rather than protect fragile goods with plastic bubble wrap, wrap them in recycled-paper honeycomb rolls or corrugated bubble wrap. Additional options include seaweed packaging, cornstarch packaging, and mushroom packaging. Fill voids in boxes with air pillows made from recycled content.
When purchasing eco-friendly moving supplies, do so from local stores. Buying recycled boxes, tape, and insulation from companies in the area reduces the environmental impact of hauling these goods. Trucks powered by diesel engines release exhaust that is harmful to the environment.
4. Use Linens Creatively
While buying corrugated bubble wrap to protect fragile lamps is an eco-friendly maneuver, a cost-effective solution is raiding the linen closet for clothes, towels, and sheets. Soft household items like these are needed after the move and can doubly serve to swaddle breakables during the move.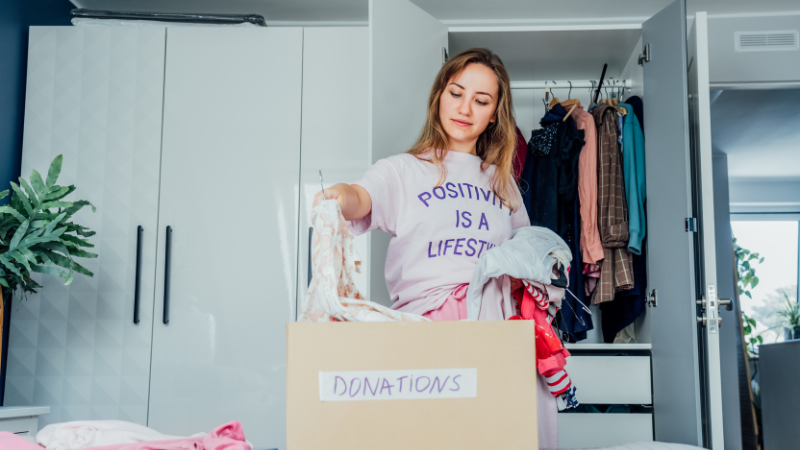 5. Limit Plastic Covers
It's well-known that plastic wreaks havoc on the environment. While giant plastic sleeves seem like a convenient choice to wrap mattresses and upholstered furniture, they'll be discarded into landfills after the move. Instead, opt for greener options, like muslin fabric or painter's cloth.
A painter's drop cloth can be repurposed after the move, serving as a protective floor cover when painting the new place. Lay old muslin over an outdoor table or cut it into pieces to use as rags. Canvas zippered bags are an eco-friendly option for storing clothing and shoes.
6. Obtain Boxes
Given the popularity of online shopping, boxes come to the front door regularly. Rather than recycle them, collect the boxes for the upcoming relocation. This idea prevents spending unnecessarily on the purchase of new boxes from a moving supply company and recycling them later.
Alternately, contact a local wine shop to arrange to pick up their cardboard boxes after deliveries. Boxes from corner stores are normally heavy-duty and reinforced, making them perfect for packing fragile kitchen items, like glassware. An added benefit is that the boxes are free.
7. Plan in Advance
Planning ahead avoids disorganization and saves time; it also prevents individuals from buying items they already have but can't find in the confusing mess of packed boxes. By packing carefully, all essential items required before the move are kept out of boxes, eliminating the need to repurchase products.
8. Hire Environmentally Conscious Movers
Moving companies that care about their environmental footprint are the ideal choice. These movers prioritize eco-friendly practices and utilize equipment that has the least impact on the environment. Knowing how to find a green mover and hiring them ensures a sustainable move.
Green movers are easy to identify. They offer reusable boxes, biodegradable or recyclable packaging materials, and operate trucks that run on biodiesel or electricity. They may even partner with charitable organizations to help customers find new life for their old possessions.
When you are preparing for an upcoming residential relocation and wish to make it an eco-friendly one, choose Mid-West Moving & Storage. We offer services that help protect the environment. Our company partners with eco-friendly junk removal services, which better communities.
As a reputable professional mover, we serve the residential relocation needs of customers from start to finish. Our services include providing moving supplies, packing, disassembling, and uninstalling furniture as well as unpacking, reassembling, and installing all household belongings at the destination.
All Mid-West Moving & Storage crews are background-checked, licensed, and insured to give our customers maximum peace of mind. We're available to help you relocate to and from your apartment, home, condo, or dorm, whether that is locally, long-distance, or internationally.
There's a reason that Mid-West Moving & Storage was the recipient of the 2022 Torch Award for Ethics. We are committed to delivering excellence to every customer we serve. Call our Elk Grove Village, Illinois, office today for a free quote and to schedule the best in moving services.