Last Updated on March 25, 2021 by Kari-Ann Ryan
Apartment living can be appealing to the right individuals. Personal preferences and lifestyle choices largely determine how attractive living in an apartment will be. For those considering moving into an apartment, the unique pros and cons of such a lifestyle should be carefully evaluated.
It's worth noting that living in an apartment may be a temporary move, especially for people who plan to buy a home. Small families may choose to lease an apartment unit their family grows bigger and the need for ample yard and bedroom space becomes necessary.
Growing families may also not be ready for the long-term financial commitment of buying a family home. As a result, renting an apartment is a more suitable immediate choice. In terms of cost, single-family home mortgages are far greater than the monthly rent required to lease an apartment.
Plus, apartment complexes are usually built near prime locations. Nearby amenities, such as shops, public transportation and even seaside views, are compelling reasons to rent an apartment. Despite some clear benefits, apartment living provides a range of pros and cons.
7 Pros of Renting an Apartment
1. Onsite Conveniences
Contemporary apartment buildings feature several attractive conveniences that single-family homes do not offer. These may include an onsite gym, common areas, pools, communal barbeques, gardens, laundry facilities and stores. Apartment complexes can also come with covered garages and security systems.
2. Prime Location
As mentioned, apartments built in urban centers are close to everything a renter needs: work, shopping, entertainment, restaurants and transportation. A renter has access to a desired area without having to pay the high monthly mortgage payments for a house.
3. Building Security
Apartments are typically safer than houses. Accessing an apartment requires passing through several doors: the main building door, the floor door and the individual apartment door. Combined with the security systems, a thief will have a hard time entering an apartment unit.
Intercoms are also built into apartment buildings. Security is enhanced since visitors must receive permission from the renter to enter the building. A lock-up garage keeps vehicles secure. Plus, with so many building tenants, it is easier to keep an eye on an individual unit.
4. Less Maintenance
The apartment landlord handles most maintenance, leaving the tenants responsible for the upkeep of their rented spaces. Garden hedges are trimmed, pools are cleaned and exterior painting is handled by the landlord. When the dishwasher malfunctions, a call to building maintenance will start the repair.
5. Size Ranges
A renter is not limited by the physical size of an apartment unit. Prospective tenants can shop around for an apartment with a preferred square footage. Renters who aim to downsize can opt for smaller apartments, while larger units may be rented without compromising comfort.
6. Less Utility Costs
In comparison to a family home, apartment living is less expensive. Tenants often pay less for utilities, such as water, gas and electricity. Additional fees may be required for lawn care or hall maintenance. However, the overall costs are less than equipping a home with a mower and other tools.
7. Social Opportunities
Living in close proximity to neighbors in an apartment building could lead to the development of long-lasting friendships and connections. A sense of community is important to some, and apartment living meets this need through movie nights, pool parties and communal barbeques.
5 Cons of Living in an Apartment
1. Noisy Neighbors
However, apartment tenants who prefer a quiet setting may be offput by noisy neighbors. Depending on the location of the specific unit, a renter may have neighbors upstairs and downstairs. The possibility of jarring noise pollution is likely when tenants live closely together.
2. Lack of Parking
Apartments that are built near urban centers may leave tenants with parking issues. In an apartment block where spaces are not designated, finding parking may be difficult. Competition for parking spaces can be fierce, especially without plenty of street parking. Visitors will have an equally hard time.
3. Lack of Yard Space
Green thumbs will be challenged without outdoor space in which to plant a flower or garden bed. Similarly, families with young children lack a private backyard typically found in single-family homes. Tenants with pets also do not have the personal yard space where the dogs can freely run.
4. Pet Restrictions
Considering pets, some apartment complexes restrict animals. This restriction can make apartment living disagreeable for pet owners. In buildings that do allow pets, the animals must fall under certain weight or breed restrictions, which can limit a renter's apartment options.
5. Rules and Regulations
Renting an apartment comes with a host of rules and regulations. Following codes of conduct for residents is mandatory. Depending on the apartment complex, some regulations may be more restrictive than others. Landlords may prohibit personalizing the space, such as painting the walls.
Work with a Professional Mover
Every type of housing comes with responsibility. When considering apartment living, it is important to create a list of what is important to you and find an apartment that satisfies those requirements. When you decide to move, choose Chicagoland's most trusted moving service, Mid-West Moving & Storage.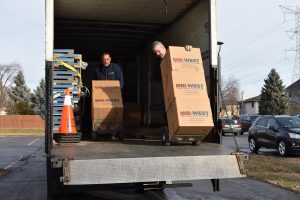 We are a local residential and commercial mover with years of experience moving individuals and families into and out of Chicagoland. Our moving crews have relocated people to and from apartments, homes, dorms, retirement communities and condos. You can expect quality, personalized service during your move.
Mid-West Moving & Storage crews are licensed, bonded and background checked. We take care to protect your belongings by utilizing padding and stretch wrapping, hardwood floor runners, door jambs and carpet shields. Safeguarding your personal property during the move is among our top priorities.
Scheduling your move with Mid-West Moving & Storage gives you an opportunity to work closely with our move counselor. Our specialists will ensure your local move in Chicago goes as smoothly as possible. Count on Mid-West Moving & Storage, like countless satisfied customers have, and book your next move with us!
Get a Free Estimate
For a free estimate on your next move, give us a call at 847-593-7201 or please fill out a form. We are happy to help those living in and around the Chicago area to move locally, long distance or internationally!