Last Updated on October 18, 2021 by Kari-Ann Ryan
Shifting residences in the midst of a worldwide pandemic is no easy task. However, with advanced planning, flexibility with standard moving procedures, and implementing health safety precautions, settling into a new home during or after the current health crisis is doable.
While staying put may be an option for many, relocating to a new home cannot be delayed for others. A lease may have expired; financial situations may force individuals to combine households; or, perhaps a move was already underway when the coronavirus pandemic struck.
Safety regulations, including social distancing and hand washing, are in place to protect people from exposure to the coronavirus. Strict health safety protocols make it difficult to work with residential movers, obtain essential packing materials, or scout a new property and its surrounding areas.
Fortunately, moving companies continue to be operational during the height of the COVID-19 outbreak. Nowadays, professional crews from reputable moving services abide by stringent coronavirus safety measures to protect both the customers with whom they come into contact and themselves.

1. Obtain a Virtual Quote
While movers will take care of their health and safety, homeowners should be careful to protect themselves, too. The first step in beginning a move during or after the coronavirus pandemic is to obtain a virtual quote. Compare price estimates without risking having a moving specialist onsite.
2. Purchase Extra Moving Supplies
Surplus cardboard boxes, packing tape, and bubble wrap prevent packing frustrations and facilitate the process. Store hours, inventories, or policies may be different during and after the pandemic. Curbside pickup, for instance, is offered by retailers—but customers will likely have to wait for the pickup.
Individuals may be forced into a time crunch when a move is happening soon. Rather than potentially wait hours to receive a curbside pickup order, plan ahead. Buy more moving supplies than the anticipated need. After the move, donate extra boxes to others who may need them.
Before the coronavirus hit, scrounging for used boxes was a money-saving tactic. Since the pandemic, obtaining free boxes is risky; the coronavirus lives on cardboard surfaces for 24 hours. Practice safety for a move during and after the health crisis by purchasing new boxes or using ones already on hand.
3. Plan Donations Carefully
Moving less possessions is ideal, making donating unnecessary household goods the solution. However, in the middle of the pandemic, donation centers have less storage space and are pickier about what they accept. Check donation websites prior to donating, or give away the items on Freecycle.
4. Utilize Storage Options
Sometimes, the customers can face some predicaments when moving during the pandemic. If a lease ends but the new lease doesn't start in a few days or weeks, one may need short- and long-term storage to store household goods.
Consider a moving company with storage options, like Mid-West Moving & Storage, to take care of your needs.
5. Confirm the Scheduled Move
In the coronavirus era, moving dates can be suddenly canceled by either the customer or the moving company. Prior to the move, confirm the moving date with the movers. Upon verifying the scheduled move, find out what coronavirus precautions the movers will take.
6. Reschedule, If Necessary
Coming down with COVID-19 symptoms will be unexpected. Displaying coronavirus symptoms should prompt individuals to reschedule the move. Choose a moving service that allows rescheduling without penalties. If the move date is inflexible, designate a representative to oversee the move.
Health safety is critical during and after the coronavirus pandemic. Individuals who notice movers with possible COVID-19 symptoms are advised to ask them to leave the property. Similarly, moving crews will leave a moving site when customers are suspected to have coronavirus symptoms.

7. Keep Sanitizer Onsite
Soap, running water, and an ample supply of hand sanitizer will protect moving crews and householders during the move. Although most goods will be packed up in boxes, in the coronavirus era, it is critical to ensure essential hand hygiene products are available to everyone at the moving site.
8. Require PPE
Personal protective equipment (PPE) is a crucial form of protection against the spread of the coronavirus. Request moving crews wear face masks and gloves while working. Although undertaking physical labor while wearing a mask is difficult, preserving the health of customers and crews is most important.
9. Sanitize Before Unpacking
Sanitization of the property at the new destination is just as essential as preparing to depart from the old one. Prior to unpacking, wear gloves and sanitize all surfaces within the new home. Use EPA-approved disinfectants to disinfect goods as they are unpacked and placed throughout the home.
Work with a professional moving company
Moving into a new home in the post-pandemic era can be achieved by following the aforementioned recommendations. When your move is upcoming, choose Mid-West Moving & Storage. We are a local moving company offering dependable services, flexible scheduling, and affordable rates.
Mid-West Moving & Storage serves both residential property owners and commercial businesses. Our experienced crews have moved individuals to and from condos, apartments, townhomes, dorms and retirement homes. Our movers are available for local, long-distance and international moves, as well.
Relocating during the coronavirus pandemic may be a sudden decision. You'll need top-notch storage facilities to house your goods in between moves. Mid-West Moving & Storage customers have access to 60,000 square feet of climate-controlled storage. We offer customized units that meet your needs.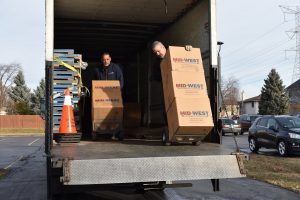 Whether your home or business possessions require long- or short-term storage, you'll find ideal solutions from Mid-West Moving & Storage. Commercial businesses, for example, may safely store records using our secure record storage services. We ensure confidentiality of documents 24/7.
Individuals, families and businesses rely on the comprehensive and reliable moving services provided by Mid-West Moving & Storage. Our insured and licensed crews will pack, uninstall equipment, disassemble furniture, and unpack. We provide all moving supplies as an added convenience.
Chicagoland customers who work with Mid-West Moving & Storage award us with high ratings. Over the decades, our local moving company has earned a reputation for excellence. Trust our top-notch movers when you plan to move. Contact us for a free estimate or to speak with our qualified move specialists.