Deerfield Movers
Is it time for you to relocate your business? Have you reached a point where your family needs a new home? Whether moving your family or your business, this is a tough task that can cause you and your family or employees a lot of stress. It will likely take months to plan the move, including the packing and transport of your belongings, and you may simply not have the resources to do it efficiently on your own.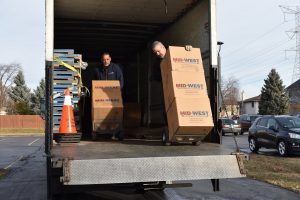 Moving on your own is the less expensive option but doing this will take a lot of time and effort and make your move more stressful than it needs to be. You need to not only pack all your items, including furniture and other large items, but also plan and manage the logistics of your move while selling your current property and closing on your new place. If you work with a moving company, your move will be done more efficiently.
Mid-West Moving & Storage provides complete residential and commercial moving and storage services in Deerfield, IL. Our professional movers will assist you with every step of your move, including the packing, planning, and movement of your belongings.
Professional Movers in Deerfield, IL
The residential and commercial moving services we provide can cover the following:
Mid-West Moving & Storage has long been considered one of the best moving companies by homes and businesses in the Deerfield, IL area. Our professionals will pack and transport your items with care for an efficient moving experience.
Moving and Storage Company in Deerfield, IL
Serving Deerfield, IL and the entire Chicago area, Mid-West Moving & Storage provides complete residential and commercial moving services. Our professional movers are trained, licensed, and insured, and they have each passed a background check so you can trust them to handle your items within your property. You can expect us to assist with every aspect of your move to make it as efficient and stress-free as possible. Our commitment to providing excellent moving services has earned us several awards including the Daily Herald Business Ledger 2021 Annual Award for Business Excellence (AABE) and the 2018 C-Suite Award.
Our goal is to provide an efficient, start to finish moving experience to help make your move seamless. You will be able to focus on securing and settling into your new space while we handle the moving process.
Local Moving Company
Our residential and commercial moving services include managing the logistics, planning, packing, moving, and storage of your belongings to make the process more efficient. You can expect the following from our moving professionals:
Open communication and timely response
Free quote
Packing
Scheduling of the move
All supplies needed
Timely arrival for moving day
Moving and handling of your items with care
Furniture and equipment disassembly and packing
Furniture and equipment unpacking, assembly, and installation
At any point during your move, you can reach out to your sales manager or call our office at 847.593.7201 with your questions or concerns.
Contact Mid-West Moving & Storage
Whether you are moving to or from Deerfield, IL, our professionals at Mid-West Moving & Storage can help with our commercial and residential moving services.
Give us a call for a free estimate for your move.
---
Related Services:
Arlington Heights Moving Company
Park Ridge Local Movers
Moving Services Wheaton
Palatine Moving Company
North Aurora Movers
Lincolnshire Moving Services
Northbrook Moving Company
Melrose Park Movers
Local Schaumburg Movers
Vernon Hills Moving Company
Skokie Movers