Last Updated on August 19, 2020 by Kari-Ann Ryan
If you're prepping for a big move, you're best off arming yourself with the best professional movers and the best information. Friends and family will likely have helpful tips and advice. Some of these tips may prove useful, but others serve to perpetuate harmful moving myths that can actually cost you time and money while also adding stress.
Here are some common moving myths you should not buy in to.
---
1. Myth: Free Boxes Are the Best Boxes
Moving can be a time of great expense. Some people find the easiest way to cut costs is to skimp on moving supplies, especially boxes. People may pick up free boxes at local liquor stores, grocery chains, or printing businesses.
However, using free boxes may end up costing you in the long run. Used boxes may be weak, and they are easy to overpack. The weak box can bottom out on moving day. With fragile items, a broken box could be catastrophic. Using any size of box for your items is also risky, as boxes too large or cumbersome are more easily dropped or broken.
New boxes designed for moving are the right size and shape for your belongings. Moving boxes are designed to be easy to move. When boxes are uniform in shape and style, as they are when you order from a packing or moving service, they fit tightly into the moving truck with no wasted space, saving you money again.
---
2. Myth: Personal Items Don't Need to Be Packed Until Moving Day
Unfortunately, thinking personal items can be packed at the last minute is a mistake many people make. They think they will need items like blankets, pillows, toiletries, chargers, electronics, shower curtains, and towels right up until moving day, and so they do not pack these items until the truck is already parked.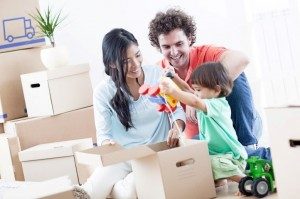 Every item should be packed before moving day. If you will need certain items before you are able to unpack the truck, have each family member pack a bag to take with them and live out of until you move into your new home.
If you are moving locally, reserve a box for each family member. Place essential items like toothbrushes, disposable face cloths, and hand soap into each family member's box. Each person can use the items and then return them to their places inside the box. On the morning of the move, each person need only tape the box shut.
The boxes full of personal items should be the last ones loaded on the truck so the items are easily accessible when you arrive at your destination.
---
3. Myth: Precise Labeling Is Overrated
The importance of specific, planned packing cannot be overstated. Labeling boxes is the simplest of moving tasks, and yet it is one of the most often overlooked. People may misplace a marker and not replace it, or they may opt to use colorful stickers or stamps instead of taking the time to write out the contents of the boxes.
Moving unlabeled boxes simply becomes a logistical nightmare for the moving crew and for your family, especially when you are unpacking. It's easier to carry boxes to their respective rooms right from the start. Then the labels will make it easier for you to find the things you need. Ideally, each box should be labeled with both the room and the contents. For example: "Office: printer, cords, manual, pens, and pencils."
Use permanent waterproof markers on all boxes. Even if it rains, your labeling will still be seen. For added protection, tape over labels with clear packing tape.
---
4. Myth: Weekends Are Best for Moving
Saving your move for the weekend makes the most sense for many. People are more likely to have the weekend off of work, so they schedule their moves to avoid using up valuable time off. However, weekends are not always the best time for moving simply because this is when the demand for moving services is highest.
You can save money and find a more open schedule of professionals to choose from by opting to move on a weekday. Use paid time off if possible, but remember to research the cost. If you have to take unpaid time off, compare the cost with that of a weekend move. Maybe you'll lose income for the day, but you might save that much again by choosing a less busy time.
By choosing a weekday, you can also move sooner, as the best moving companies will likely be booked several weekends into the future.
---
5. Myth: Something Always Gets Lost or Broken During a Move
You don't have to resign yourself to lost or damaged property simply because you are moving. Some things are more likely to be broken in a move, but this is simply because of poor preparation or inadequate packing. For example, glassware often breaks, but that's usually because it was not packed with sufficient padding or materials.
If you're concerned about things getting broken or misplaced, you should use a professional packing service. Professionals not only know how to handle things that are notoriously difficult to pack but also can provide insurance or guarantees that protect you in the event something does get lost or broken.
Contact Us
For more advice on prepping for your move, contact Mid-West Moving & Storage at 847-593-7201.